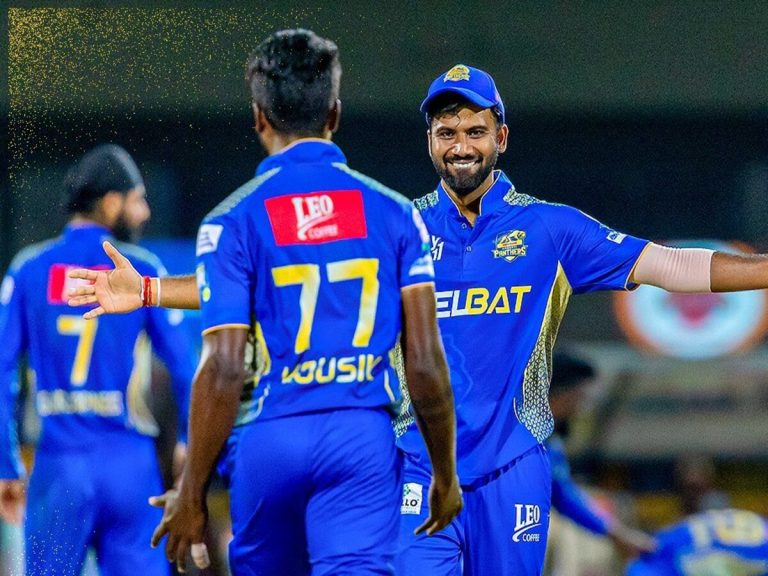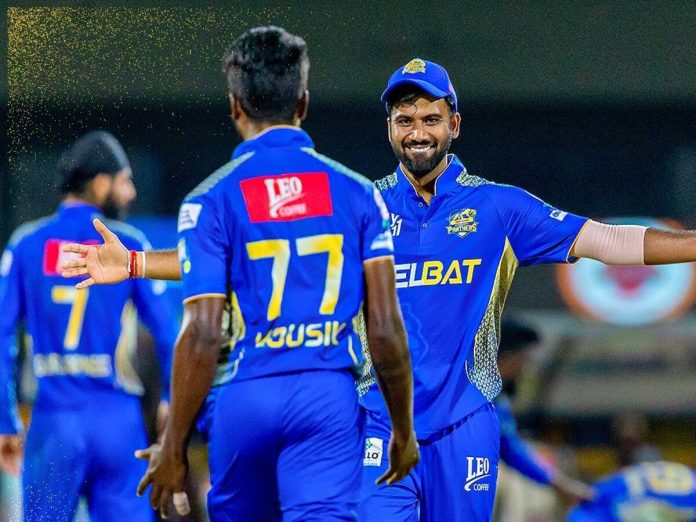 Match: Siechem Madurai Panthers vs Lyca Kovai Kings
Date- 2nd July 2023
Match Format- T20 (TNPL 2023)
Venue- Indian Cement Company Ground, Tirunelveli
Time- 3:10 PM (IST)
Weather Forecast- 33.9 Degrees Celsius, Mostly Clear
Siechem Madurai Panthers vs Lyca Kovai Kings Prediction Preview:
Siechem Madurai Panthers (SMP) and Lyca Kovai Kings (LKK) are all set to face each other in the highly anticipated match 24 of the TNPL 2023. Taking place at the Indian Cement Company Ground in Tirunelveli on Sunday, July 02, this match promises to be a thrilling encounter between two strong teams.
Lyca Kovai Kings, led by the talented Shahrukh Khan, currently sits at the top of the points table with an impressive tally of 10 points from six matches. Their consistent performances have earned them this position, and they will be determined to maintain their winning momentum. 
On the other hand, the Siechem Madurai Panthers find themselves in the fourth spot with six points from five matches. They have shown glimpses of brilliance in the tournament so far, and they will be eager to climb higher up the table.
In terms of head-to-head record, the Madurai Panthers hold a slight advantage over the Kovai Kings with three wins in their last five encounters. However, it is important to note that the Lyca Kovai Kings are currently riding high on their recent successes and their dominant position in the tournament.
Both teams boast a strong lineup of players who have the potential to make a significant impact in the match. With talented individuals on both sides, fans can expect a highly competitive and thrilling contest.
Top Batters SMP vs LKK (TNPL 2023)
Sai Sudharsan (LKK) – 371 Runs
Top Bowlers SMP vs LKK (TNPL 2023)
Shahrukh Khan (LKK) – 11 Wickets
SMP vs LKK Today Match Prediction Scenarios
Scenario 1- If SMP bats first
First Innings score prediction- SMP is expected to score 170-185
Result prediction- SMP will win the match by 10-20 runs
Scenario 2- If LKK bats first
First Innings score prediction- LKK is expected to score 155-175 runs
Result prediction- LKK will win by 20 runs
SMP vs LKK Today Match Prediction, TNPL 2023, Who Will Win the Match?
As both teams enter this encounter with a winning streak, the competition is expected to be fierce and closely contested.
In recent matches, the Madurai Panthers have showcased their dominance by securing convincing victories in two out of their last three games.
Their performances have displayed their potential and confidence, making them a formidable opponent. However, it is our belief that the Lyca Kovai Kings possess the necessary firepower to overcome the Panthers.
The Kovai Kings have been in exceptional form, displaying consistency and a winning mentality. Their recent performances have highlighted the quality present throughout their team. With a combination of skilled batsmen, talented bowlers, and a strong unit overall, the Kovai Kings are expected to outperform the Madurai Panthers.
Considering these factors, we predict that the Lyca Kovai Kings will emerge victorious in this exciting encounter.
Team Update/Players Availability News
There is no injury update from both side.
Siechem Madurai Panthers Predicted Playing XI
S Karthik (wk), Hari Nishanth (c), Jagatheesan Kousik, Washington Sundar, Swapnil Singh, K Deeban Lingesh, Murugan Ashwin, Sudhan Kandepan, Balu Surya, Gurjapneet Singh, Dev Rahul
Lyca Kovai Kings Predicted Playing XI
B Sachin, Suresh Kumar, Sai Sudharsan, Ram Arvindh, U Mukilesh, Sharukh Khan (C), M Mohammed, Kiran Akash, Manimaran Siddharth, Jhatavedh Subramanyan, Thamarai Kannan
SMP vs LKK: Complete Squad
Siechem Madurai Panthers Squad: S Karthik(w), Hari Nishanth(c), K Deeban Lingesh, Washington Sundar, Jagatheesan Kousik, Swapnil Singh, Sudhan Kandepan, Murugan Ashwin, Dev Rahul, Gurjapneet Singh, Balu Surya, V Gowtham, Anton A Subikshan, Shijit Chandran, P Saravanan, Ajay Krishna, Krish Jain, V Aaditya, M Ayush, S Sri Abisek
Lyca Kovai Kings Squads: Suresh Kumar (wk), B Sai Sudharsan, M Shahrukh Khan, M Siddharth, M Mohammed, Atheeq Ur Rahman, R Divakar, P Vidyuth, Valliappan Yudheeswaran, S Sujay, K Gowtham Thamarai Kannan, P Hemcharan, L Kiran Akash, Jhatavedh Subramanyan, Ram Arvindh, B Sachin, L Kiran Akash, U Mukilesh, KM Om Prakash
Also Read: ZIM vs SL Dream11 Prediction, Top Fantasy Picks, Player Availability News, Super Sixes, Match 4, ICC World Cup Qualifiers, 2023, 2nd July 2023