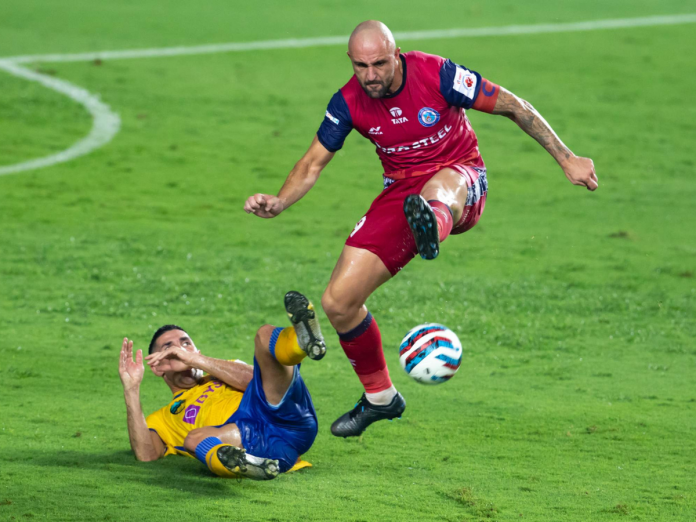 The departure of Scottish playmaker Greg Stewart has been one of the biggest jolts of the Jamshedpur FC side. Stewart played for Jamshedpur FC in the 2021-22 edition of the Indian Super League (ISL) and was a nightmare for the defenders of the opposition team.
Jamshedpur FC won their inaugural ISL League Shield award last season and Greg Stewart was one of the main reasons behind Jamshedpur's glorious run. He netted 11 goals for them last season. Even though they lost to Kerala Blasters in the semi-finals, the season was a memorable one for the Red Miners.
The skipper of Jamshedpur FC Peter Hartley believes that the Miners are still a strong side and will head into the ISL 2022-23 as a strong side in spite of the absence of Stewart.
"You can say everyone has improved and we have lost Greg, Owen, but in my opinion, we have become stronger in every position. "Greg got us 10 goals last season, now it's up to us as a team. We may not have a player who will give us those 10 goals individually, but as a team, we have to recreate the 10 goals, and 11 assists," Hartley told Times of India.
The 34-year-old centre-back also said that new head coach Aidy Boothroyd has asked them to not digress from the template which gave Jamshedpur FC success last season.
"I think we will use the ball a lot more this season. The manager has already said 'don't go away from what gave you success as a team without the ball', but he has also tried to give us a way of playing that will help everybody as a team and help us grow together," said Hartley.
"We have been successful by finding a way to win games. I think, if we get rid of all the expectations (as Shield winners) and focus on one game at a time, it won't be a problem. As a group, our mentality has not changed," the skipper added.
Jamshedpur FC will cross swords with Odisha FC on October 11 at the JRD Tata Sports Complex in Jamshedpur. That will be their first game in ISL 2022-23.
Also read: ISL 2022-23: Can Hyderabad FC Successfully Defend Their ISL Title