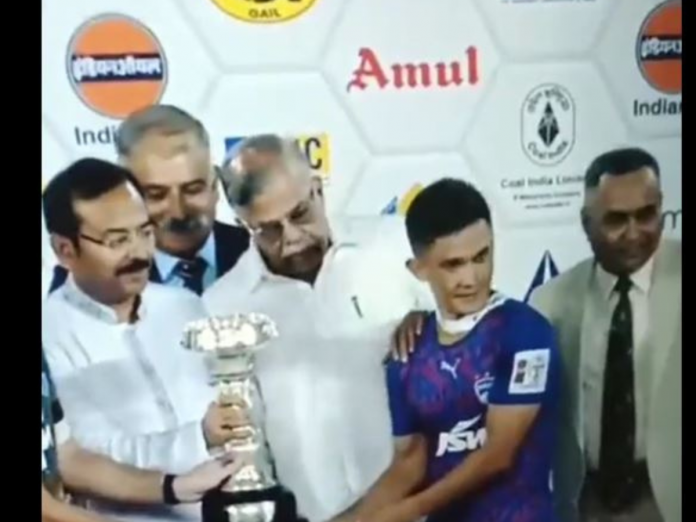 Bengaluru FC etched history as they bagged their maiden Durand Cup 2022 final after defeating Mumbai City FC 2-1 in the summit clash.
Sunil Chhetri, the captain of the Bengaluru FC franchise added the elusive Durand Cup to his trophy cabinet and thereby becomes one of the most successful Indian football captains.
However, a video went viral on Twitter which shows the recently-appointed Governor of West Bengal La. Ganesan Iyer, pushing aside Sunil Chhetri for blocking his frame in the final presentation.
He owes an apology to Sunil Chhetri and Indian football 😡#IndianFootball #IFTWCpic.twitter.com/AnbxybeoG3

— IFTWC (@IFTWC) September 19, 2022
The cameras caught the politician push aside Sunil Chhetri when the skipper of Bengaluru FC was holding the winners trophy after the final of the Durand Cup 2022.
The incident took place during the presentation ceremony and Sunil Chhetri while collecting the trophy from the dignitaries was standing slightly in front of the Governor. The Governor in order to come in front of the frame, pushed aside the Indian football team and Bengaluru FC captain.
Twitterati went berserk after watching this video and demanded that the Indian politician give an apology to the Indian captain. Here are a few reactions from the Twitterati users to this viral video.
@IFTWC @KhelNow Plz do support for this issue ..It's not acceptable ..How can someone do this knowing he is legend of the game nd by the way it was not time to click photos where their face should be seen ,rather u should have made players at front .

— suraj bhandari (@surajbh31377865) September 19, 2022
Ya please talk about the person pushed Siva sakthi also

— Balaji (@Balaji93044367) September 19, 2022
He has not done anything for contry. He should give rispect to those who play for india and if it was virat Or any other cricketer you will be on opposite side.

— anil maloo (@anilmaloo2) September 19, 2022
Siva Sakhti and Alan Costa scored the goals for Bengaluru FC as The Blues bagged their maiden Durand Cup title. It was Bengaluru FC's first silverware since the Indian Super League (ISL) title victory in ISL 2018-19. Ruia scored the lone-goal for the Mumbai City FC franchise.
Irrespective of everything, the final of the Durand Cup 2022 was an absolute crackerjack and witnessed some high-octane football from both sides.
Also read: Durand Cup 2022 Final: Bengaluru FC Beat Mumbai City FC 2-1 As Sunil Chhetri-led BFC Win Their First Ever Title