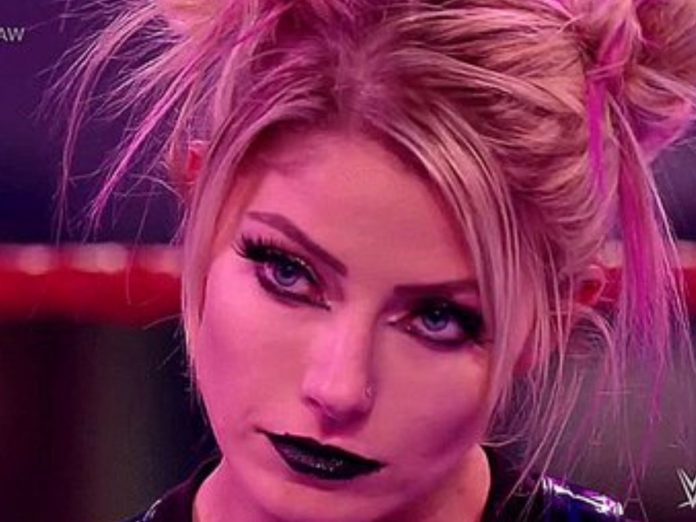 WWE News on Alexa Bliss: During the last episode of Monday Night Raw, Alexa Bliss faced Bayley in the main event of the show, a match in which the girls of Damage CTRL, Bianca Belair, and Asuka intervened. Ultimately, Bayley got the win after IYO Sky distracted Alexa Bliss and Bayley finished her off with the Rose plant.
In one set of combat, a strange event happened that lasted very few moments. During a clash between both contestants in the center of the ring, the lights of the Sap Center made a threat of going out. Raw was wrapped in a reddish tone and the public realized that it was something intentional. You can see that moment below.
Many have related this event to the hypothetical return of Bray Wyatt and Alexa Bliss's former demonic character. In WWE's latest live events, counting the most recent episode of Friday Night SmackDown, the same moment occurred in intermissions when the lights went out and the song "White Rabbit" by Jefferson Airplane blared throughout the venue.
Last night, on Monday Night Raw, WWE revealed one more clue as to who was behind those power outages, a video that featured a little rabbit playing hangman, whose main clue was the question "Who killed the world?".
After several attempts, the rabbit arrives at the answer: "YOU DID" (you did it). The video ended by revealing the numbers 9 and 23, marking them as a date (September 23) and a time (9:23).
The day and time correspond to the next episode of Friday Night SmackDown, where we could receive more clues or even the revelation of the person behind these messages.
Also Read: WWE Survivor Series 2022: WWE Announces Two WarGames For This PPV