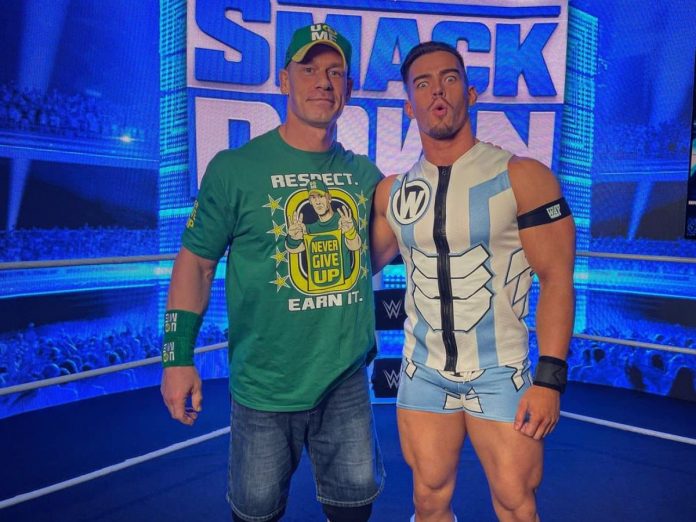 Austin Theory has had a successful career in WWE so far, and he says he plans to continue down the same path. He indeed had his ups and downs in the first year in the company, since he disappeared for a while due to accusations of a sexual nature that turned out to be false, but today, Austin Theory is a WWE Superstar with a future very bright in front.
Theory has tried to emulate the trajectory of John Cena
After working a high-profile match at last WrestleMania, reigning as the youngest United States Champion of all time, and winning the Money in the Bank briefcase this summer, it's clear the young heel is motivated. but it is interesting to note that he took direct inspiration from John Cena for what he is achieving.
In an interview with SHAK Wrestling Theory talked about what it meant to him to meet the 16-time WWE World Champion in person, saying:
"It is very rare to meet someone and have to explain to them that I have modeled my whole life after him. I saw Cena as an escape from my own life and I have always tried to observe him and learn from him in everything he did, from the physical plane to the mental plane.
Between his physique and his rapid rise to the top of the business, it makes sense that Theory would follow Cena's lead as one of the biggest personalities to ever exist within this sport of entertainment.
Will he fight against John Cena?
WWE planted the seeds for a feud between John Cena and Austin Theory over the summer, including the two exchanging words on multiple platforms and Theory referencing Cena in a promo after winning Money in the Bank.
In his interview with SHAK Wrestling, Theory also touched on the potential first-time dream match between the two, explaining:
" I'm pretty sure it could happen, for sure. And I want it to happen."
Austin Theory was a clear favorite of Vince McMahon, but his reaction to the president's resignation has not been one of despair, although it may well seem that the short-term plans for the young former United States Champion are on "stand by". Quite the contrary, he has expressed his confidence in himself in his relationships with other positions of power within the company and the confidence that he has in them. As Theory continues to reign supreme as Mr. Money in the Bank and remains a constant presence on WWE television and PLEs, there is still plenty of reason to be optimistic about his future in the business.
Also Read: WWE NXT Worlds Collide 2022 Updated betting odds and predictions for all 5 matches, Winners' names revealed