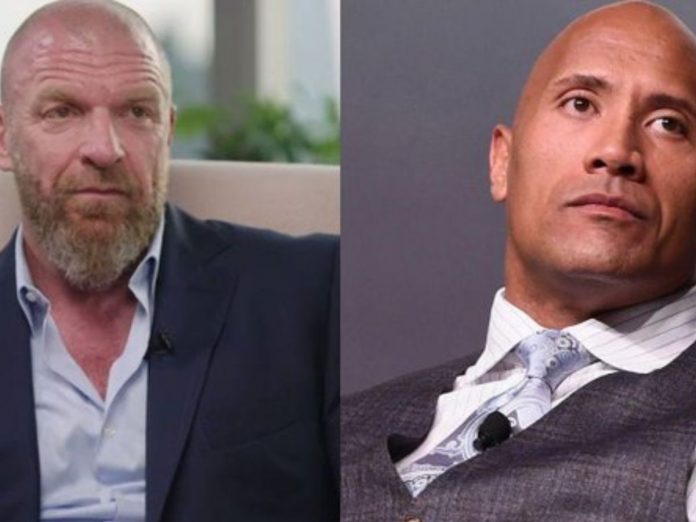 WWE News: Although the rumor that The Rock will return to WWE in 2023 has been around for more than a year, the topic had cooled down a bit due to the chaotic changes that the company has been experiencing, especially with Triple H taking control of the creative direction of WWE. However, now an appearance by The Rock at WrestleMania 39 is gaining strength again, where fans expect him to fight against his cousin, Roman Reigns.
All thanks to a recent Triple H interview with Ariel Helwani for BT Sport, where when the journalist questioned him about a possible return of Dwayne Johnson to the company, Hunter said that it was a decision that only the actor could make, but he invited him to take some time off in his schedule to fight again.
"We will have to see what the future holds. A fight of The Rock against Roman Reigns seems to write itself. The Rock might be able to set aside some time to make that match. Especially now that he is going to be having a lighter film schedule which will allow him to focus on the relaunch of the XFL in 2023.
It is very possible that this also gives Dwayne Johnson the necessary free time to have one more angle in WWE. A few years ago, we were going to have a match at WrestleMania. We even recorded a video to launch the rivalry and all that, but the year it was going to happen, everything changed. The opportunity changed.
When The Rock is recording a movie in Hollywood, there is no moment in all that where he feels like when he takes off his elbow pads and has an arena full of the WWE Universe chanting his name. I know because I've had that conversation with him. There is nothing like it on the planet."
The Rock and Roman Reigns
"There is nothing else that can give you the same emotion that you feel when standing in the middle of the ring, so I know that deep in it, there is a thing that makes your stomach burn and that is called: 'I have to feel that one more time. I have to get in that ring one more time.
And, it is difficult, because although The Rock looks very muscular, in a very good physical condition and like a million dollars, as soon as you hit that canvas, things in your body start to fall and you start to feel the pain. Time is ticking, the clock is ticking, but if there is a right time, it is now.
And I know there is a burning desire inside of him that asks him to seize this moment. It's just a question of whether he's going to be able to take advantage of the other things that he's going to do in his career, and take some time off and focus on having enough time to get back in the ring. And that will be 100% his decision."
Also Read: WWE Extreme Rules 2022: 3 Superstars Who Can Challenge Roman Reigns For This PPV