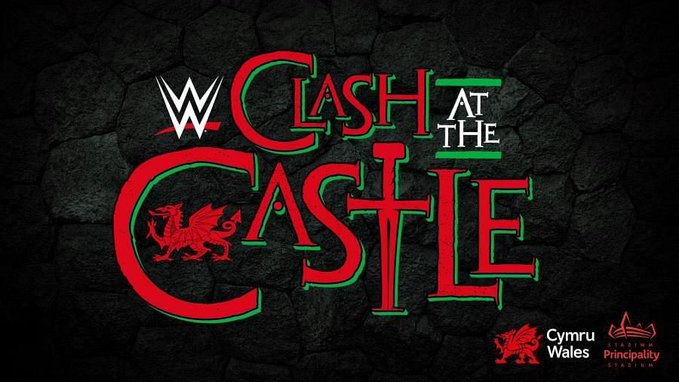 WWE Clash at the Castle 2022 Live Streaming: For the first time since 1992, WWE will be heading for a major stadium event as Clash at the Castle is coming to Principality Stadium, Cardiff, Wales in the UK on 3rd September 2022 at 3 PM EST/ 05:30 PM Local as per UK time. And if you are an Indian fan who loves to watch WWE then it is scheduled to take place at 12:30 AM IST on Sunday 04th September.
We witnessed a catastrophic ending of WWE Summerslam 2022 where the 'Head of the Table' Roman Reigns successfully defended his undisputed title against 'the beast incarnate' Brock Lesnar in a close-wiring match that lasted over forty minutes or so. After the match, the Cowboy look of Brock Lesnar has been loved by almost every WWE fan and they will be hoping soon to see Brock back in the action again as he is not going to perform in WWE's next PPV.
Former WWE Champion Drew McIntyre shared his thoughts on the upcoming WWE event in England: "The city of Cardiff is ready for WWE Clash at the Castle on September 3, and I know that everyone in Wales, across the UK and around the entire world is ready to make history with us, too. Get your tickets and be part of the magic. I can't wait to hear just how loud Principality Stadium can get."
WWE Clash at the Castle:
"Principality Stadium is the perfect place for a major event, hosting our amazing fans from Wales, throughout all of Europe, and around the world," said John Porco, WWE Senior Vice President, Live Events. "The weekend will be filled with a variety of WWE experiences that we believe will leave a lasting memory, on par with SummerSlam at Wembley Stadium in 1992."
"Wales will provide an iconic location for WWE's return to the UK after 30 years and showcase our country to a global audience of millions, including extended reach in the USA," said Welsh Government Minister for Economy Vaughan Gething.
"We're extremely proud that Principality Stadium has been chosen by WWE to host this major event, which is testament to the stadium's reputation as a world class venue," said Mark Williams, Principality Stadium Manager. "Principality Stadium is unique in its position at the heart of the city centre, which will undoubtedly offer WWE fans an unrivalled event experience both inside and outside of the stadium and bring great benefit to the wider city of Cardiff."
Match card for WWE Clash at the Castle 2022
Roman Reigns vs Drew McIntyre: Undisputed WWE Championships
WWE Live Streaming of Clash at the Castle 2022: All you need to Know
When to watch Clash at the Castle 2022 in India?
WWE Clash at the Castle sets to take place on 04th September, Sunday 2022 in India
Where to watch WWE Calsh at the Castle in India?
Clash at the Castle will telecast live on Sony Sports Network at 12:30 AM IST Sunday, 04th September in India.
WWE Clash at the Castle location and Stadium name?
WWE Clash at the Castle will take place at the Principality Stadium in Cardiff, Wales in the UK.
How to watch WWE Clash at the Castle free on TV?
Users need to call the D2H operator for the same and they can watch the live streaming by paying the detailed price.
How to catch WWE Clash at the Castle live on Youtube and other platforms?
One can watch WWE Clash at the Castle by following WWE's official Youtube page and by following the WWE's official website.
What would be the duration of the WWE Clash at the Castle?
The show will start at 12:30 AM IST and is likely to go beyond 3:30-4:00 AM IST.
Also Read: WWE Clash at the Castle Date & Location: How to watch Live streaming in India, When & Where to watch on 04th September 2022
How to watch Clash at the Castle in USA, UK, Saudi, Europe and more
Users can watch live action of WWE Clash at the Castle 2022 on 3rd September in USA at 3PM/EST. WWE Fox and USA network will telecast the live streaming of the show. For UK fans they can stream the show at time 05:30 PM local and it will telecast on WWE on BT sports, WWE UK and on official website of WWE.
Clash at the Castle schedules September 03, 2022
12:30 AM IST India – September 04, 2022
12:00: Guatemala City (Guatemala), Managua (Nicaragua), San José (Costa Rica), San Salvador (El Salvador), Tegucigalpa (Honduras)
13:00: Mexico City (Mexico), Bogotá (Colombia), Lima (Peru), Panama, Quito (Ecuador)
3:00 p.m: New York (United States), Caracas (Venezuela), La Paz (Bolivia), Puerto Rico, Dominican Republic, Santiago (Chile), Asunción (Paraguay)
15:00: Buenos Aires (Argentina), Montevideo (Uruguay)
06:00 (September 03): Canary Islands (Spain)
07:00 (September 03): Spain
How to watch WWE Clash at the Castle Live on TV & Online:

United States: USA Network
LATAM: FOX Sports
Spain: official WWE Youtube on deferred
India: Sony Sports Network
What is the Ticket price for this event?
The ticket price starts from £35/ $35.26 and 2829.23 INR.
However, if you are a WWE fan you can follow our website KhelTalk.com for all the updates related to WWE RAW, WWE SMACKDOWN, WWE NEWS, WWE NXT, WWE EVENTS, and more.
Also Read: Sasha Banks and Naomi might return for tonight's WWE RAW episode