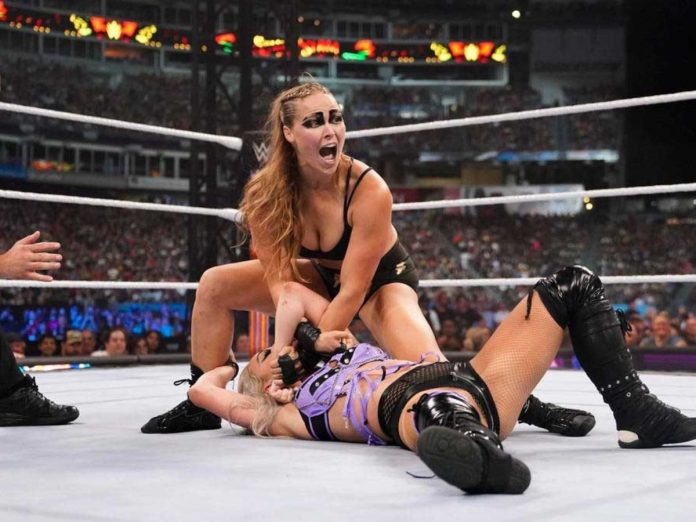 WWE Extreme Rules 2022: Ronda Rousey will face Liv Morgan in a Street Fight match at the Premium Live Event Extreme Rules. It will be the third time that both face each other since Money in The Bank, although this time it will be different due to the special stipulation.
Through her YouTube channel, Ronda Rousey talked about this fight and mentioned some ideas for the special stipulation of Street Fight. The former Raw and SmackDown women's champion mentioned that she will take a pair of kendo sticks to attack her rival, an object that Liv Morgan already used last Friday on SmackDown to attack Lacey Evans. However, she would like to use tacks.
"Definitely tacks …" Ronda Rousey commented on what kind of items she would like to use in combat. "But, I feel like there are a couple of weapons that are going to be used for sure… I love the kendo stick; the kendo stick is mine and Charlotte's thing.
I'll take out two kendo sticks and make them my own," added Rousey, who also commented on something she would like to do with her rival in combat. "I'd like to drop LEGOs on the ground, take off Liv's shoes and have her walk on top of them."
WWE Extreme Rules 2022 will take place on Saturday, October 8 from the Wells Fargo Center in Philadelphia, Pennsylvania. Fans will be able to witness this event live from the stands, or through WWE Network (Peacock in the United States). More matches and segments are expected to be announced in the coming weeks.
Match card for Extreme Rules 2022
Liv Morgan vs Ronda Rousey: WWE Women's Champioship
Seth Rollins vs Riddle: Fight Pit
Bianca Belair vs Bayley: WWE Raw Women's Championship
Extreme Rules schedules October 08, 2022
05:30 AM IST India – 09th October 2022
18:00: Guatemala City (Guatemala), Managua (Nicaragua), San José (Costa Rica), San Salvador (El Salvador), Tegucigalpa (Honduras)
19:00: Mexico City (Mexico), Bogotá (Colombia), Lima (Peru), Panama, Quito (Ecuador)
8:00 p.m: New York (United States), Caracas (Venezuela), La Paz (Bolivia), Puerto Rico, Dominican Republic, Santiago (Chile), Asunción (Paraguay)
21:00: Buenos Aires (Argentina), Montevideo (Uruguay)
01:00 (early on October 09): Canary Islands (Spain)
02:00 (early morning of October 09): Spain
How to watch WWE Extreme Rules Live on TV & Online:
United States: USA Network
LATAM: FOX Sports
Spain: official WWE Youtube on deferred
India: Sony Sports Network
WWE Extreme Rules 2022 TimeLine in Different Countries
| Country | Date | Time |
| --- | --- | --- |
| United States | October 8, 2022 | 7 PM EST |
| Canada | October 8, 2022 | 6 PM CST |
| United Kingdom | October 9, 2022 | 12 AM BST |
| Europe | October 9, 2022 | 1 AM CET |
| India | October 9, 2022 | 4:30 AM IST |
| Australia | October 9, 2022 | 3 AM AEST |
| Japan | October 9, 2022 | 8 AM JST |
| Saudi Arabia | October 9, 2022 | 1 AM SAST |
Also Read: WWE Extreme Rules 2022 Match Card, Stipulation, Title Matches, Live Coverage In India