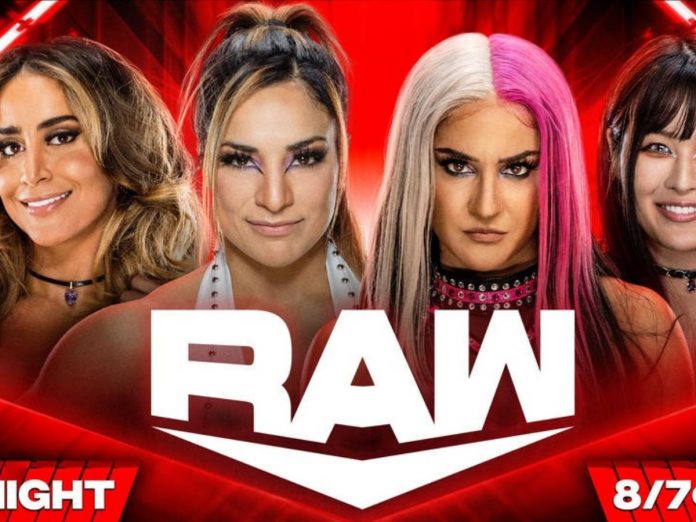 WWE RAW Result 2022: USA Network will broadcast the 1,527th episode of WWE Monday Night Raw on Monday, August 29, 2022 live from the PPG Paints Arena in Pittsburgh, PA.
– The Judgment Day defeated Dolph Ziggler & AJ Styles. Priest corners AJ with blows and charges at Dolph in his corner. Styles responds with a Dropkick and a Clothesline to knock Damian out of the ring and fly over him right away. AJ applies the Calf Crusher in the middle of the ring, and Balor brings the rope closer so that his partner can free himself from the key.
Ziggler takes over and surprises Damian with a pin. However, the referee is too distracted with AJ to count. Balor intervenes but receives a Superkick from Ziggler. Priest finishes off Dolph with the South of Heaven to take the victory.
On the giant screen Edge is seen arriving at the arena. The Judgment Day remain in the ring, waiting for their enemy.
WWE Global Ambassador @TitusONeilWWE announces a $100,000 donation thanks to the Bullard Family Foundation to kick off Pediatric Cancer Awareness Month in honor of @ConnorsCure.

Donate today at https://t.co/Oy5GbkMBck pic.twitter.com/aOJopfGMAv

— WWE (@WWE) August 30, 2022
IT'S #WomensTagTitle FINALS TIME! Who ya got? Vote Below! #WWERaw pic.twitter.com/kbgRq4uZF7

— USA Network (@USA_Network) August 30, 2022
Finn Balor says that he is fed up with the supposed legends. Damian Priest tries to calm him down, and says that last week he could have defeated Edge. "This week we're not in Toronto. You don't have your family, you don't have your friends. Let me finish what we started last week. This week you will face your judgment day," Priest fires.
WWE RAW Result 2022
Edge goes out to face The Judgment Day. Faced with Priest's comments about Beth Phoenix wearing the couple's pants, Edge tells him to update himself, that his comments are outdated. He also warns Rhea Ripley not to mess with her. "You didn't learn anything from me," Edge complains. "I didn't come here alone," he adds.
The Mysterios attack Judgment Day from behind! Dominik and Rey Mysterio hit with kendo sticks at Judgment Day. Finally, Dom is left facing Rhea alone in the ring. Ripley tries to calm him down so he lowers the gun. Dom relents and hands over the kendo stick. Edge and Rey run to the ring, Rhea threatens them but her teammates take her out of the ring.
The Miz and Ciampa were interviewed earlier. Miz doesn't want to talk about what happened with Dexter Lumis.
Raquel Rodriguez and Aliyah assure us that today they will become Women's tag-team Champions.
Bianca Belair, Asuka & Alexa Bliss defeat Dani Mo, Katie Arquette & Kayla Sparks. As Bianca, Alexa, and Asuka dominate their rivals without problems.But, Bianca applies a Vertical Suplex and takes over from Alexa, who has fun controlling one of her opponents. Asuka applies her Asuka Lock to take the victory over Dani Mo.
Brilliant, @CiampaWWE. 😏👈#WWERaw pic.twitter.com/UZhtOVtnjO

— WWE (@WWE) August 30, 2022
Adam Pearce talks to The Miz and Ciampa. He says that he just wants to help, Miz complains about having to fight Bobby Lashley after what happened last week. Adam wants to talk about it, but Miz once again refuses.
Kurt Angle barely makes it to say hello to his hometown and talk about Clash at the Castle, when he is interrupted by Alpha Academy .
Chad Gable says that Kurt Angle is not only a local hero, but a personal one as well. Chad says that they are looking for a new member, and since there is no talent present, he will not be able to do the open challenge that he thought. Gable and Otis offer Angle an Alpha Academy jacket.
Kurt says he goes by and throws the jacket away. Gable tells him to shut up, Kurt says the same, and the two have a "shoosh" duel. Otis prepares to attack Angle, but the Street Profits come out to face the Alpha Academy.
Street Profits take on Alpha Academy. If the Profits lose, Kurt Angle must join the Academy.
EXCLUSIVE: @RealKurtAngle reflects on an exciting night on #WWERaw in Pittsburgh! pic.twitter.com/1NM6wQmGS8

— WWE (@WWE) August 30, 2022
Street Profits defeat Alpha Academy. Alpha Academy dominates Street Profits at the start of the match. Otis looks for the account but Dawkins resists. Montez receives a Diving Headbutt from Chad but Angelo saves him just in time. Angelo and Otis collide with Clotheslines in the middle of the ring. Gable taunts Angle and closes the Ankle Lock on Ford. Montez spins to escape and closes an Ankle Lock of his own on Chad. Ford increases the pressure by throwing himself to the canvas, but Otis stops him with a Splash. Dawkins Pounces Otis over the announce table, while Ford finishes off Gable with a big Splash for the win.
After the fight, the Profits toast with Kurt Angle, who brought bottles of milk to celebrate.
WWE RAW Result 2022
Earlier, Seth Rollins and Matt Riddle went to blows in the parking lot of the arena.
Corey Graves interviews Seth Rollins and Matt Riddle from different locations. Riddle and Seth talk over each other. Seth says it's his time, not Riddle's. "He's not at my level," insists Seth. "No one can stand you, no one can stand your stupid face. I will finish you off not just for me, but for everyone," says Rollins. "You're going to need to do more than you've done, because I'm going to be here a long.
.@steelers in the house on #WWERaw! pic.twitter.com/o0Zzk2DrUW

— WWE (@WWE) August 30, 2022
The Usos arrive alongside Sami Zayn . The Usos remember that next Friday there will be a celebration for the two-year reign of Roman Reigns. Sami adds that the Tribal Chief has chosen him as the master of ceremonies for that night.
Kevin Owens interrupts them. "Raw is still the Kevin Owens Show, The Bloodline do not own anything here. I also take this opportunity to tell you that your boss still owes me one," says KO. The Usos ask Sami if Kevin is his friend. Sami says technically yes. "Then you take care of it before I do," says Jey.
"Roman Reigns doesn't owe you or anyone anything," Zayn says. "Sami, you forget that you are one of the best. Now you are reduced to being the clown of the Bloodline. I consider you a brother and it makes me sad to see what you have become," says Owens. "You don't know what you're saying," Zayn replies.
Sami says that The Bloodline wants him, that's why they invited him. KO enters the ring and says that he does not forget that Jey Uso and Paul Heyman were the ones who prevented him from taking the title from Roman Reigns. Sami tries to keep the peace.
– Kevin Owens defeats Jey Uso. KO dominates Jey at the beginning of the fight. Jey gets out of the ring, KO goes for him but Uso throws him against the post. Kevin responds quickly by punishing Jey against the steps. Jey and KO exchange blows in the heights. Owens knocks down Jey and launches into Swanton Bomb.
Jey connects a Superkick and I use Splash, but it's not enough. KO Superkick to both Uses. Frog Splash to Jey and he counts very close to three. Jimmy distracts the referee from one side, Sami grabs a chair to hit KO but stops. Owens takes advantage of Jey's distraction to connect the Stunner and take the victory.
Bayley, Dakota Kai and Iyo Sky assure that they will take control of the women's division. Not only from Raw, but from all brands.
WWE RAW Result 2022
Ciampa accompanies The Miz to his truck. Kevin Patrick tries to interview Miz, but the fighter continues to refuse. Starting his truck, he sees Dexter Lumis in the backseat.
Johnny Gargano talks about Theory . "I haven't talked to him in nine months," Gargano said, when Theory shows up. "Why didn't you call me when I became United States Champion or Mr. Money in the Bank?" asks Theory. "Maybe you didn't call me because you were jealous," says Theory. "Welcome to Raw, and good luck," he adds before leaving.
Raquel Rodriguez & Aliyah defeat Iyo Sky & Dakota Kai to become the new Women's Tag Team Champions. Raquel takes the initiative on Iyo with her power, but Sky manages to escape from her and take over from Dakota. Kai and Iyo work as a team but Dakota searches for the account to no avail. Iyo slams Aliyah against the metal steps to get her away from her corner.
Raquel stops Dakota, Iyo goes for her but Rodriguez launches her against her own partner. Iyo reverses a Powerbomb with a Sunset Flip that almost gives him the victory. Raquel connects a Clothesline and charges Iyo, but Bayley takes advantage of Dakota's distraction to intervene. Iyo's Moonsault and count of two.
Bianca Belair, Asuka and Alexa Bliss appear to chase Bayley away. Aliyah takes over and leaves the ring without being seen by her rivals. Iyo and Dakota attack Raquel without knowing that she is not the legal one. Aliyah pushes Iyo off and covers Dakota for the win.
Bianca Belair, Asuka and Alexa Bliss go out to celebrate with Raquel Rodriguez and Aliyah to close the show.
EXCLUSIVE: Hear from the NEW @WWE Women's Tag Team Champions @RaquelWWE & @WWE_Aliyah!#WWERaw pic.twitter.com/wQGpHoLrVr

— WWE (@WWE) August 30, 2022
Also Read: WWE Clash at the Castle 2022 Kick-off time, meet & greet with superstars, match day timing; Follow Live