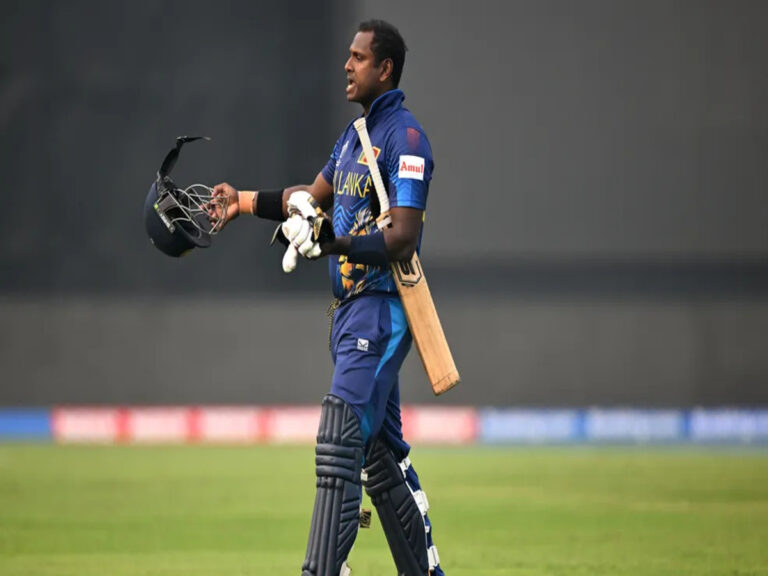 In a historic and unprecedented turn of events, Angelo Mathews was dismissed by the 'timed out' rule for the first time in International cricket during the ICC World Cup 2023 match between Bangladesh (BAN) and Sri Lanka (SL) at Delhi's Arun Jaitley Stadium. 
This unusual mode of dismissal has captured the attention of cricket enthusiasts worldwide, prompting a detail on the rule and the circumstances that led to Mathews' extraordinary dismissal.
What is the 'Timed Out' Rule In Cricket?
The 'timed out' rule in cricket is one of the ten recognised methods of dismissal. According to cricket's laws, a batsman is required to be ready to face the next ball within three minutes of the fall of the previous wicket.
This regulation is designed to ensure the pace of the game, preventing undue delays. If the incoming batsman fails to reach the crease or be prepared to face the next delivery within the stipulated three-minute timeframe, the fielding side can appeal for a 'timed out' dismissal, leading to the batsman's removal.
The Unusual Dismissal of Angelo Mathews: Know Details
The extraordinary incident occurred in the 25th over of Sri Lanka's first innings following the dismissal of Sadeera Samarawickrama.
Angelo Mathews, a seasoned all-rounder for the Sri Lankan team, was poised to take strike when an unforeseen hiccup transpired.
Mathews' helmet strap suddenly snapped, which was unfit for use.
In the urgency of the moment, Mathews signalled to his team's dugout for a replacement helmet. However, what unfolded next added an unexpected layer of drama to the game. 
Mathews, in his haste to secure a new helmet, did not consult with the opposition captain, Shakib Al Hasan, regarding this equipment issue.
Shakib Al Hasan, the skipper of the Bangladesh side, astutely recognised this oversight and swiftly appealed to the on-field umpires for a 'timed out' dismissal.
As per the rule, Mathews was considered to have taken too long to be prepared to face the next delivery, and the appeal was upheld.
Angelo Mathews Dismissal: Umpires' Adherence to the Rules
Despite Mathews' efforts to explain and negotiate, the umpires adhered to the strict interpretation of the 'timed out' rule. Shakib Al Hasan chose not to withdraw the appeal, ultimately leading to the historic dismissal of Angelo Mathews.
This unique incident, the first of its kind in international cricket, has drawn attention to the less-recognized but integral 'timed out' rule.
It has sparked extensive discussions among cricket enthusiasts and experts, with opinions divided on the application of sportsmanship and the adherence to the laws of the game.
As the world of cricket reflects on this unusual occurrence, it serves as a reminder of the intricacies and the depth of rules governing the sport, where even the rarest of circumstances can have a profound impact on the game's outcome.
Also Read: BAN vs SL 38th Match, ODI World Cup 2023: Preview, Playing XI, All You Need To Know