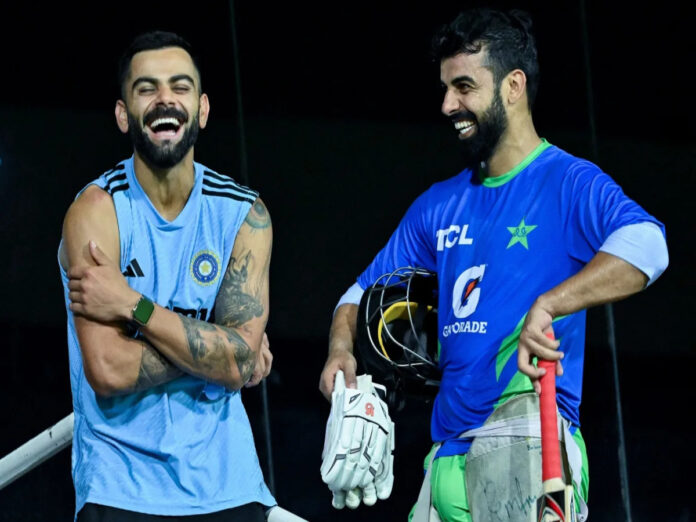 When cricket's most iconic rivals, India and Pakistan, lock horns, it transcends the realms of a mere sporting event. It transforms into a battle, where emotions surge like tidal waves, and the outcome resonates far beyond the boundary ropes.
The stage is set for one such electrifying encounter in the Asia Cup 2023, which is scheduled to be held on September 2 on Saturday in Pallekele.
The result of the IND vs PAK clash will be marked in the cricket history book. There will be a cricket holiday for both India and Pakistan nation, as everyone will be glued to their screen to avoid missing any important moment of the IND vs PAK clash.
Yet, the fervour surrounding this marquee clash could be doused by Mother Nature herself. The weather forecast casts a shadow of uncertainty, predicting incessant rain and thunderstorms throughout the day. 
This tantalizing IND vs PAK clash might, unfortunately, be called off, adding an extra layer of unpredictability to an already volatile encounter.
India strides into this tournament armed with a formidable arsenal, boasting a full-strength team for the first time in months. The return of stalwarts like Shreyas Iyer and Jasprit Bumrah has further fortified the lineup. With a dearth of ODIs leading up to the World Cup, the focus is as much on regaining rhythm as it is on securing victory.
Pakistan, on the other hand, embarked on their Asia Cup journey with a resounding statement of intent. Buoyed by splendid centuries from the dynamic duo of Babar Azam and Iftikhar Ahmed, alongside a clinical display by their bowlers, they secured a commanding victory.
The squad, rejuvenated and injury-free, has already captured attention with their performances in Sri Lankan conditions. However, there are niggling concerns to address.
Fakhar Zaman's ongoing struggles at the top of the order raised eyebrows, and the Pakistani batting unit found itself grappling against Nepal's spirited resistance before being powered to a formidable total by Babar and Iftikhar. 
Furthermore, Shaheen Afridi's rhythm, despite claiming vital wickets, was not at its peak, and an injury scare near the boundary added an element of unease.
As the stage is set for this epic clash between cricketing giants, the heavens themselves seem poised to intervene. Nevertheless, the anticipation remains palpable, for when India and Pakistan converge on the cricket field, it is not just a match; it's a spectacle that defies description, a collision of titans that transcends sport.
Regardless of the weather's concern, the world watches with bated breath as these two cricketing powerhouses prepare to script yet another chapter in their storied rivalry.
Asia Cup 2023: IND vs PAK Predicted Playing XI
India: Rohit Sharma, Shubman Gill, Virat Kohli, Ishan Kishan (wk), Shreyas Iyer, Hardik Pandya, Ravindra Jadeja, Shardul Thakur/Axar Patel, Kuldeep Yadav, Jasprit Bumrah, Mohammed Siraj
Pakistan: Fakhar Zaman, Imam-ul-Haq, Babar Azam (c), Mohammad Rizwan (wk), Agha Salman, Iftikhar Ahmed, Shadab Khan, Mohammad Nawaz, Shaheen Afridi, Naseem Shah, Haris Rauf
Also Read: IND vs PAK Dream11 Prediction, Top Fantasy Picks, Player Availability News, 3rd Match, Asia Cup, 2023, 2nd September 2023