The Pakistani cricket team's captain, Babar Azam, who is known for scoring runs with the bat, has become embroiled in a scandal when some of his allegedly private videos and photographs got popular on social media.
Babar Azam, the captain of Pakistan, is currently facing further difficulties. According to rumours, Azam may have fallen victim to a honey trap while sexting with another Pakistani cricketer's girlfriend. A few chats, audio files, and videos have went viral on social networking sites, but it's not obvious who the media files' real sources were.
The images, audio, and video were posted on social media by an eish.arajpoot1 Instagram account who isn't identified. However, Babar supporters have claimed that these are morphed pictures, videos, etc. that have been created to harm the cricketer's reputation.
It is noteworthy that Azam was previously accused of threatening and blackmailing a woman by the name of Hamiza Mukhtar. She claimed that he had harassed her sexually and had coerced her into having an abortion. According to reports, Hamiza contacted FIA about the situation. According to reports, Azam allegedly promised the woman that if she kept having sex with him, he would allow her boyfriend to join the squad.
Instagram posts by eish.arajpoot.1 – Check 
In a story, the user said, "Hope you get what you did. Can you not support a woman as a woman? Are you making noise because I am bringing his real face in front? The garbage will be revealed. He has to suffer for what he did. Everyone will see how he went around with 6-7 girls. He will face the consequences. Should we die in silence? I will reveal the truth before committing suicide."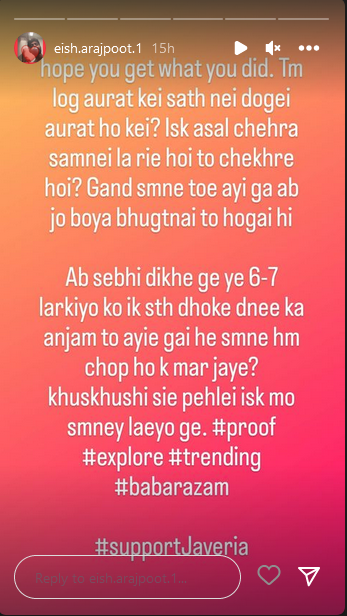 In another story, the user wrote, "There is noise in Allah's baton. Everyone will know the truth. Have some patience. Wait and watch. The truth will be revealed. People jump in to defend this person. Is he honest, right? He is God for you. Show proof if he is not wrong."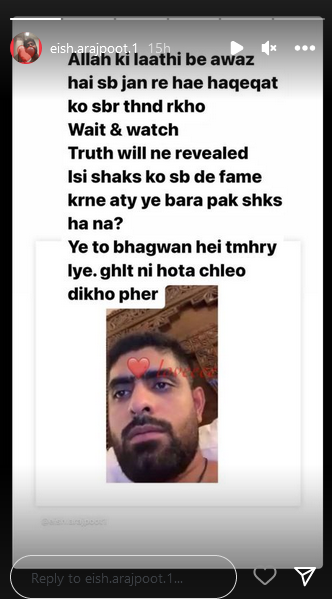 Azam's face was captured on film along with someone else's (perhaps a woman's) nail-adorned hand on the other end of the call. By only observing the fingers, we are unable to determine the gender of the person on the other side.
Azam might be seen sitting in a car in another video. What inspired the video's publishing is unknown. The user wrote in the post:, "How can someone engaged to his cousin still talk to other 5-6 girlfriends? Wow, you think that's how heroes should be? Such heroes should die; that will be better."
Also Read: Women's IPL 2023: Viacom Won The Media Rights For INR 951 Crore