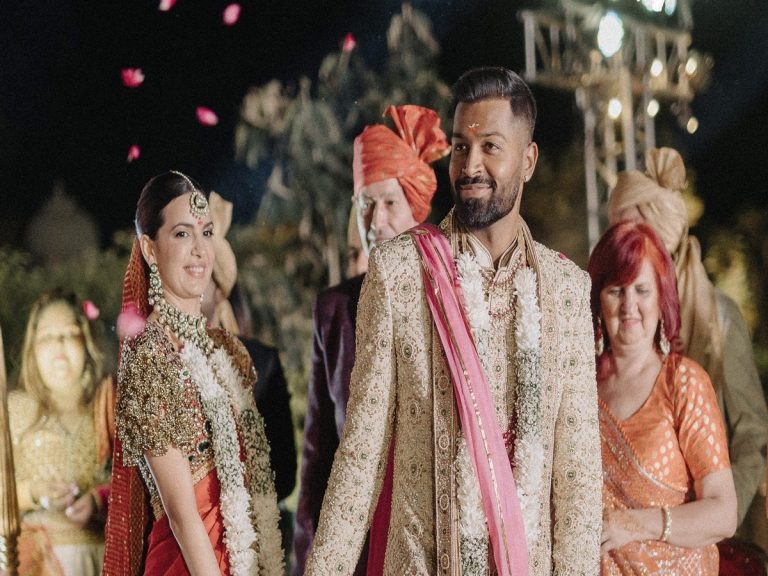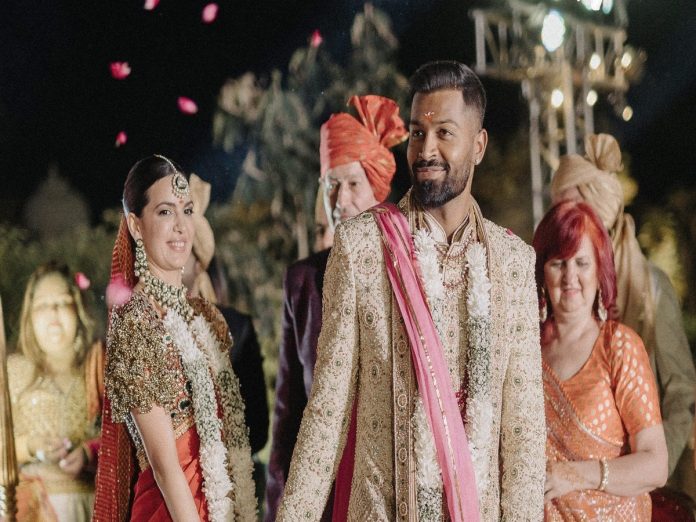 Actress Natasa Stankovic and cricketer Hardik Pandya were married in a Hindu ceremony in Udaipur, Rajasthan, following a joyful Christian ceremony on Valentine's Day. Hardik Pandya, the all-arounder for Team India and the T20I captain, went all out to celebrate his Hindu wedding to Serbian Natasa Stankovic. On Thursday, Hardik and Natasa published images from their Hindu wedding, which was held at the Raffles Hotel in Udaipur (February 16).
The pair posted photos from their royal nuptials in the city of Udaipur on social media on Thursday. Natasa wore a lehenga with red borders that were cream in colour. The bride decked herself out in some substantial jewellery.
Hardik chose a cream-embroidered sherwani and a modern dupatta for the varmala ceremony. Natasa wore a heavily embellished red dupatta over a golden lehenga. She dressed in a vivid crimson saree and a striking blouse for the Pheras. She improved her appearance with polki jewellery and dewy makeup.
Hardik wore a cream-coloured Kurta-Pajama to match Natasa's. For the occasion, Natasa wore a red saree with thick, elaborate borders. In the photos, the pair can be seen exchanging garlands, performing saat pheras, and Hardik applying sindoor (vermillion) to Natasa's forehead. "Now and forever," the pair wrote as the caption for the pictures.
Fans greeted the fresh round of photos with congratulations and kind remarks. Tuesday's Christian ceremony saw Natasa Stankovic and cricketer Hardik Pandya renew their vows to each other.
Hardik-Natasha Wedding Pictures
When thousands of flower petals were thrown on them during their var mala ceremony, they could be seen in the first photo gazing up at the sky. The next picture showed Natasa entering the wedding with a scarlet veil covering her head. Some adorable ceremony-related moments were also included in the article.
They were seen in the picture holding hands during the pheras. One involved Natasa having sindoor placed on her forehead by Hardik. The bride and groom were photographed in unison during the golden hour in the final image.
Celebrated Valentine's Day on this island of love
On Valentine's Day, Hardik and Natasha shared romantic photos from their wedding on social media. They wrote, in the caption, "We celebrated Valentine's Day on this island of love by renewing the vows we took three years ago. We are truly blessed to have our family and friends with us to celebrate our love."
On January 1, 2020, while on a cruise, Hardik and Natasa got engaged. They later got married during the COVID-19 lockdown. On May 31, 2020, they were wed in a small ceremony. In July 2020, the couple welcomed their son Agastya into the world.
Also Read: Star Sports Incredible Awards: IPL's Best Captain, Best Batter, Bowler's Nominees, MS Dhoni, Rohit Sharma, Jasprit Bumrah In List