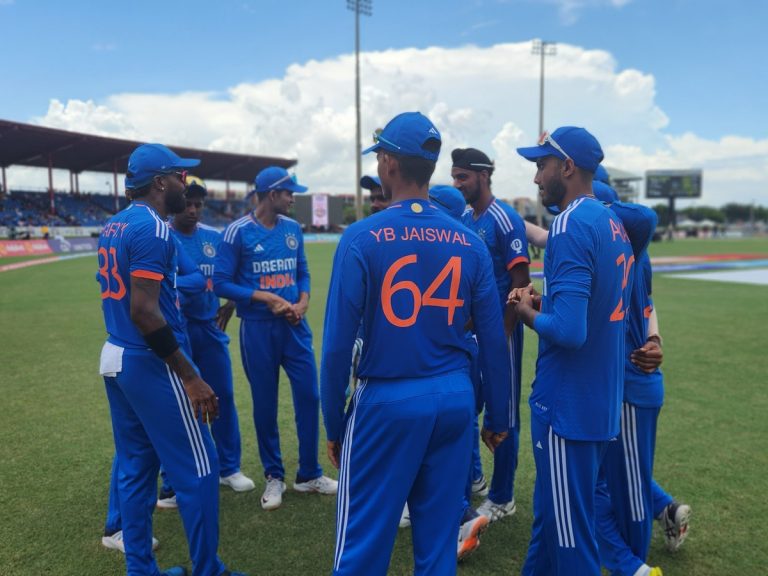 In a display of power and precision, West Indies soared to an emphatic eight-wicket win over India in the fifth T20I, sealing their maiden triumph in a five-match series against their opponents.
Brandon King's unbeaten 85, bolstered by a century stand with Nicholas Pooran, spearheaded the hosts' commanding chase at the Lauderhill stadium.
Having stifled India's ambitions, the West Indies bowling unit showcased their mettle, crafting a disciplined effort that curbed the visitors' progress. India's bid to score beyond the 180-run mark was stifled, and the chase that ensued was executed with finesse, culminating with two overs to spare.
India's openers, Yashasvi Jaiswal and Shubman Gill, could not replicate their previous heroics in this encounter. Akeal Hosain's left-arm spin proved perplexing, accounting for both openers.
Jaiswal's departure came in the form of a gentle return catch, while Gill's LBW dismissal was a missed opportunity, with a review remaining unused.
In a key turning point, Tilak's audacious aggression shifted the momentum towards India. As Suryakumar Yadav displayed his prowess in the PowerPlay, Tilak's onslaught on Alzarri Joseph swung the pendulum, amassing 19 runs in the sixth over alone.
West Indies, however, responded with brilliance. Roston Chase's exceptional catch ended Tilak's surge, leaving the partnership unfulfilled.
Despite a few rain delays, Suryakumar pressed on relentlessly, yet his support was limited. Sanju Samson exhibited promise but surrendered his wicket at a crucial juncture.
Guided by the unwavering Suryakumar, India recovered their poise, setting the stage for a final flourish. The captain, in conjunction with Hardik Pandya, assembled a platform for acceleration. Yet, Pandya's eagerness resulted in a mistimed shot, his demise cutting short a promising innings.
The final overs witnessed a dramatic tumble as West Indies showcased their prowess in death bowling, restricting India's potential surge. Despite a late flourish from Axar Patel, the visitors' total remained below par, a testament to West Indies' bowling proficiency.
West Indies chase commenced with a fervent assault by Kyle Mayers on Hardik's opening over, which yielded 11 runs. However, Mayers' tenure was abruptly terminated by Arshdeep Singh, offering India a glimmer of hope.
Brandon King and Nicholas Pooran proceeded to orchestrate a partnership masterclass, effectively dashing India's aspirations. King's adaptability against pace and spin, paired with Pooran's aggressive intent, left India's bowlers grappling in vain.
The duo's 61-run PowerPlay flourish laid the groundwork for victory, as they consistently outpaced the DLS par score amid intermittent rain.
Though India eventually separated the partnership with a rain-induced interruption, the damage was done. King, in tandem with Shai Hope, guided West Indies to a resounding victory, rendering India's efforts futile.
This victory not only secured West Indies' first-ever series win over India in the five-match T20I format but also demonstrated their prowess in every facet of the game. As the curtains closed on this encounter, the West Indies celebrated a hard-earned victory, while India faced introspection and preparation for future challenges.
Also Read: IRE vs IND T20I 2023: Complete Schedule, Squad, Venue, All You Need To Know