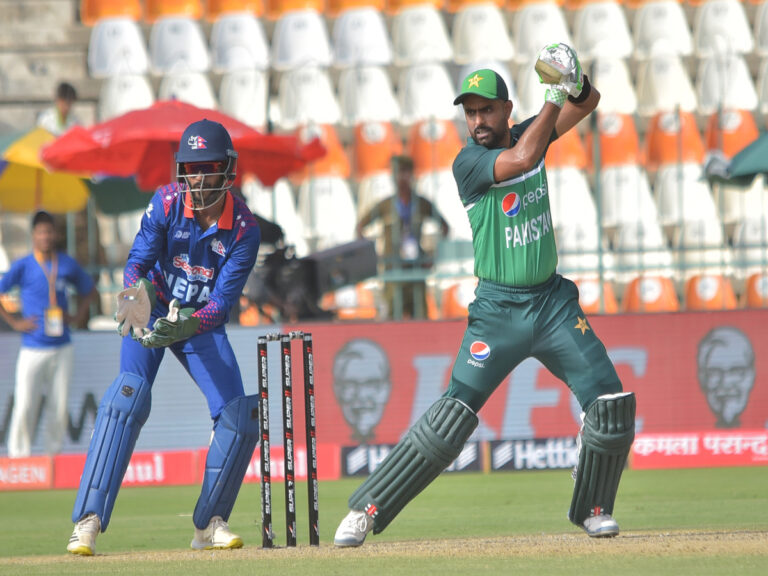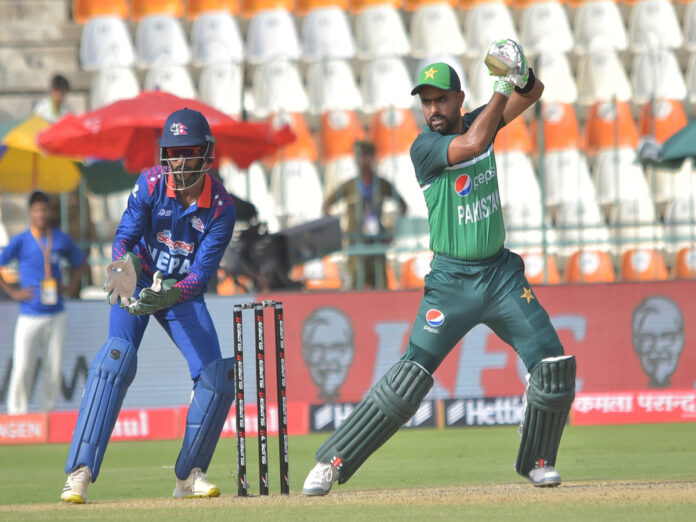 Babar Azam's symphony of supremacy resonated through the stadium as he orchestrated a mesmerizing performance in the realm of One Day International (ODI) cricket.
The opening clash of the Asia Cup 2023 witnessed Pakistan's resounding victory over Nepal by a big margin of 238 runs.
The stage was set at Multan Cricket Stadium, where a tricky pitch had Nepal's bowlers dancing on the tightrope of opportunity. Early on, Nepal's early breakthroughs jolted Pakistan, casting a shadow of uncertainty.
Amid this precarious situation, Babar Azam emerged as the harbinger of stability, meticulously laying the foundation. With the patience of an artisan, he reached his half-century in 72 deliveries.
Then, Babar shifted his gears, from 51 to 100, the pendulum of his strike rate swung with an exhilarating speed, consuming a mere 37 balls. Crossing the century milestone unfurled his T20 avatar, as he blazed through the crease, smashing 51 runs off a mere 22 balls.
A partnership between Babar Azam and Iftikhar Ahmed ensued, echoing across the field. Their fifth-wicket partnership of 214 runs emerged as the crescendo of Pakistan's symphony, elevating their total to an imposing 342 for 6.
The Nepali debut on the Asia Cup stage was fraught with inexperience, and nerves laid bare on multiple occasions. The inaugural over itself witnessed a couple of errant deliveries down the leg side, exploited by Fakhar Zaman for boundaries. Yet, Nepal's salvation lay in the pitch's lethargy and their agile fielding.
Shaheen Shah Afridi heralded the chase with two swift strikes, quelling Nepal's aspirations. The chase oscillated between resilience and collapse, yet Nepal succumbed to Pakistan's pace.
Aarif Sheikh and Kami added 59 runs in 78 balls to stabilise the innings, but they couldn't hold on against Haris Rauf's pace. Aarif was cleaned up first, and Kami was then left behind.
The only obstacle Pakistan's fast bowlers had was the humid weather, which forced Shaheen and Haris to leave the pitch after their first spells to take a break.
The lowest order of Nepal couldn't compete with Shadab's variants. He took the final four wickets by combining his leg-breaks and googlies, finishing with 4 for 27. At last, Nepal was all out for 104, which gave Pakistan a big margin win.
In the grand tapestry of this encounter, Babar Azam's brushstrokes painted a narrative of elegance, dominance, and versatility. As the dust settled on Multan's stage, Pakistan emerged triumphant, etching its authority on the opening act of the 2023 Asia Cup.
Also Read: BAN vs SL Dream11 Prediction, Top Fantasy Picks, Player Availability News, 2nd Match, Asia Cup, 2023, 31st August 2023