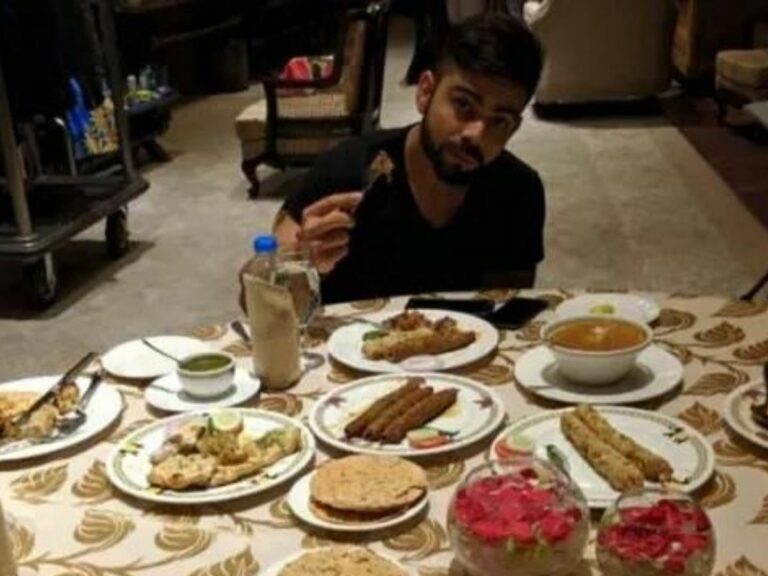 Virat Kohli takes his fitness extremely seriously and he is easily, one of the fittest cricketers to have graced this game. The 34-year-old has undergone a massive transformation and avoids all kinds of junk food.
Several interviews with this cricketing megastar have made one thing clear- Virat Kohli never digresses from his fixed routine, which is a dream for many individuals to follow.
In the ongoing ICC ODI World Cup 2023 tournament, Virat Kohli has taken his game to another level. He has displayed unreal consistency and is smearing the opposition bowlers to all parts of the ground.
Virat Kohli has amassed 354 runs in the tournament and is the highest run-scorer of the Indian cricket team. He has an average of 118 and is playing extremely well as he is taking the team over the line, single-handedly.
In an interview with the Times of India, the executive chef of the Leela Palace has revealed the strict diet of Virat Kohli during this tournament at home. Most of the food items are steamed and as Kohli doesn't eat meat anymore, there are several vegetable-based proteins for the chase-master.
"The buffet has all kinds of meat but the players opt for steamed or grilled chicken or fish. Virat doesn't eat meat and so we went for steamed foods, like vegetarian dim sums, and other vegetable-based proteins, like soya, mock meats, and lean proteins, like tofu for him. We include as little dairy as possible in his meals," said Anshuman Bali, who is the executive chef of The Leela Palace.
The strict diet of Virat Kohli is one of the major reasons as to why he has been performing so well on the field. Several instances prove that he is an embodiment of class and dedication and never shies away from admitting it.
Rohit Sharma and co. are on a roll
The Indian cricket team are on an absolute roll in the ongoing ICC ODI World Cup 2023. India has registered 5 wins in 5 games and look like favourites to lift the coveted title at home. Rohit Sharma and co. registered their 5th straight victory in this competition after a superb 4-wicket victory against New Zealand at the HPCA Stadium in Dharamshala.
Virat Kohli was once again the cynosure of all eyes after he scored 95 runs and narrowly missed out on his 79th century. If he goes at this pace, he is sure to surpass Sachin Tendulkar's elusive record of 100 centuries in international cricket.
Also read: ICC ODI World Cup 2023: 3 Reasons Why Mohammad Shami Should Be In The Playing XI