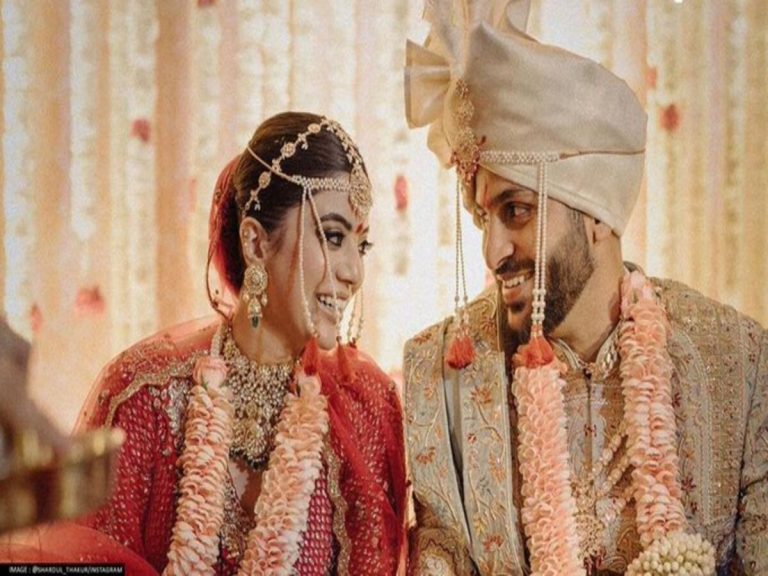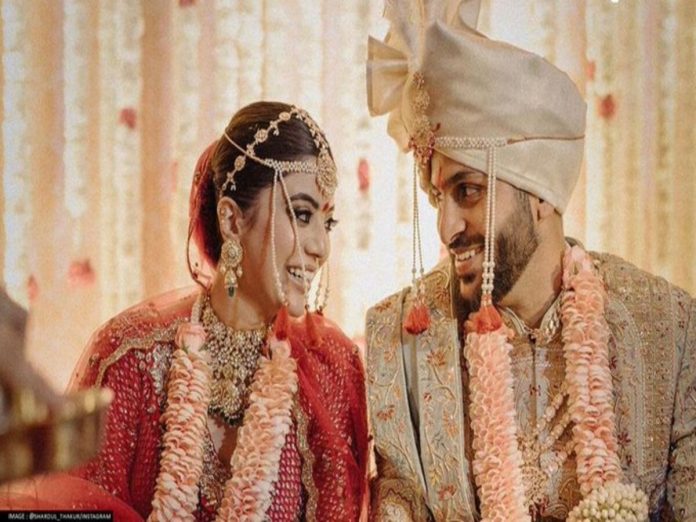 Star cricketer for Team India Shardul Thakur wed his fiancée Mittali Parulkar on Monday in Mumbai in accordance with Marathi tradition. The first images from Shardul Thakur and Mittali's lavish wedding have hit the web.
At a very private ceremony, Shardul and Mittali had previously been engaged on November 29 in front of their family. According to reports, Mittali is a successful businesswoman who currently manages the Thane startup "All the Bakes."
After Axar Patel and KL Rahul, Shardul is the third Indian cricketer to be married this year. When Axar Patel wed his love Neha Patel on January 26, KL Rahul wed his longtime sweetheart Athiya Shetty in January.
For the wedding ceremony, many of Shardul's teammates were there. At the Sangeet ceremony on Sunday, people including KKR captain Shreyas Iyer, Abhishek Nayar, and Indian captain Rohit Sharma were there.
See Pics –
The last time Shardul Thakur represented India in an international game was on January 24 of this year (IND vs NZ ODI series).
When Rohit Sharma and company play Australia in a three-match One-Day International series, the all-rounder, who is an essential component of India's white-ball outfit, will make his comeback.
CSK, KKR wishes Shardul his wedding
Photos from the wedding were posted on the official social media accounts of Shardul's IPL team, Kolkata Knight Riders (KKR), and his former side, Chennai Super Kings (CSK), to formally announce the union.
Shardul and Mittali have been dating each other
Video clips from the Haldi ceremony, where Shardul danced to some well-known Bollywood songs and won the hearts of cricket fans, also surfaced earlier in the week.
After a significant period of dating, Shardul and Mittali announced their engagement in November 2021. Similar to their wedding celebrations, people like Shreyas, Rohit, and Nayyar were present at that ceremony.
Watch the dance video –
Although Shardul frequently starts for Team India in Test matches played abroad, he rarely does so at home and was not selected for the squad for the four-test series against Australia.
Shardul got married during the unscheduled time. For the three-match ODI series against Australia in June, he will rejoin the team.
Shardul Thakur will represent KKR
For the upcoming IPL 2023, Shardul will play for KKR for the first time. Prior to the 2023 IPL auction, the all-rounder traded with Delhi Capitals (DC) and joined the two-time champions.
He was acquired by the Delhi-based team in 2022 for Rs. 10.75 crore, but was terminated after just one season. Shardul has represented India in a total of 8 test matches, 34 ODIs, and 25 T20Is.
Also Read: Chennai Super Kings (CSK) IPL 2023: Schedule With Venue, Check Complete Squads