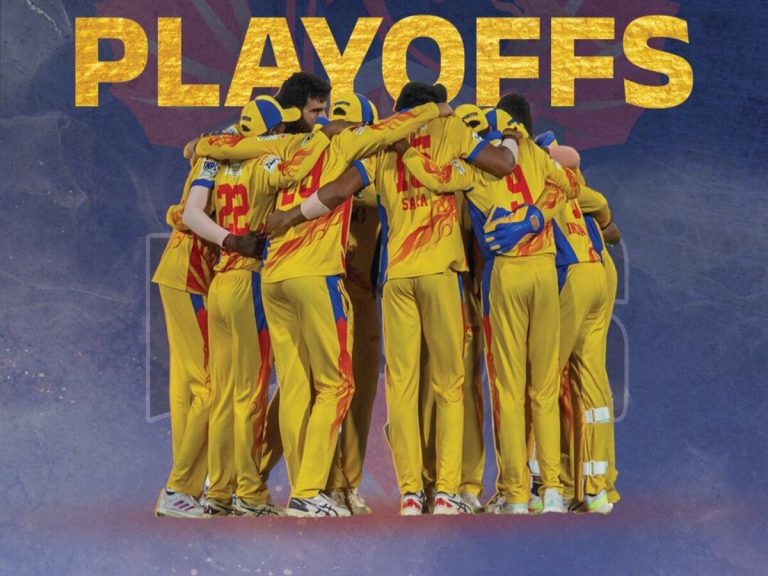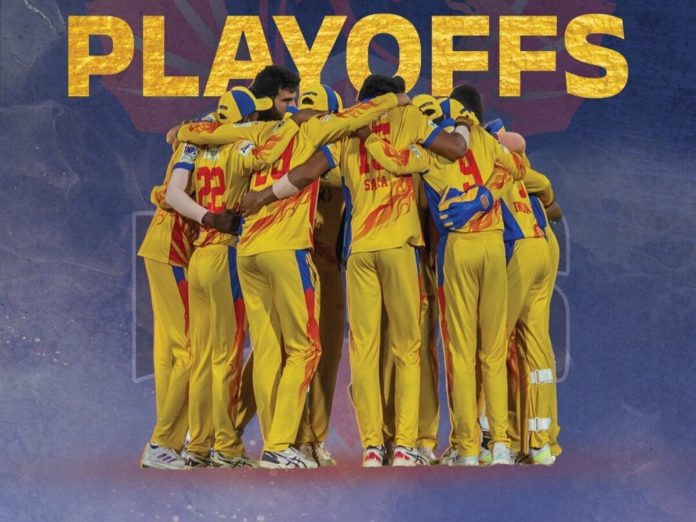 Beginning on July 7, the Tamil Nadu Premier League (TNPL) 2023 Playoffs are set to ignite the competition after the conclusion of the league stage on Wednesday. In this thrilling phase, four teams will engage in four matches, each vying for the prestigious title of champions.
The Lyca Kovai Kings have cemented their position at the top, guaranteeing themselves a spot in the playoffs. Following closely behind are the Dindigul Dragons, who secured second place with an impressive tally of 12 points. The Nellai Royal Kings, occupying the third place, and the Siechem Madurai Panthers, finishing in fourth place, have also secured their positions in the playoffs.
The Playoffs will witness a face-off between the top two teams from the round-robin stage in Qualifier 1, while the third and fourth-placed teams will battle it out in the Eliminator round.
The winner of Qualifier 1 will directly advance to the final, while the losing team will have a second opportunity to compete for a spot in the championship match. The defeated team from Qualifier 1 will face off against the winner of the Eliminator match in Qualifier 2. Check complete details on TNPL 2023 playoffs schedule, squad, and how to watch. 
TNPL 2023 Playoff: Complete Schedule
July 7 Friday
Qualifier 1: Lyca Kovai Kings vs Dindigul Dragons, 7:15 PM SCF Ground, Salem 
July 8 Saturday
Eliminator: Nellai Royal Kings vs Siechem Madurai Panthers, 7:15 PM SCF Ground, Salem 
July 10 Monday
Qualifier 2: Loser Qualifier 1 vs Winner Eliminator 7:15 PM Indian Cement Company Ground, Tirunelveli
July 12 Wednesday
Final: Winner Qualifier 1 vs Winner Qualifier 2 7:15 PM Indian Cement Company Ground, Tirunelveli
TNPL 2023 Playoff: Full squads
Lyca Kovai Kings: Suresh Kumar (wk), B Sai Sudharsan, M Shahrukh Khan, M Siddharth, M Mohammed, Atheeq Ur Rahman, R Divakar, P Vidyuth, Valliappan Yudheeswaran, S Sujay, K Gowtham Thamarai Kannan, P Hemcharan, L Kiran Akash, Jhatavedh Subramanyan, Ram Arvindh, B Sachin, L Kiran Akash, U Mukilesh, KM Om Prakash
Dindigul Dragons: Adithya Ganesh (wk), R Ashwin, Varun Chakravarthy, Baba Indrajith, Subodh Bhati, Advaith Sharma, Vimal Khumar, P Vignesh, ME Tamil Dhileepan, Affan Khader, S Arun, Rohan Bhutra, VP Diran, Hemanth Kumar, Kishoor, Boopathi Kumar, P Saravana Kumar, C Sarath Kumar
Nellai Royal Kings: Arun Karthik (wk), Sandeep Warrier, Adithya Arun, Guruswamy Ajitesh, Sonu Yadav, Aswin Crist, M Poiyamozhi, P Sugendhiran, Sri Neranjan, L Suryaprakash, J Rohan, Emmanuel Cherian, NS Harish, N Kabilan, Karthick Manikandan, R Mithun, S Mohan Prasath, SJ Arun Kumar, Ritwik Easwaran, Nidhish Rajagopal
Siechem Madurai Panthers: Washington Sundar, M Ashwin, C Hari Nishaanth, J Koushik, V Aaditya, Ajay Krishna, Shijit Chandran, Anton A Subikshan, D Sudhan, Balu Surya, V Gowtham, Krish Jain, P Saravanan, Dev Rahul, S Sri Abisek, Gurjapneet Singh, S Karthik, Swapnil K Singh, M Ayush, K Deeban Lingesh
TNPL 2023 Playoffs Live Streaming: How to watch in India?
The Tamil Nadu Premier League (TNPL 2023) playoff will be live-streamed on the Fancode app and broadcast on Star Sports Network's Star Sports 1 Tamil and Star Sports 3 channels.
Also Read: BT vs NRK Today Match Prediction, Match 28, TNPL 2023, 5th July 2023