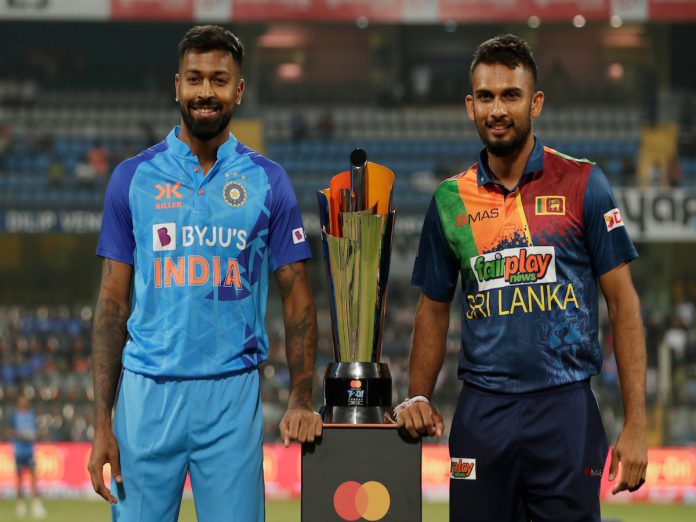 Hardik Pandya, India's new T20 captain, is looking forward to seeing how his side handles challenging situations as he works to develop it into a unit that can break the nation's losing streak in international competition. With a victory over Sri Lanka by two runs on Tuesday, India's three-match T20 series against its neighbors Sri Lanka got off to a strong start under Hardik's leadership.
The middle order collapsed as India played Sri Lanka in the 1st T20I at the Wankhede Stadium in Mumbai, despite Hardik Pandya's best efforts. With the score at 46/3, the captain entered the field and contributed by sending the fast bowler for back-to-back boundaries through the covers. Team India's final score of 162 was respectable thanks to Deepak Hooda's 41.
Hardik choose Axar Patel for last over
India battled even in the chase as Sri Lanka down the score to 13 off 6 balls, but Pandya remained composed and gave the ball to spinner Axar Patel, who went on to deliver a fantastic over. Pandya's goal of pushing his team forward was ultimately realised.
Giving spinner Axar Patel the ball with Sri Lanka needing 13 runs in the last over to surpass India's score of 162 was a tad unexpected.
"I want to put this team in difficult situations because it will help us in big games. Bilaterals we are very good at and this is how we are going to challenge ourselves. We might lose a game here and there but it's alright."
"To be honest, all the young guns got us out of the situation today."
Tendency to scare people
After taking a catch, Hardik had to leave the field for a short moment. When asked about that, Hardik said at the presentation ceremony, "It is just cramped. Now I have tendency to scare people. I did not sleep well, and did not drink enough water and hence the glutes were stiff. I was unwell and I had my fluids down."
Also Read: IPL 2023: 3 Replacement Options For Cameron Green In Mumbai Indians Squad