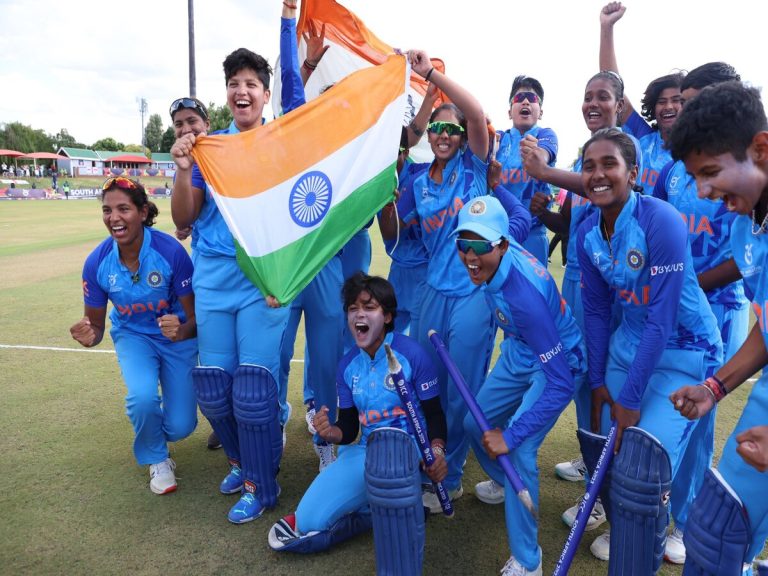 This year's Women's U19 T20 World Cup was held in South Africa, and Team India took home the title. At Senwes Park in Potchefstroom on Sunday, they defeated England Women by seven wickets under the leadership of international superstar Shafali Verma.
India only suffered a single defeat throughout the competition, to Australia in the group stage. They have performed superbly in every important area of the game. Let's look at the five players who stood out for India during their victorious campaign in the tournament's maiden year.
The inaugural Women's U19 T20 World Cup 2023 has seen some outstanding performances over this year, with many talented young cricketers showcasing their talents in this prestigious event. Here we take a look at five-star performers in the tournament so far.
1. Shweta Sehrawat (India)
The best batter in the competition was opener Shweta Sehrawat. With 297 runs scored in 7 innings at an average of 99 and a strike rate of 139, she finished the event as the player with the most runs.
Her greatest performance came in India's U19 World Cup first game against South Africa. In a tough 170-run chase, she hit a sassy 92 off 57 deliveries, leading the team home with 7 wickets and 21 balls remaining. In the crucial semifinal matchup with New Zealand, she also showed courage.
2. Shafali Verma (India)
Shafali Verma displayed her offensive and tactical prowess to the fullest. She improved during India's run to the 2020 Women's T20 World Cup final when she was just 16 years old. She led the team during this competition and was an extremely important player with the bat and ball.
Shafali Verma finished as the third-highest run scorer in the competition with 172 runs scored in 7 innings at an average of 25 and a strikeout rate of 194. She contributed as well by bowling leg spin with the ball.
3. Grace Scrivens (England)
England's Grace Scrivens was doing all that one can do in U19 Women's T20 World Cup, including bat, bowl, and captain. It is understandable why the England captain received the Player of the Tournament award despite playing in the final and losing.
Scrivens, who batted first, finished as the second-highest run-scorer with 293 runs, three fifty-plus runs, and an average of 41.85. The left-hander passed the 50-mark three times throughout the tournament, and her superb 93 was the highest individual score of the World Cup. Scrivens was excellent with the ball as well, taking 9 wickets for just 64 runs, making him an essential spin option for England.
4. Shorna Akter (Bangladesh)
Shorna Akter's powerful hitting made sure what she is capable of. Over the course of the competition, only India's Shafali Verma (7) scored more sixes than Akter (6). Akter, who made sure to use her bat whenever possible, scored 153 runs in five games while striking out at 157.73.
5. Dewmi Vihanga (Sri Lanka)
Throughout the U19 Women's T20 World Cup, Dewmi Vihanga demonstrated her exceptional all-around talent by contributing significant runs and wickets.
With stats of 3/11 versus the USA in the tournament's opening match, Vihanga got off to a strong start and was a key factor in Sri Lanka's lone victory. In the next game, she scored a half-century against Bangladesh. Her all-around performance of 2/22 and 37 against South Africa kept her side in the game, but they lost to Sri Lanka's last opponent by a single run.
Also Read: I Will Take This Winning Confidence And Win The Senior World Cup: Shafali Verma