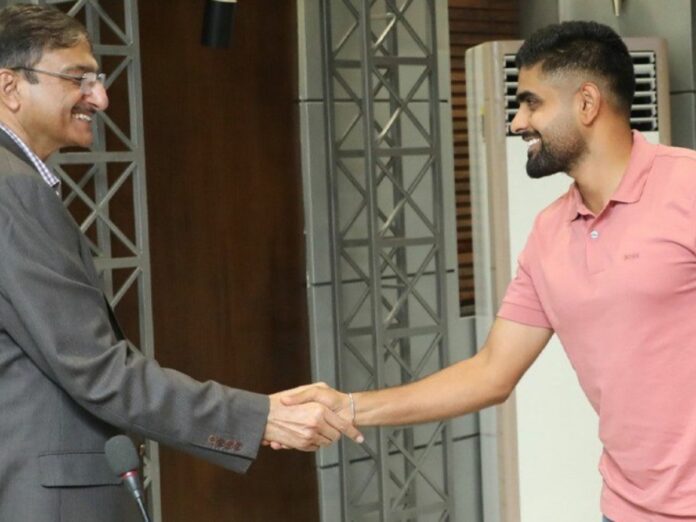 Amidst all the confusion and controversy surrounding the speculations of Babar Azam not picking up the calls or replying to the messages of Pakistan Cricket Board (PCB) Chief, Zaka Ashraf, the latter has leaked a private message of Babar Azam to clear the confusion.
"He [Latif] says that I don't pick up his [Babar's] call. He has never called me. The team's captain is supposed to talk with Director International Cricket or the Chief Operating Officer," said Zaka Ashraf.
Notably, former wicketkeeper batter of Pakistan, Rashid Latif, had earlier claimed that Babar Azam was ignoring the calls and the messages of Babar Azam.
They leaked Babar Azam's private WhatsApp chats?
Pakistani players ko milta kya hai ko unse itni expectations rakhte ho? This is disgusting, he still has three matches to play in this World Cup pic.twitter.com/8eHSG2oygT

— Sushant Mehta (@SushantNMehta) October 29, 2023
The Whatsapp text message which was shared by Zaka Ashraf on live television was a conversation between Babar Azam and Salman Naseer, who is the Chief Operating Officer of PCB.
Pakistan have been struggling in the ongoing ICC ODI World Cup 2023 and their chances of qualifying to the semi-finals of the World Cup are extremely slim.
Also read: World Cup 2023: Shahid Afridi Reflects On Pakistan's Narrow Loss To South Africa