AMY-W vs SHN-W Dream11 Team Prediction | Match 9 | Heron Sports vs Sheen Sports| Indian Women Other T20 | 9th Jan 2021
Advertisement

Ameya Sports and Sheen Sports will now step up head to head in the next fixture of the Indian Women's T20 Cup. Sheen Sports have lost their last game against Kini RR Sports by merely 12 runs. On the other hand, Ameya Sports are currently trying to defend 129 runs against Heron Sports. However, they could only manage to win just one game out of three. Let's go through AMY-W vs SHN-W Dream11 Team Prediction for the upcoming encounter of Indian Women Other T20.
Match Details:
Date & Time: 9th Jan, 9:45 AM IST
Venue: Samprasiddhi Sports Estadio, Bangalore
Pitch Condition:
The surface at Samprasiddhi Sports Estadio has shown us equal support to the batsmen as well as the bowlers. But batsmen must take time in the initial overs as the bowlers might get a bit of swing, otherwise, the pitch gets balanced in the middle over.
Venue Stats
Average 1st innings score:
135 runs
Record of chasing teams:
Won – 1, Lost – 1, Tied – 0
Squads:
Ameya Sports
Prerna Rajesh, Thirush Kamini, Nikki Prasad, Veda Krishnamurthy (c), Mona Meshram, Anuja Patil, Akanksha Kohli, Shreyanka Patil, Netravathi, Pranavi Chandra, Sahana Pawar, Reema Fareed, Uma Kashvi, Prakruthi, Pooja Kumari, Nagma Unnisa, Dhanya Gowda, Shrilakshmi, N Kemparaj.

Sheen Sports
Jemimah Rodrigues, Deepti Sharma, Ellutla Padmaja, Krishnappa Rakshitha, Rajeshwari Gayakwad, Niranjana Nagarajan, Prathyoosha Kumar, Jahnavi, Vrinda Dinesh, Chandasi Krishnamurthy, Krishika Reddy, Simren Henry, Ananya Subash, Anushree, Nirmitha, Savi Surendra, Sneha Jagasidh, Saloni
AMY-W vs SHN-W Dream11 Team News:
Ameya Sports :
Ameya Sports haven't been in good form lately. Losing three games would have killed their confidence. Kamini and Prasad will open the innings, followed by Krishnamurthy and M Meshram. Anuja Patil and A Kohli will lead the middle order, meanwhile, Pranavi Chandra, Sahana Pawar, and Uma Kashvi will provide justice to the middle order.
Sheen Sports:
Sheen Sports started off well in the previous game while chasing 129 runs on the board but despite having wickets in hand, they lost the game by 12 runs. Middle-order needs to capitalize well and help the team to get past the target. Rodrigues and Dinesh will again open the innings followed by K Rakshitha and Deepti Sharma. Nagarajan and Henry are there to hold the middle order, while bowling was quite economical in the last game, so no changes are expected from the bowling department. Gayakwad, Sharma, and Rakshitha will lead the pace attack.
AMY-W vs SHN-W Dream11 Prediction, Line-Ups:
HRN-W Playing 11:
Wicket-keeper: Netravathi
Batsmen: Krishnamurthy, T Kamini, M Meshram
All-rounders: A Patil, N Prasad, U Kashwi
Bowlers: P Chandra, A Kohli, S Pawar, S Patil
SHN-W Playing 11:
Wicket-keeper: P Kumar
Batsmen: J Rodrigues, S Henry, V Dinesh, C Krishnamurthy
All-rounders: D Sharma, P Ellutla
Bowlers: R Krishnappa, R Gayakward, N Nagarajan
Captain Pick for AMY-W vs SHN-W Dream11 Team
Option 1: J Rodrigues
J Rodrigues has scored maximum runs in the tournament so far. She has smashed 11 runs in 3 innings at an average of 37.00 and with a strike rate of 119.35 including 13 fours and 3 sixes.
Option 2: Nikki Prasad
So far, Nikki Prasad has scored maximum runs for Ameya Sports. Playing three innings, she has scored 92 runs at an average of 30.66 with a strike rate of 109.52 including 13 fours and 2 sixes. Don't miss her out as she is capable of turning things around.
Vice-Captain Choice:
Option 1: Deepti Sharma
Deepti Sharma has been quite impressive with the bat as she has scored 72 runs in 3 innings but she has been super lethal with the ball. Playing four matches, she has bagged 7 wickets at an economy of 3.10. Best choice as a vice-captain or even captain.
Option 2: Rakshitha Krishnappa
Rakshitha Krishnappa has bagged maximum wickets for Sheen Sports. Keeping ger economy under 6, she has made it troubling for the batsmen to read her ball well. In four games, she has 8 wickets scalp at an average of 9.87. She has also scored 43 runs off her bat.
Top Four Picks For AMY-W vs SHN-W Dream11 Team:
T Kamini – 3 innings – 68 runs – 22.66 average
V Krishnamurthy – 3 innings – 43 runs – 21.50 average
Anuja Patil – 3 innings – 43 runs – 21.50 average – 4 wickets – 7.63 economy
S Henry – 4 matches – 4 wickets – 7.11 economy
Best AMY-W vs SHN-W Dream11 Fantasy Team Combinations:
Head To Head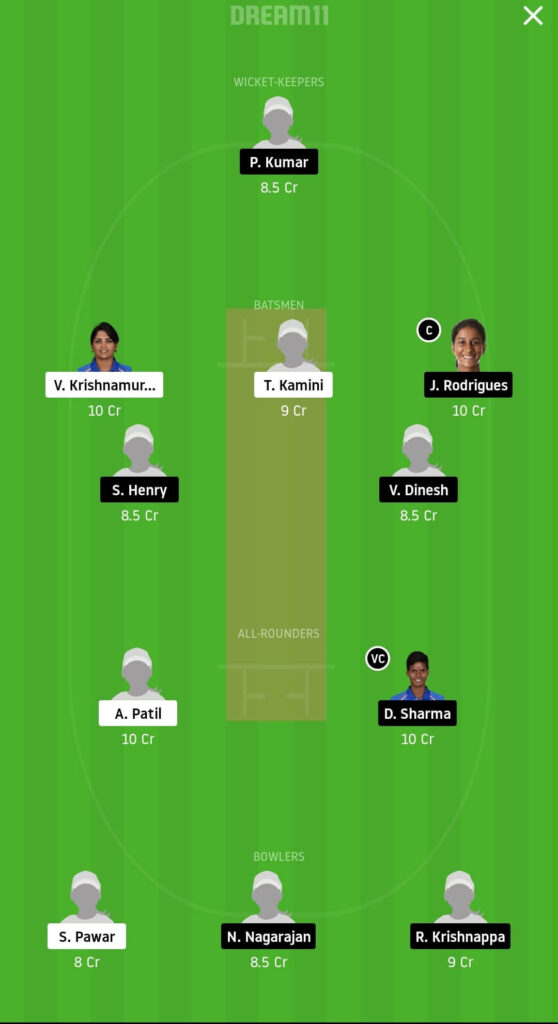 Grand League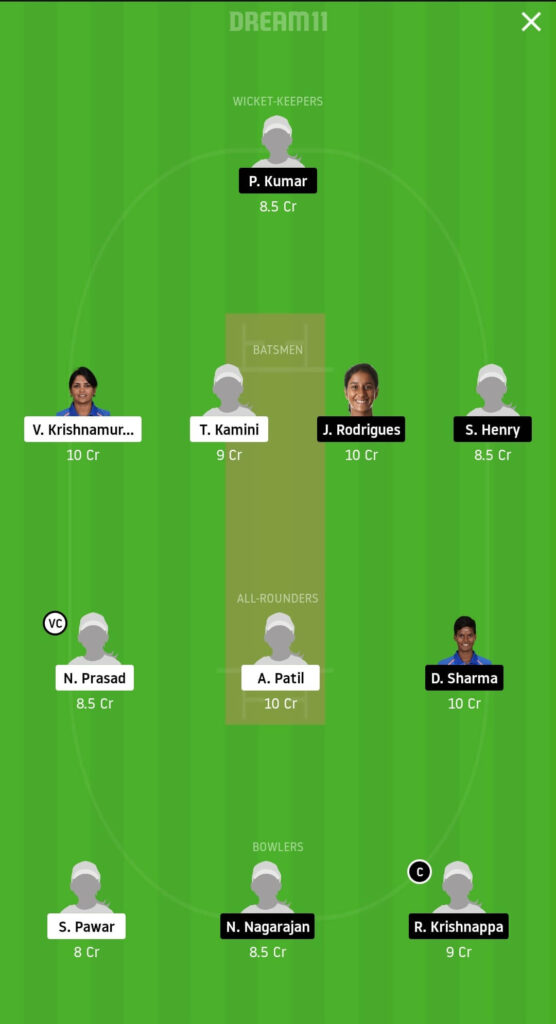 AMY-W vs SHN-W Team11 Team Prediction: Who will win the match
Sheen looks more balanced than Ameya at this point in time. They have better hitters as well as wicket-takers such as Deepti Sharma and Krishnappa. So our Dream11 Team Prediction experts think that this will going to be a close encounter but in the end, Sheen would notch a victory here.