ECB vs AJM Dream11 Team Prediction | Match 28 | Dream11 Emirates D20 League | 22nd Dec 2020
Advertisement

Ajman Alubond will take on ECB Blues in the 28th match of the Emirates D20 League. ECB Blues are currently at the 2nd position in the points table and have won 6 out of their 8 matches.
On the other hand, Ajman Alubond began the tournament well with a win but they couldn't do anything more and has lost all 5 matches from their 7 outings. They desperately need a win here to stand closer to the semi-final opportunity. Let's go through our ECB vs AJM Dream11 Team Prediction.
Match Details:
Date & Time: 22nd December, 02:30 PM IST
Venue: ICC Academy, Dubai
Pitch Condition:
The pitch has something for both the batsmen and the bowlers. So far in the tournament, the batsmen have struggled earlier in the innings but as the ball gets older, they were able to score quick runs. If ECB bats first, they are likely to score at least 160 here.
Venue Stats:
Average 1st inns score at this venue(in recent first matches)- 142
Highest score in the tournament so far- 186
Total matches played so far in the tournament- 24
Matches won by the team batting first- 14
Matches won by the team batting second- 8
Squads:
Ajman: Ali Khan, Amjad Khan, Asif Khan, Rameez Shahzad, Waqas Ali, Adnan ul Mulk Nawab, Hamad Arshad, Nasir Aziz, Abdul Shakoor (WK), Anand Kumar (WK), Ehtesham Siddiq, Rishabh Mukherjee, Sharif Asadullah (C), Sheraz Piya, Sultan Muhammad Akhtar, Zubair Zuhaib.
ECB Blues: Alishan Sharafu, Ansh Tandon, Basil Hameed (C), Chundangapoyil Rizwan, Fahad Nawaz, Aryan Lakra, Junaid Siddique, Sanchit Sharma, Ateeq Ur Rehman (WK), Vriitya Aravind (WK), Adhitya Shetty, Karthik Palaniapan Meiyappan, Muhammad Farazuddin, Waheed Ahmad, Zahoor Khan.
ECB vs AJM Dream11 Team News:
Ajman Alubond: Despite being one of the most balanced sides in the tournament, Ajman couldn't work it out as they are currently at the bottom half of the table. Nevertheless, the team is desperately in need of a win and a lot will be dependent on Rameez Shahzad, who is the leading run-scorer for the team. Other than Shahzad, literally, every single player has failed to perform consistently.
ECB Blues: Undoubtedly, one of the best teams in the tournament currently, ECB will be looking to do some changes to their line-up here as they have already a bit closer to the semi-final. While Aryan Lakra has been the stand-out performer in the tournament, the team had Alishan Sharafu coming good at the right time with the bat. He had support from other players like Rizwan who had contributed to the team's success.
ECB vs AJM Dream11 Prediction, Line-Ups:
AJM Playing 11:
Wicket-keeper: A Shakoor
Batsmen: R Shahzad, W Ali, A Gul, A Khan
All-rounders: N Aziz, H Arshad,
Bowlers: S Muhammad Akhtar, E Siddiq, S Asadullah, S Piya
ECB Playing 11:
Wicket-keeper: V Aravind
Batsmen: C Rizwan, A Shan Sharafu, F Nawaz, A Tandon, B Hameed
All-rounders: A Lakra, S Sharma,
Bowlers: W Ahmad, Z Khan, K Meiyappan
Captain Pick for ECB vs AJM Dream11 Team
Option 1: Rameez Shahzad
Rameez Shahzad is one of again the best choice for the captain as he is the only player who has been scoring runs for the team. Shahzad can bowl too, he has 4 wickets in the tournament so far.
Option 2: Aryan Lakra
Aryan Lakra is in excellent form. He is the leading wicket-taker of the tournament with 17 wickets to his name with an economy rate lesser than 7.
Vice-Captain Choice:
Option 1: Ali Shan Sharafu
Ali Shan Sharafu is the leading run-scorer for the team and he has three half-centuries in the tournament. He has scored 268 runs with a strike-rate just above 120.
Option 2: Aravind
Aravind has been one of the consistent performers here. He has 260 runs with the highest score of 86. He averages close to 30 here.
Top three Picks For ECB vs AJM Dream11 Team:
C Rizwan- 6 innings- 126 runs- 25.20 average
Abdul Shakoor- 6 innings- 162 runs- 27 average
Kartik Meiyappan- 8 innings- 10 wickets- 6.04 economy rate
Best ECB vs AJM Dream11 Fantasy Team Combinations:
Head To Head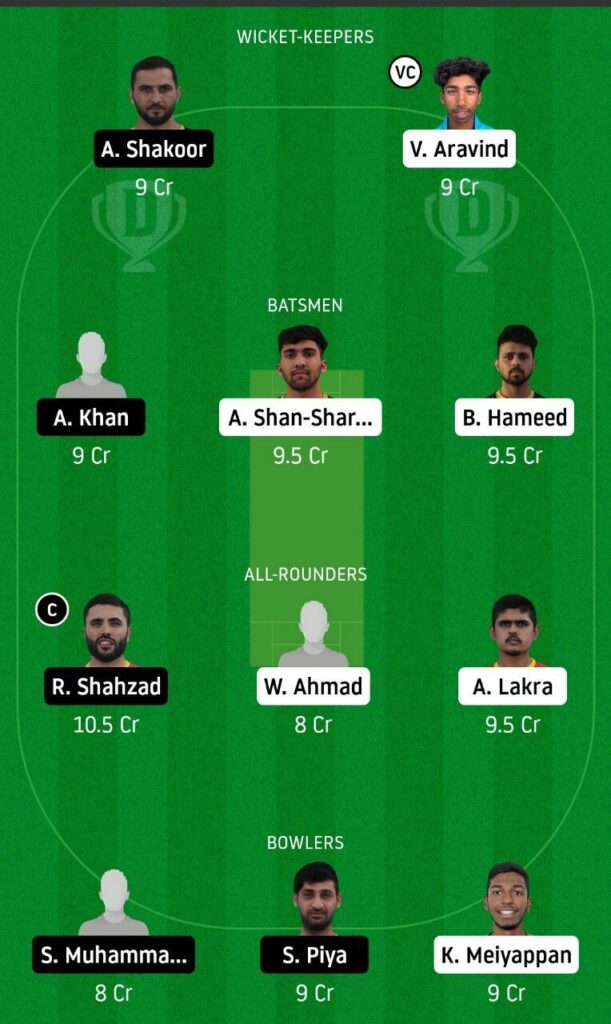 Grand League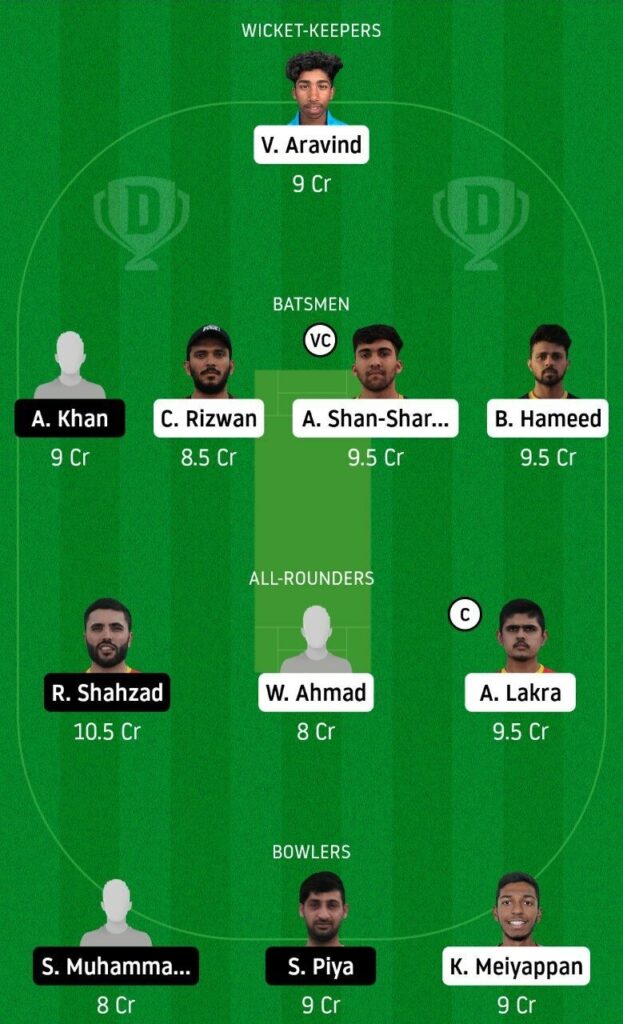 ECB vs AJM Team11 Team Prediction: Who will win the match
Going by the performances in the tournament so far, ECB Blues will begin this contest as the favorites. Ajman, however, will be looking to bounce back. We might see a shuffle in the line-up here as well. For ECB, they will be opening with Aryan Lakra once again. Our Dream11 experts have given out some on-point Dream11 Predictions. And, we expect ECB Blues to win against AJM as per our ECB vs AJM Dream11 Team Prediction.