HRN-W vs KNI-W Dream11 Team Prediction | T20 Nippon Cup | Match 9 | 9th Jan 2021
Advertisement

Herons Sports will take on Kini RR Sports in the 9th match of the tournament. Kini RR Sports are looking good in the tournament, thanks to the presence of international including Punam Raut, Vanitha VR among others. The team is doing well at the moment and is at the 2nd position in the points table with two wins from their three outings. Their only loss came against the table-toppers Sheen Sports.
The lack of international players is causing all the damage for Herons Sports who are yet to open their accounts and are at the bottom of the table. However, there are a few players who have made heads turn and are currently in line for selection for the national team. Let's go through our Dream11 Team Prediction for the upcoming affair.
Match Details:
Date & Time: 9th January 2021, 1:30 PM IST
Venue: Samprasiddhi Sports Estadio, Bangalore
Pitch Condition:
Going by the previous matches, one can see that batting first is easier compared to chasing at this venue. However, there is something for the bowlers as well and the bowlers were able to pick up early wickets in almost every single match. The pacers have done well compared to the spinners who were surprisingly taken for more runs.
Venue Stats:
Total matches: 6
Team batting first: 3
Team batting second: 2
Highest Score: 146
Lowest score: 102
Head-to-head:
HRN- 0
KINI- 1
Squads:
Heron Sports: Divya Gnanananda, Shubha Sathish, Ayushi Soni, Asha Joy, Anagha Murali, Aditi Rajesh, Sanjana Batni, Vandana Mahajan, Monica Patel, Minu Mani, S Akshaya, Harshitha Shekar, Pooja Dhananjay, Anjali Raman, Pushpa Kiresur, Pooja D R, Rakshitha Nayaka, Sanjana Raj
Kini RR Sports: Prathyusha Challuru (c), Arundhati Reddy, Chandu V Ram, Nuzhat Parween (wk), Punam Raut, Radha Yadav, Rameshwari Gayakwad, Roshni Kiran, Shishira Gowda, Sowmya Gowda, Vellaswamy Vanitha, Pragna Kishore Babu, Sowmya Verma, Architha Bhandary, Mithila Vinod, Disha Mohan, Debasmita Dutta, Shloka Kishore Babu, Tejaswani BG
HRN-W vs KNI-W Dream11 Team News:
Heron Sports:
Sometimes, the numbers lie and that is the case for Herons Sports in this tournament so far. Though they are at the bottom of the table, the team has produced some memorable performances and their previous meeting with Kini RR Sports is one example. The team came so close to win the match but had to go down by just one run. Also, one of their matches got washed off by the rain. Though it was a long shot against Sheen Sports, Herons had a chance of winning that match but was unfortunate that the rain played the spoilsport.
Kini RR Sports:
On papers, the Kini RR Sports team did look weak because of the absence of power-hitters like Veda Krishnamurthy, Jemimah Rodrigues. Of course, The team does have a lot of young talents and international players. Thankfully, Vanitha VR and Raut have stepped to the occasion and has managed to take the team home. Arundhati Reddy has done an excellent job and has contributed both with bat and ball. It will be interesting to see if the team wins another match here and give Sheen Sports a run for their money as they can dethrone them for the top spot.
HRN-W vs KNI-W Dream11 Prediction, Line-Ups:
HRN-W Playing 11:
Wicket-keeper: S Batni
Batsmen: D Gnanananda, A Soni, S Satish
All-rounders: RM Mani, A Rajesh,
Bowlers: M Patel, S Akshaya, A Joy, M Anagha, V Mahajan
KNI-W Playing 11:
Wicket-keeper: N Parween
Batsmen: P Raut, V Vanitha, R Kiran, Shishira Gowda, S Gowda,
All-rounders: P Challuru,
Bowlers: C V Ram, A Reddy, R Yadav, R Gayakwad
Captain Pick for HRN-W vs KNI-W Dream11 Team
Option 1: Divya Gnanananda
Divya Gnanananda has been the most valuable player in the tournament so far and she has contributed with both bat and ball. In her 3 matches, she has 93 runs with the best of 87* and also has picked up 3 wickets so far.
Option 2: Punam Raut
Punam Raut has been a consistent performer here. She is currently the 2nd leading run-scorer of the tournament with 95 runs from 4 outings with the best of 40.
Vice-Captain Choice:
Option 1: Minu Mani
Minu Mani has been consistent so far. She has 4 wickets to her name and also has scored 78 runs. She is one of the popular picks for the captain here. Minu is one of the players who are in line to make a debut for India and it will be interesting to see how she goes here.
Option 2: Vanitha VR
Vanitha VR has a strike-rate close to 130 here. She is one of the leading run-scorers of the tournament and she has 90 runs from her 4 innings.
Top three Picks For HRN-W vs KNI-W Dream11 Team:
Nuzrat Parween- 4 matches- 76 runs- 105.56 strike-rate
Arundhati Reddy- 3 matches- 60 runs- 5 wickets
Ayushi Soni- 2 innings- 56 runs- 26.50 average
Best HRN-W vs KNI-W Dream11 Fantasy Team Combinations:
Head To Head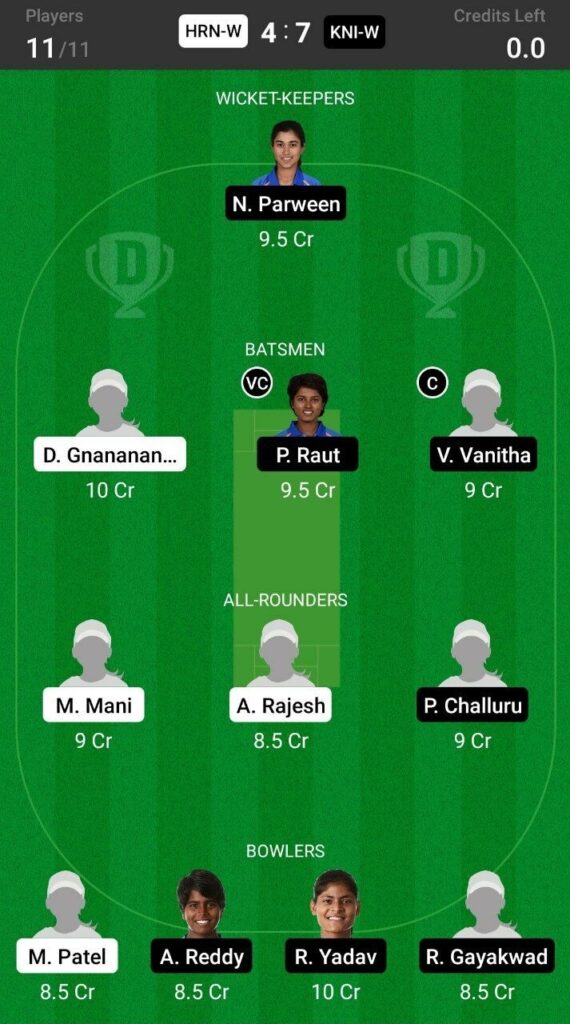 Grand League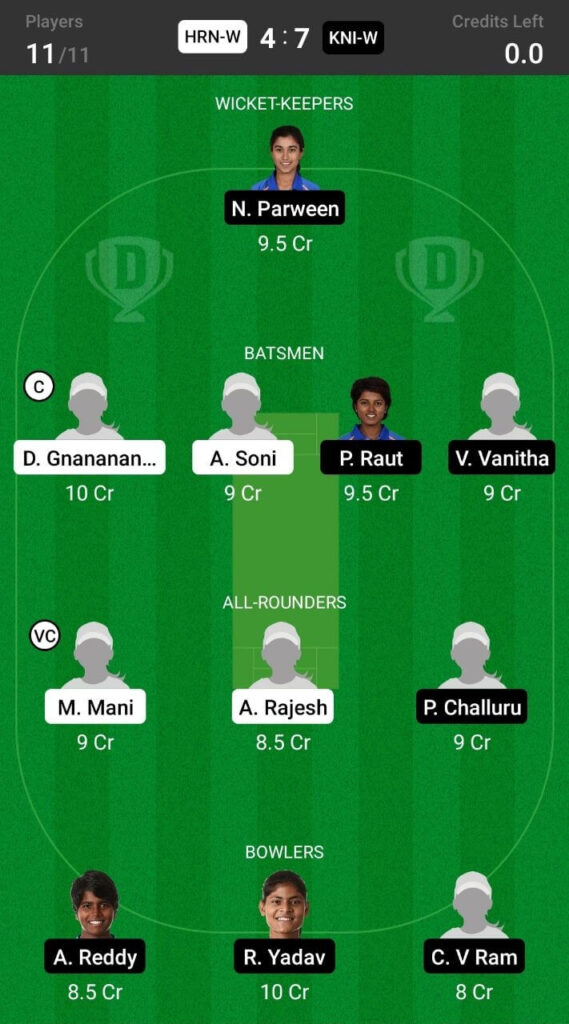 HRN-W vs KNI-W Dream 11 Team Prediction: Who will win the match
While Herons Sports are at the bottom of the table currently, we cannot ignore them. The team will be putting up a fight once again and might end up at the right end here. Having said that, they will not begin this contest as the favorites considering how strong Kini RR Sports is. If Herons Sports can dismiss Punam Raut, Vanitha VR earlier, there is a huge chance of them winning this match.