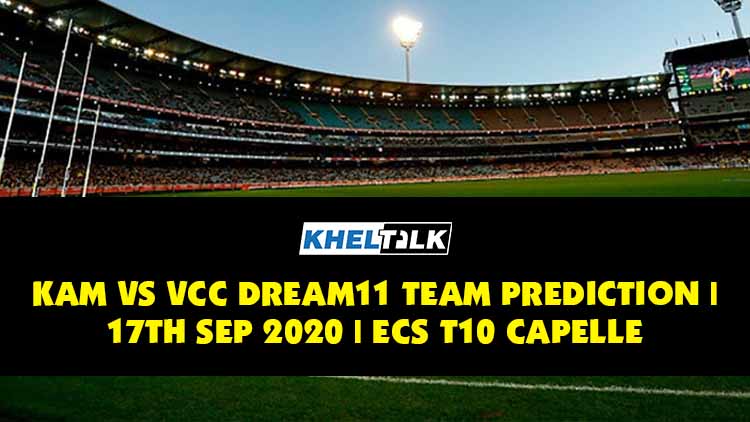 KAM vs VCC Dream11 Team Prediction | 16th Sept 2020 | ECS T10 Capelle
The third game of ECS T10, Capelle will be played between SV Kampong Cricket and Voorburg Cricket Club at Sportpark Bermweg Capelle. Both the teams didn't get an expected start to their tournament as they suffered defeats against their respective opponents.
VCC lost to SPC by 8 wickets in their campaign opener. Meanwhile, KAM lost by a close margin of 8 runs. However, they both showed an intent to win the match and will be expected to come out with an impressive effort in the next game. For VCC, Bas de Leede and Aryan Dutt did an exciting work. Their form gives VCC an edge over KAM in the upcoming clash. On the other hand, KAM will rely on Ratha Alphonse and Faizan Bashir as far as their batting and bowling form is concerned.
Match Details:
Date and Time: 17th Sept 2020 & 02:30 PM
Venue Name: Sportpark Bermweg Capelle, Netherlands.
Stats:
Side batting 1st won- 1
Side batting 2nd won- 1
Average 1st inning score- 126
KAM vs VCC Dream11 Team News:
KAM:
Ratha Alphonse and Shaheryar Butt will open for KAM.
Usman Malik, Assad Saleemi, and Danish Ateeq will give stability to the middle order of the team.
KAM is expected to come out with the same team combination that took the field in the campaign opener.
Usman Malik took two wickets in the previous game and he will be a player in the spotlight with the ball. Tushar Bhakre and Assad Saleemi will be the other bowlers to watch out in the next game.
VCC:
Bas de Leede scored an amazing fifty in the last game. He will open alongside Aryan Dutt for VCC.
Ali Qasim Ahmed, Floris De Lange will be the batsman in the middle, who will look smack some good runs with the bat.
Iftikhar Ahmad and Vivian Kingma will be the bowlers to steal the light from VCC.
Bas de Leede will be the skipper for his side and Tobias Nota is going to play the role of a wicketkeeper-batsman for VCC
Check out our Experts latest Online Cricket Betting Tips for Today's match.
KAM vs VCC Squad:
SV Kampong Cricket Squad: Tushar Bhakre, Shaheryar Butt, Usman Malik, Abhinav Adurty, Shivdutt Jhala, Ratha Alphonse, Kertan Nana, Rana Siddique, Assad Saleemi, Mees Hoffman, Adriaan Verbeek, Danish Ateeq, Shashank Kumar, Faizan Bashir, Raza Anis, Khalid Sherzaad, Vikram Chaturvedi, Bilal Saleem, Omair Sultan, Ishan Jaiswal, Pierre Jacod, Yasir Usman and Mohsin Salman.
Voorburg Cricket Club Squad: Stijn De Leede, Tom de Grooth, Bas de Leede, Philippe Boissevain, Ali Qasim Ahmed, Iftikhar Ahmad, Aryan Dutt, Nirav Kulkarni, Steffen Mulder Tobias Nota, Richardt Pieterse, Alyan Razzaqi, Floris De Lange, Vivian Kingma, Remco Giessen, Ariff Khan, Arslan Ahmed, Atif Zaka, Harold Vogelaar, Jenagan Kanagasabapathy, Rehan Waheed, Ricardo Goncalves, Sajjad Kamal, Shawn Francis, Tahir Bajwa, and Yasir Hamid.
You can check out our Latest Dream11 Match Predictions for this match.
KAM vs VCC Dream11 Prediction, Line-ups:
KAM Playing11:
Wicketkeeper: R. Alphonse
Batsmen: S. Butt, D. Ateeq, K. Sherzaad,
All-Rounder: U. Malik, A. Saleemi, B. Saleem
Bowlers: T. Bhakre, R. Anis, R. Bilal Siddique, F. Bashir
VCC Playing11:
Wicketkeeper: T. Nota
Batsmen: F de Lange, R. Waheed, T. Bajwa
All-Rounders: B de Leede, A. Dutt, V. Kingma
Bowlers: I. Ahmad, A. Qasim Ahmad, S. Mulder
Top Captain and Vice-Captain Picks:
Captain pick:
Option 1: B de Leede
He is the best choice we have with a 10.0 credit score. B de leede scored 67 runs off 32 balls in the previous game and he can be picked as the skipper for VCC.
Option 2: Aryan Dutt
He partnered B de Leede quite well in the campaign opener for his team. He smashed 48 runs off 28 balls studded with five boundaries and two sixes. His form makes him a perfect candidate for Dream11 Fantasy captain.
Vice-Captain Choice:
Option 1: Ratha Alphonse
He finished as the top scorer for KAM in the match against SPC. He looked in good form and should not be ignored while picking Dream11 Fantasy Small league or Grand League team.
Option 2: Faizan Bashir
Bashir is an amazing bowler, who has shown his batting caliber in his previous appearance. He muscled 25 runs off 7 balls with the help of three boundaries and two sixes. So, he can also be appointed as the skipper of a Dream11 Fantasy team.
Best KAM vs VCC Dream 11 Fantasy Team Combination:
Head to Head: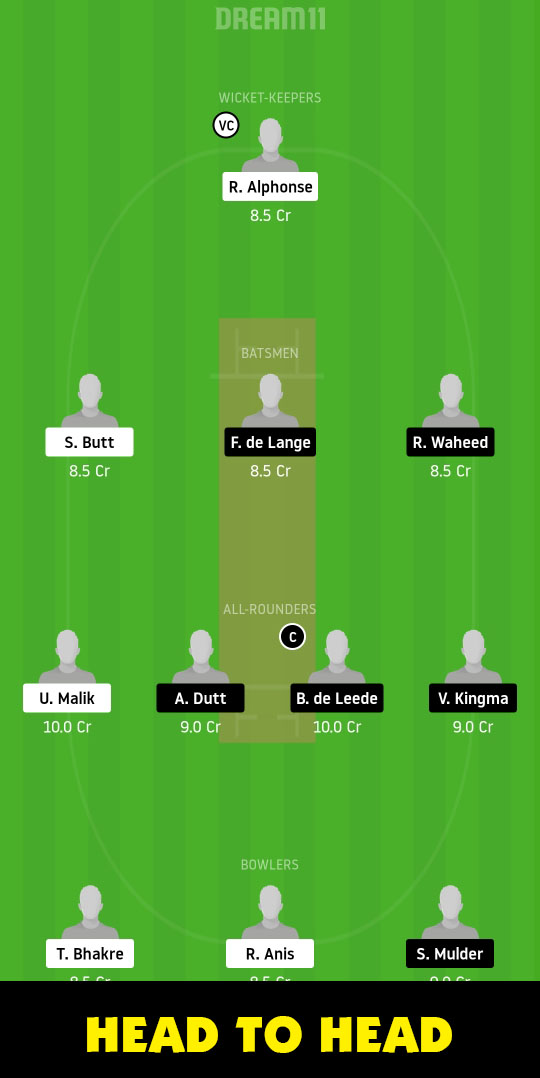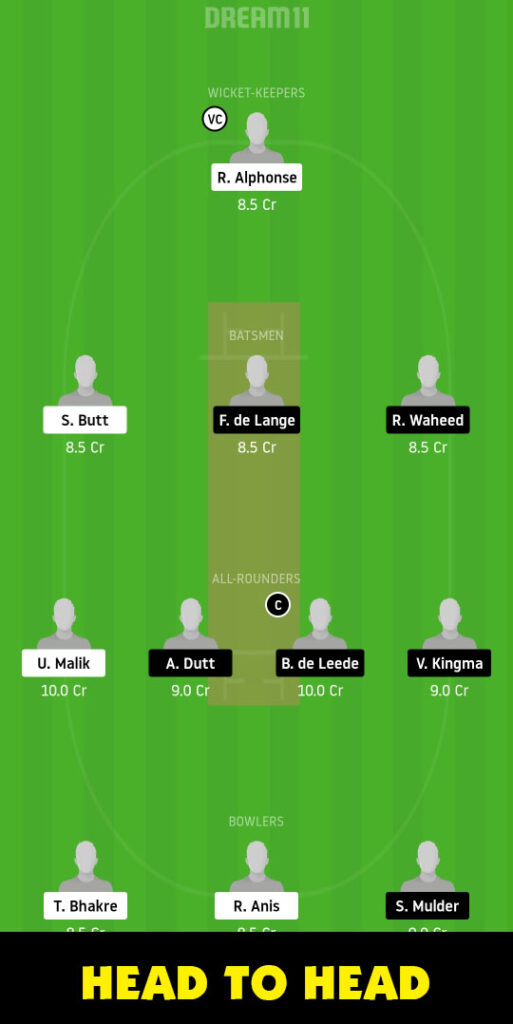 Grand League: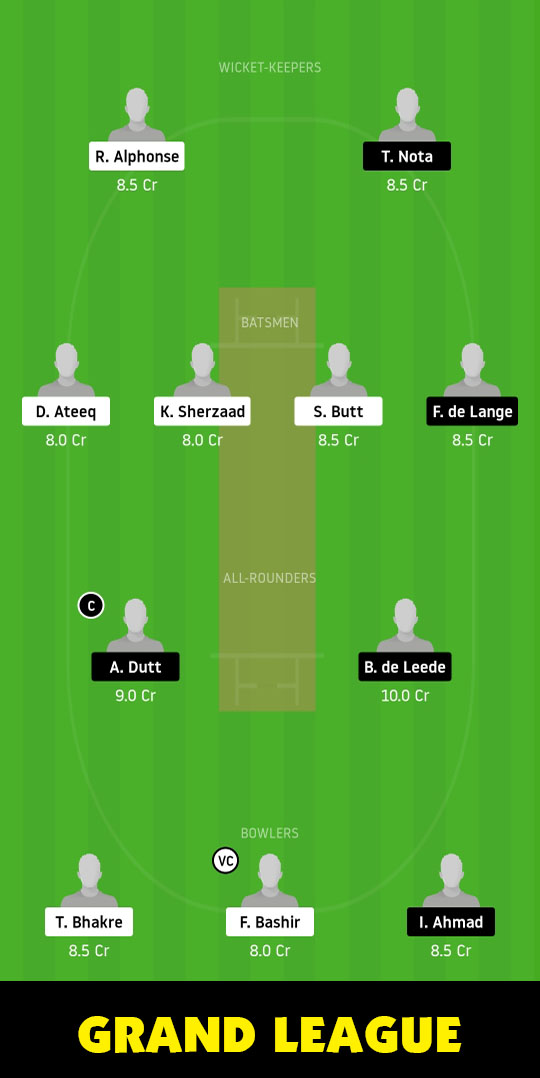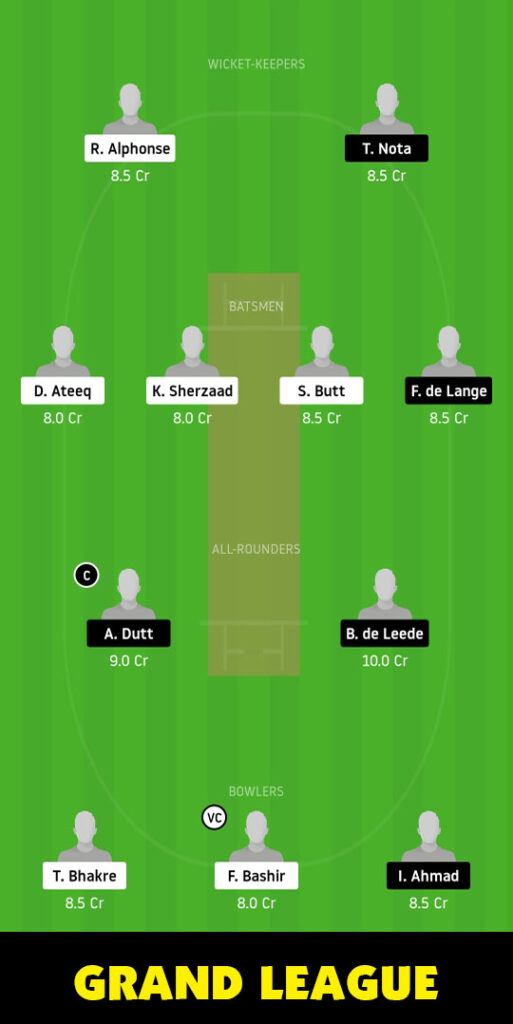 KAM vs VCC Dream11 Prediction: Who will win the match
VCC has a strong opening pair that made the mockery of the opponent bowlers in the previous match. They didn't allow the opponent to take a single wicket. Their form makes VCC as the favorites to win the upcoming game ECS T10, Capelle. Moreover, their side looks more stable in comparison to that of KAM.