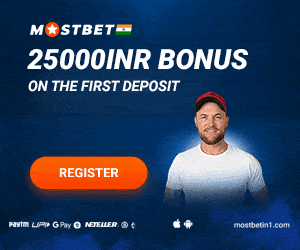 According to PUN-W vs KAR-W Dream11 Prediction for Today's Match Fantasy Cricket, Punjab Women will take on Karnataka Women in Women's Senior One Day Trophy on Thursday, 18 November 2021, at Bengaluru. Keep reading to find out about the Women's Senior One Day Trophy, 2020-21 PUN-W vs KAR-W Dream11 team today.

Punjab and Karnataka will lock horns in the first semi-final of the tournament. Punjab had a good run in the tournament so far. They had a good run against Maharashtra in the Quarters. Kanika Ahuja led the team from the front with the ball and the team bounced back well while chasing to defeat Maharasthra.
On the other hand, Karnataka has had an easy run in the tournament so far. Even in the Quarterfinal, they were untested. The team went to defeat Madhya Pradesh by five wickets to reach this far.

PUN-W vs KAR-W Dream11 Match Prediction
| | |
| --- | --- |
| Match | PUN-W vs KAR-W Semifinal 1 |
| Venue | Bangalore |
| Time | 9:00 AM IST |
| Date | 18th November 2021 |
Pitch Report
The pitch will assist the spinners more. Going by what we have seen in this tournament, the middle overs had decided the winner of the match. Thus, whoever does well in the middle overs, they are likely to win this contest.

Weather report
According to the forecast, there is a huge chance of thunderstorms on Thursday. The temperature will be around 23 degrees Celcius and there is a 70 percent chance for rain.
PUN-W Full squad
Komalpreet Hardeep Kour, Gazala Naj Jamshed Ali, Srishti Vivek Rajput, Sunita Shingara Singh, Neelam Hukam Singh Bisht, Taniya Bhatia, Ridhima Ramesh Kumar Garg Aggarwal, Parveen Mohammed Neam Khan, Mehak Rajpal Kesar, Palwinderjeet Jangir Kaur, Simran Gandhi Rakesh Kumar, Saloni Puneet Sood, Ramanpreet Gurjant Kaur, Priyanka Tek Chand Rani, Harpreet Dhillon Sukhchain Singh Dhillon, Jashanpreet Kaur Baljit Chahal, Kanika S Ahuja, Kabia Suresh Badoni, Priyanka Rothash Singh Malik, Priya Janardan Singh Kumari, Manpreet Sukhwinder Kaur, Anjali S Shanker, Mamta Sham Rani, Neetu Moti Singh
PUN-W News
Led by Taniya Bhatia, the team has had performances from almost everyone in the squad. Parveen Khan will hold the key in the batting once again and a lot depends on Mehak Kesar and Kanika Ahuja here.
PUN-W Playing 11
Sunita Rani,
Taniya Bhatia (C) (W),
Ridhima Aggarwal,
Neelam Bisht,
Harpreet Dhillon,
Mehak Kesar,
Parveen Khan,
Komalpreet Kour,
Kanika Ahuja,
Gazala Naj,
Neetu Singh
KAR-W Squad
Sahana Shamsundar Rao Pawar, Ashmera Mohammed Banu, Aditi R Rajesh, Chandasi Krishnamurthy J S, Sanjana Harish Batni, Shreyanka Rajesh Patil, Rakshitha Krishnappa Kalegowda, Rameshwari Shivanand Gayakwad, Niki Siri Bhagwan Prasad, Akanksha Rajnish Kohli, Shishira Ashwath Babu Gowda, Sowmya M Manjunath, Prathyoosha K Kumar, Prathyusha Krishna Prasad Challuru, Chandu M Venkateshappa, Roshni Kiran Kumar, Simren Anthony Henry, Divya G Gnanananda, Monica Chhelaram Patel, Anagha Muraliprasad Lakshmipathyrao, Shubha S Satish, Tanishka Sanil Damodaran, Veda Krishnamurthy, Vrinda D Dinesh

KAR-W News
Undoubtedly, one of the best teams here. Their top order has been outstanding while their bowlers have been economical. In the last match, their middle-order stood up as well. Apart from all these, the team has a good fielding set-up, led by the captain Veda Krishnamurthy herself.
KAR-W Playing 11
D Vrinda,
G Divya
,Monica C Patel,
K Prathyoosha (W),
C Prathyusha,
Sahana S Pawar,
S R Patil,
S Shubha,
Veda Krishnamurthy (C),
Chandu V,
Niki Prasad
PUN-W vs KAR-W Dream11 Match Prediction Choice For Captain And Vice-Captain
Punjab will cash in their money on Parveen Khan here. She is their best batter and is likely to give them a brisk start in this one. In the Pre-quarter final, she helped the team with a brilliant 40+.
Divya is having an outstanding tournament at the moment and will be keen to continue her good form here. One can expect a lot of fireworks from her in this contest and she is one of the very few players with more than 100 strike rate in this contest.
Vrinda could be the difference between the two teams here. She began the tournament with a few scores but couldn't do much in recent games. The team will be hoping that she would regain her form before the important semi-final.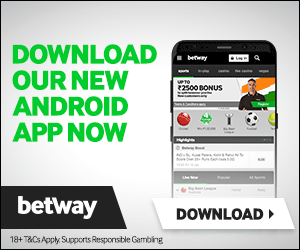 Shubha has been consistent at the top. Though she hasn't scored big as Divya or Vrinda did, she was able to give them the much-needed support and played the anchor role very well.
Kanika Ahuja is the best choice for captain from Punjab in this contest. The all-rounder is one of the main reasons for the team's success this year. She can contribute from both fronts and in the last contest, she had five wickets to her name.
Head to Head Dream11 Team Prediction PUN-W vs KAR-W
Wicket Keepers– T Bhatia, P Kumar
Batters– V Dinesh, D Gnananandha, R Aggarwal
All-rounders-N Bisht, K Ahuja, S Sateesh
Bowlers- M Patel, P Challuru, R Gayakwad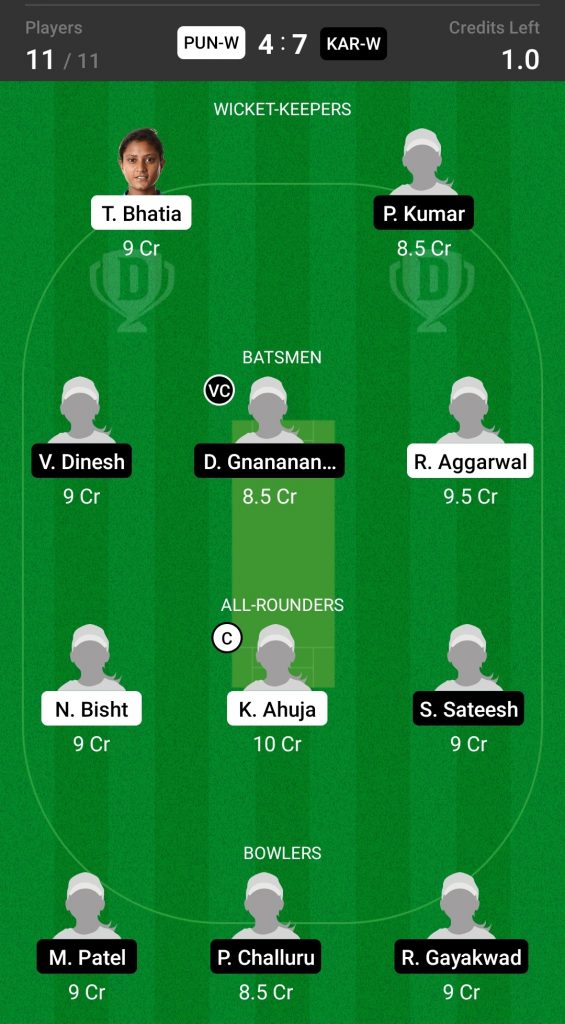 Grand League Dream11 Team Prediction PUN-W vs KAR-W
Wicket Keepers– T Bhatia
Batters– V Dinesh, D Gnananandha, R Aggarwal, P Khan
All-rounders-N Bisht, K Ahuja, S Sateesh
Bowlers- M Patel, M Kesar, R Gayakwad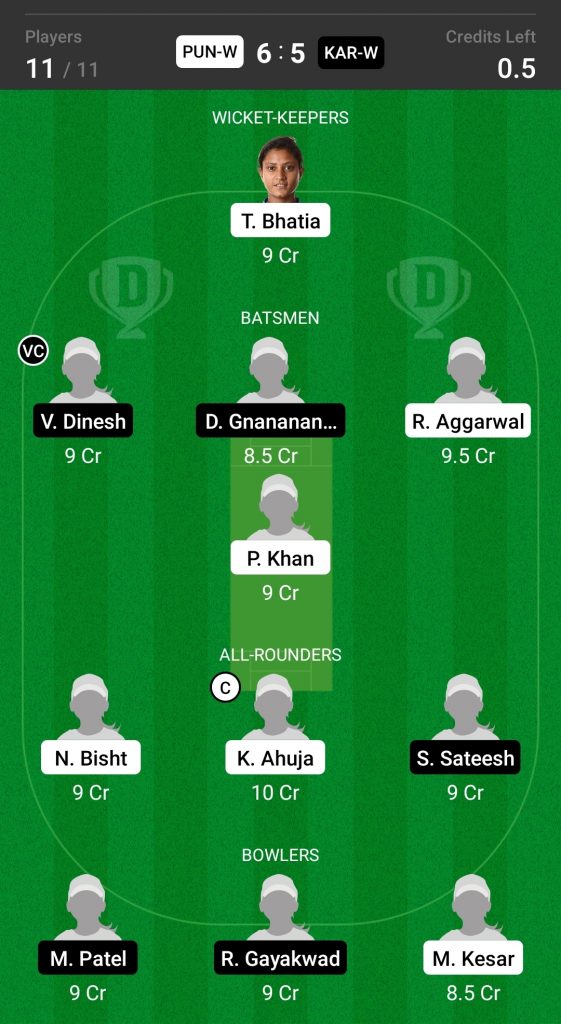 Who Will Win Today Between PUN-W vs KAR-W Dream11 Prediction, Semi-final Match?
According to Kheltalk's astrology  PUN-W vs KAR-W Dream11 Match Prediction, Karnataka will begin this contest as favorites. They look like a more balanced side than Punjab and there is a huge chance that they could pull off an easy win here.
PUN-W vs KAR-W Toss Prediction today
According to Kheltalk's PUN-W vs KAR-W Dream11 toss prediction, Karnataka is likely to bowl first in this contest. They have done well while chasing. Therefore, they will be keen to pull off one.