According to RCP vs VEN Dream11 Prediction for Today's Match Fantasy Cricket, Venezia will take on Royal Cricket Padova in the 9th match of the ECS T10 Venice on Wednesday, 31 March, at the Venezia Cricket Ground. Keep reading to find out about the ECS-T10 Venice Match 9th RCP vs VEN Dream11 team today.
Royal Cricket Padova and Venezia will head into this contest after a long Day 2. On day 1, both teams had different results. Venezia ended winning both their matches on day 1, they even defeated the same opponent with ease. On the other hand, Royal Cricket Padova had a win and a loss so far. They will be keen to bounce back in this contest.
Though on papers, Royal Cricket Padova looks like a better team, they couldn't get over Venezia in the first match and the team's batting order must step up here in order to keep the team in the hunt. Going by the previous matches, we can expect a score of 100 here.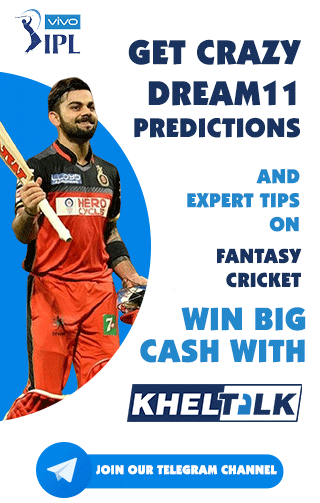 Match Details For RCP vs VEN Dream11 Prediction:
Here Are The Details and Dream 11 Match prediction For The Match RCP vs VEN
| | |
| --- | --- |
| Match | RCP vs VEN Match 9, ECS T10-Venice 2020-21 |
| Date | Wednesday, 31 March 2021. |
| Time | 13:00 IST |
| Venue | Venezia Cricket Ground |
ECS-T10 Venice Points Table
| | | | |
| --- | --- | --- | --- |
| Team | Played | Win | Loss |
| Venezia | 2 | 2 | 0 |
| Trentino Aquila | 2 | 1 | 1 |
| Royal Cricket Padova | 2 | 1 | 1 |
| Padova | 2 | 1 | 1 |
| Lonigo | 0 | 0 | 0 |
ECS T10 Venice Top Run-scorers
| | | | | |
| --- | --- | --- | --- | --- |
| Player | Matches | Runs | Average | Strike-rate |
| Nazmul Haque | 2 | 98 | – | 316.12 |
| Damith Kosala | 2 | 56 | 28 | 160 |
| Sameera Fernando | 2 | 50 | 25 | 142 |
| Ali Saqib Arshad | 2 | 42 | 42 | 210 |
| Virantha Veerasingha | 2 | 42 | 21 | 127.27 |
ECS T10 Venice Top Wicket-takers
| | | | |
| --- | --- | --- | --- |
| Player | Matches | Wickets | Economy Rate |
| Mehedi Nitol | 2 | 5 | 7.25 |
| Mahmudul Islam | 2 | 4 | 8.24 |
| Rajib Miah | 2 | 3 | 5.33 |
| Virantha Veerasingha | 2 | 3 | 6.50 |
| Ali Saqib Arshad | 2 | 2 | 6 |
Last Five Matches Stats
Here are the stats for the teams RCP vs VEN
Pitch Report of Venezia Cricket Ground
Going by the numbers on Day 1, none of the teams has managed to score even 100 runs. The chase was comparatively easier and as the day progressed, the pitch provided more support to the batters. On Day 1, three out of the four matches were won by the team batting second. The average close at this venue so far is 87.
Weather Report Of Venice
After a couple of cloudy days, Venice will enjoy a full bright sun after a while. The sun, however, isn't like Sharjah where there will be less humidity. With 13 degrees Celcius and 77 per cent humidity, Venice will have a climate that the cricketers would enjoy.
Fantasy Cricket Expert Tips:
Both teams have done well so far in the tournament. All eyes will be on the players of RCP once again who have dominated on Day 1. It's good to prefer 7:4 combination here and make sure to have more number of all-rounders in the team.
RCP Squad
RCP Squad: Akila Asurappulige, Indika Fernando, Lahiru Thommage, Sandun Vidanalage, Shashindra Witharanage, Anoman Andradege, Chamara Warnakulasuriya, Loku Arumalage Dinesh Silva, MalwanageFernando, Thudugoda Badalge Randajeewa, Angelo Andradege, Chamara Sududewage, Clarance Kumarasinghe, Dishan Fernando, Ganidu Appuhamilage, Gasbaduge Jeewan Fernando, Jaliya Mudiyaselage, Jayabahu Mudiyabselage, Katunayakage Martin Perera, Nishan Arachchige, Sajith Thenanhandi, Sameera Kurukulasuriya, Thushara Arachchige, Vidana Dananjaya, Weerahennadige Fernando, Kalubowila Gunasekara, Lasanka Wikehwardana, Subith Gamage, Warnakulasuriya Rodrogo
RCP News :
The team has a lot of well-known players and the attack will be led by Fernando who will be looking to dominate the opponent here. On papers, the team is looking good and they will not make any further changes here.
RCP Predicted Playing 11 For Today's Dream11 Match
Last match numbers-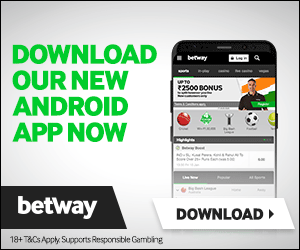 Dishan Fernando- 2 runs
Sameera Kurukulasuriya- 36 runs and 1 wicket
Virantha Veerasingha- 29 runs and 2 wickets
Nishan Arachchige- DNB
Nishshanka Kumarasinghe- DNB
Vidana Dananjaya- 1 run
Manoj Rodrigo- 8 runs
Chamara Sududewage- DNB
Sajith Thenahandi-DNB
Lahiru Thommage – DNB
Chamara Warnakulasuriya- 1 wicket
VEN Squad
Alamin Hossain, Miah Alamin, Nazmul Haque, Hosan Ahmed, Simone Bolgan, Sojun Islam, Mahmudul Islam, Nishantha N Fernando D, Munna Ahammed, Mahbub Khan, Shagar Choquder, Rajib Miah, Hridoy Abdul, Sharif Ahmmed, Kamrul Haque, Mehedi Nitol, Shermin Gomes, Ezajul Hosen, Sabuj Mondal, Raju Miah, Imran Khan
VEN News
The team has one of the strongest batting order and their bowling, which has been good so far in the tournament, is their weakest link. We can expect the team to come on top with ease in this contest.
VEN Predicted Playing 11 For Today's Dream11 Match
Last match numbers-
Hosan Ahmed- 13 runs
Alamin Hossain- DNB
Miah Alamin- 1 run and 2 wickets
Shagar Choquder- 26 runs
Nazmul Haque- 37 runs
Sojun Islam(wk)- DNB
Mahbub Khan- DNB
Rajib Miah- 2 wickets
Mehedi Nitol- 1 wicket
Ezajul Hosen- DNB
Mahmudul Islam- 2 wickets
RCP vs VEN Dream11 Match Prediction Choice For Captain And Vice-Captain
It is always wise to go in with the in-form players as the captain of the fantasy team.
Here are a few predictions for the captain pick for the RCP vs VEN
With a strike-rate close to 320 on Day one, Nazmul Haque is just too good to be ignored. He is yet to be dismissed in the tournament and has scored 98 runs with the best of 61* and also has 11 sixes to his name. He will be bowling his full quota as well.
Mehedi Nitol has been excellent with the ball so far and is also an excellent batter. So far, he has picked up five wickets with a four-wicket haul as well. He has an economy rate lesser than six which will come in handy in this contest.
Here are a few picks for the Vice-captain in the Dream 11 team for RCP vs VEN
Virantha Veerasingha Can prove to be the difference between the two teams here as he can contribute from both fronts. He is the leading wicket-taker of his team with three wickets to his name and also has scored 42 runs.
Rajib Miah is one of the most economical bowlers available in this contest. He has an economy rate of 5.33 and has picked up three wickets here. He is also a very capable batter and we can expect something special from him here.
RCP vs VEN– Top Picks
VEN
Mahmudul Islam has been one of the best bowlers for the team at the moment. Islam has managed to grab 4 wickets so far in the tournament and has the best of 2 for 16. He will be keen to contribute with the bat as well.
RCP
Chamara Weerasinghe's line and length have been excellent so far and he had picked up a couple of wickets here. We can expect him to do something special here and a lot depends on his initial overs of the tournament.
Head to Head Dream11 Team Prediction RCP vs VEN
Wicket-Keeper: M Tharandu
Batsmen: V Veerasingha, N Haque, R Miah, H Ahmed
All-Rounders: S Fernando, M Nitol, M Alamin
Bowlers: M Islam, N Kumarasingha, S Choquder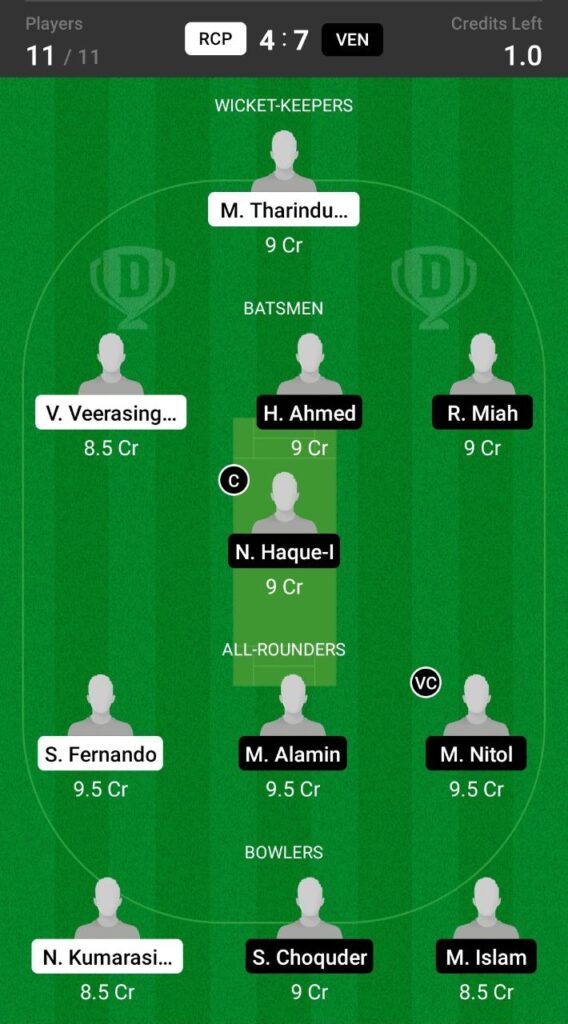 Grand League Team For RCP vs VEN
Wicket-Keeper: M Tharandu
Batsmen: V Veerasingha, N Haque, R Miah,
All-Rounders: S Fernando, M Nitol, M Alamin, D Fernando
Bowlers: M Islam, N Kumarasingha, S Choquder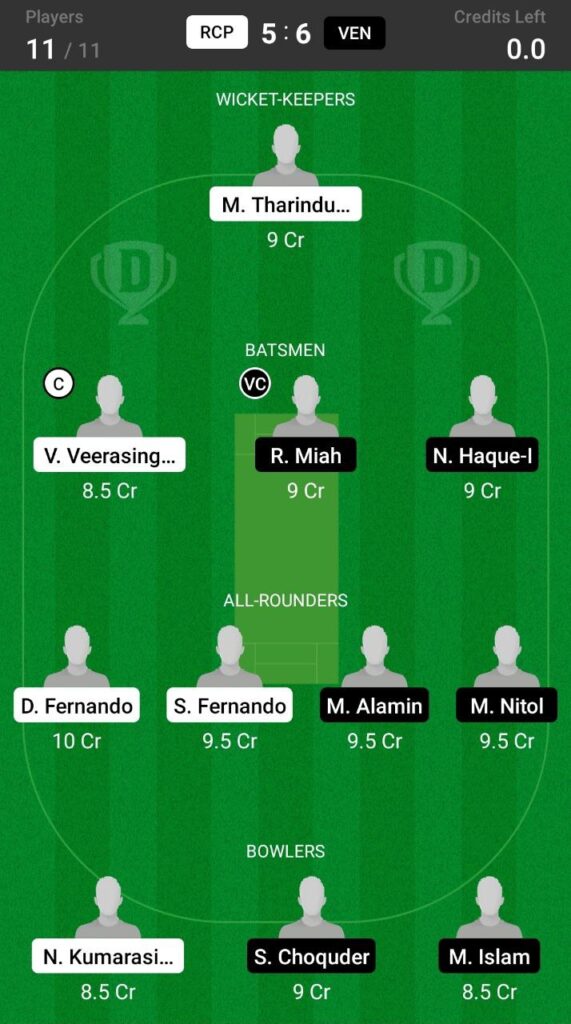 Who Will Win Today Between RCP vs VEN Dream11 Prediction, 9th Match?
According to Kheltalk's astrology RCP vs VEN Dream11 match Prediction, the VEN will win the match. Of course, they are the best team in the competition at the moment and are unbeaten. We can expect them to go one step further here to make it all better.
RCP vs VEN Toss Prediction today
According to Kheltalk's RCP vs VEN Dream11 toss prediction, VEN will opt to bowl first because the bowlers will have the upper hand in this contest. However, RCP will not go down with a fight.
Also Read:
Disclaimer: Fantasy Cricket is a game of skill and luck is also very much important to win the grand league in dream11 or any other fantasy cricket leagues. We have covered the skill part.