According to RUB vs AMB Dream11 Prediction for Today's Match Fantasy Cricket, Team Ruby will take on Team Amber in the 21st match of the Kerela Women T20 on Wednesday, 7th April, at the Sanatana Dharma College Ground, Alappuzha, Kerala. Keep reading to find out about the Kerela Women T20 Match 21 RUB vs AMB Dream11 team today.
Table topper Team Ruby will not square off against the struggling team Team Amber in the 1st Semi-final of the tournament. With six wins from 8 games, Team Ruby lead the points table with 24 points, meanwhile Team Amber has suffered back-to-back losses, which has dragged them down to the four spots at the points table.
Let me remind you, Team Ruby has recently thrashed team Amber by 9 wickets. Chasing down the target of 102 runs on the board, Team Ruby lost just one wicket and with ease, they notch the victory with five overs to spare.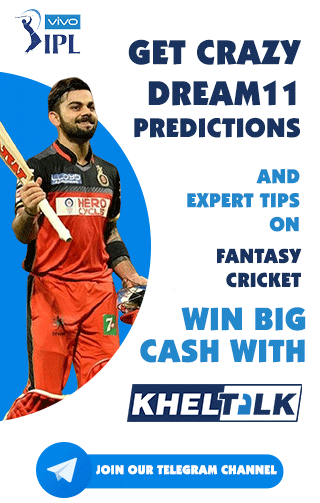 Match Details For RUB vs AMB Dream11 Prediction:
Here Are The Details and Dream 11 Match prediction For The Match RUB vs AMB
| | |
| --- | --- |
| Match | Team Ruby vs Team Amber, 1st Semi-Final, Kerela Women T20 |
| Date | Wednesday, 7th April 2021 |
| Time | 10 AM IST |
| Venue | Sanatana Dharma College Ground, Alappuzha |
Kerela Women T20 Points Table
| | | | |
| --- | --- | --- | --- |
| Team | Matches | Win | Loss |
| Team Ruby | 8 | 6 | 2 |
| Team Sapphire | 8 | 6 | 2 |
| Team Emerald | 8 | 3 | 5 |
| Team Amber | 8 | 3 | 5 |
| Team Pearl | 8 | 2 | 6 |
Kerela Women T20 Top Run-Getters
| | | | |
| --- | --- | --- | --- |
| Player | Matches | Runs | Strike-rate |
| Sasidharan | 8 | 303 | 60.66 |
| J George | 8 | 242 | 40.45 |
| A Sadanandan | 8 | 215 | 35.83 |
| Bhoomika | 8 | 213 | 30.42 |
| | | | |
Kerela Women T20 Top Wicket-takers
| | | | |
| --- | --- | --- | --- |
| Player | Matches | Wickets | Economy Rate |
| Sandra Suren | 8 | 13 | 3.66 |
| Shani Sasidharan | 8 | 12 | 3.68 |
| Sajeevan Sajana | 8 | 11 | 4.71 |
| Minnu Mani | 8 | 10 | 3.89 |
| | | | |
Last Five Matches Stats
Here are the stats for the teams RUB vs AMB:
Pitch Report of Sanatana Dharma College Ground, Alappuzha
The surface at SD College Ground is a bit slower, the pacer will get the ball to swing in the initial overs which will surely make it difficult for the batsmen to remain on the crease for long. As the match progresses, the surface gets slower. The team winning the toss will opt to bat first. 120-130 is a decent score to defend at this venue.
Weather Report Of Alappuzha
It has a tropical climate. The temperate here averages 26.6 degrees. Precipitation here is about 2546 mm per year. No chance to rain is expected on match day.
Weather– 33 Degree Celcius
Wind– 12kmph
Fantasy Cricket Expert Tips:
Make sure you pick more pacers and spinner for this venue. The surface is slower here which means batsmen will surely not get the ball easily on the bat.
RUB Squad
RUB Squad: Shani Sasidharan (c), Jilu George, Akshaya Sadanandan, Aswathy Mol, Sreekrishna Haridas, Anasara Santosh, Mrudhula Suresh, Najla Noushad, Ajanya T P, Ragi Mohan, Jayalekshmi Jayachandran (wk), Jayalekshmi Dev, Aleena Ann Joy, Gayathri S, Soniya Babu, Gopika Gayathri Devi, Nithuna K R, Drisya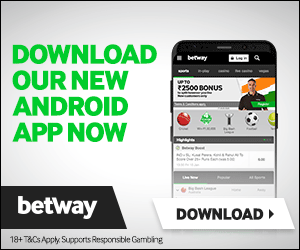 RUB News :
Team Ruby will not be taking much pressure for the Semi-finals as they have already defeated Team Amber in a recent game. No chances are expected for the upcoming clash.
RUB Predicted Playing 11 For Today's Dream11 Match
Shani Sasidharan – 63 runs – 1 wicket
A Mol – 13 runs
Akshaya Sadanandan – 22 runs
Nithuna KR- DNB
Mrudhula Suresh – DNB
Najla Naushad – DNB
Ajanya TP – DNB -2 wickets
Sreekrishna Haridas – DNB
Gayathri S – DNB
Soniya Babu – DNB
Ragi Mohan – DNB -2 wicket
AMB Squad
Jincy George (c), Aleena MP, Aleena Surendran, Ansu Sunil, Arya Baby, Binisha V, Devika Krishna Kumar, Athira Sanal, Sruthi TP, Abina M, Deepthi JS, Sneha KR, Anusree Anilkumar, Diya Gireesh, Joshitha VJ, Sraya Roy, Yadhu Priya
AMB News
Finally, Team Amber has a fair and last opportunity to move ahead in the tournament. Winning this semi-final would surely secure theri place in the Finals. One thing to note – Team Amber middle order has been continously failng to score runs after the power play. They need a good hitting down the order.
AMB Predicted Playing 11 For Today's Dream11 Match
J George – 31 runs
Deepthi- 40 runs
A Surendran – 10 runs
Aleena MP- 1 run
A Sunil – 3 runs
Abina M – 2 runs
Athira Sanal – 6 runs
Sneha KR – 4 runs
A Anilkumar – DNB -1 wicket
Sruthi TP – DNB
Sraya Roy – DNB
RUB vs AMB Dream11 Match Prediction Choice For Captain And Vice-Captain
It is always wise to go in with the in-form players as the captain of the fantasy team.
Here are a few predictions for the captain pick for the RUB vs AMB
Shani Sasidharan needs no introduction. Scoring more than 300 runs in 8 innings speaks a lot about his ability. She holds an average of more than 60 in the tournament. Not only with the bat, but she is also the leading wicket-taker for the side (12) at an economy of 3.68.
Jincy George is the highest run-getter for Team Amber. Playing 8 innings, she has scored 242 runs at an average of 40.33 including 30 fours. She has been one reliable asset for the side and is expected to play by an example in remaining matches.
Here are a few picks for the Vice-captain in the Dream 11 team for RUB vs AMB
Akshaya Saranandan has scored 215 runs in 8 innings for Team Ruby. He has smashed 20 fours and five sixes in the tournament so far and is known for playing a sensible knock.
Diya Gireesh has chipped 8 wickets in seven innings for Team Amber. Diya can trouble the batsmen with her variations and has the capability of not conceding many runs in the powerplay.
Head to Head Dream11 Team Prediction RUB vs AMB
Wicket-keeper: B Jayalekshmi
Batsmen: B Soniya, A Akshaya, M Aleena
All-rounders: C Najla, M Aswathy, T Shani, G Jincy
Bowlers: S Gayathri, G Diya, A Kumar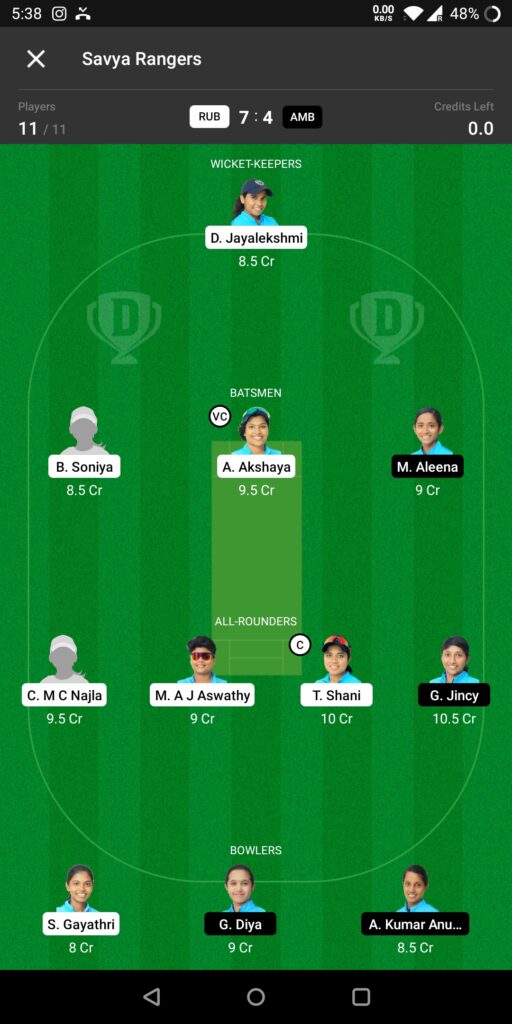 Grand League Team For RUB vs AMB
Wicket-keeper: B Jayalekshmi
BatsmenB Soniya, A Akshaya, M Aleena
All-rounders: C Najla, T Shani, G Jincy, T Sruthi
Bolwers: S Gayathri, G Diya, A Kumar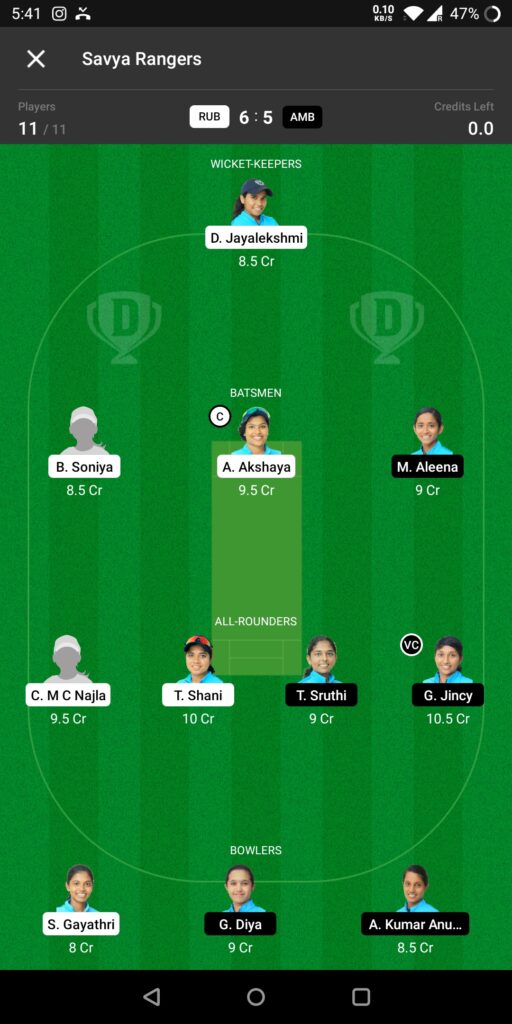 Who Will Win Today Between RUB vs AMB Dream11 Prediction, 9th Match?
According to Kheltalk's astrology RUB vs AMB Dream11 match Prediction, the RUB will win the match. The form Team Ruby is carrying, gives the feeling of invincibility. It's unlike for Team Amber to notch this game easily.
RUB vs AMB Toss Prediction today
According to Kheltalk's RUB vs AMB Dream11 toss prediction, RUB will win the toss and opt to bat first here. The team batting first will look to score around 120-130 which will be easy to defend.
Also Read:
Disclaimer: Fantasy Cricket is a game of skill and luck is also very much important to win the grand league in dream11 or any other fantasy cricket leagues. We have covered the skill part.