According to SAP vs PEA Dream11 Prediction for Today's Match Fantasy Cricket, Team Sapphire will take on Team Pearl in the 16th match of the Kerela Women T20 on Saturday, 3rd April, at the Sanatana Dharma College Ground, Alappuzha, Kerala. Keep reading to find out about the Kerala Women T20 Match 16 SAP vs PEA Dream11 team today.
Table Topper Team Sapphire has the next job against another struggling team Team Pearl. With five wins from six games, Sapphire collects 16 points which offers them a top position at the points table. The last game against Team Amber was one of the intense games of the tournament. Coming onto the bat, Sapphire scored 107 runs in given overs and unfortunately Team Amber just fell short by 2 runs while chasing.
On the other hand, Team Pearl is at the fourth spot with two wins in five games and they desperately need to win to move ahead on the points table. Currently, Team Pearl is playing against Emerald and would easily chase down a mere target of 66 runs.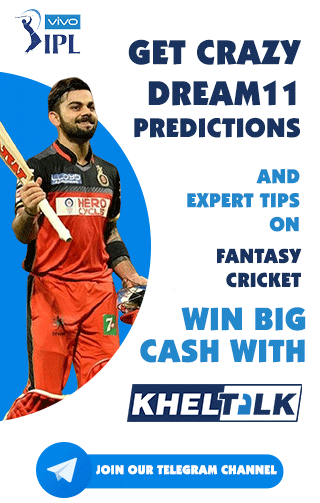 Match Details For SAP vs PEA Dream11 Prediction:
Here Are The Details and Dream 11 Match prediction For The Match SAP vs PEA
| | |
| --- | --- |
| Match | Team Sapphire vs Team Pearl, Match 16, Kerala Women T20 |
| Date | Saturday, 3 April 2021 |
| Time | 1 30 PM IST |
| Venue | Sanatana Dharma College Ground, Alappuzha |
Kerala Women T20 Points Table
| | | | |
| --- | --- | --- | --- |
| Team | Matches | Win | Loss |
| SAP | 6 | 5 | 1 |
| RUB | 5 | 3 | 2 |
| AMB | 6 | 3 | 3 |
| PEA | 5 | 2 | 3 |
| EME | 4 | 0 | 3 |
Kerala Women T20 Top Run-Getters
| | | | |
| --- | --- | --- | --- |
| Player | Matches | Runs | Strike-rate |
| J George | 6 | 196 | 49.00 |
| Bhoomika | 6 | 164 | 32.80 |
| Akshaya Sadanandan | 5 | 164 | 40.75 |
| Shani | 5 | 152 | 38.00 |
| Sajeevan Sajana | 5 | 134 | 67.00 |
Kerala Women T20 Top Wicket-takers
| | | | |
| --- | --- | --- | --- |
| Player | Matches | Wickets | Economy Rate |
| Sandra Suren | 6 | 11 | 3.38 |
| Saajeevan | 6 | 9 | 4.91 |
| Shani | 5 | 7 | 2.44 |
| Najla | 5 | 7 | 3.95 |
Last Five Matches Stats
Here are the stats for the teams EME vs PEA
Pitch Report of Sanatana Dharma College Ground, Alappuzha
The surface at Sanatana Dharma College Ground is equally assisting the bowlers and the batsmen. The average inning score is 92. Sapphire has an upper hand on this surface for sure.
Weather Report Of Alappuzha
The climate is going to be pleasing, there will be clouds. While the lowest temperature on the day is 29.91 degrees Celcius, the highest is 30 Degrees.
Weather– 30 Degree Celcius
Wind– 13kmph
Fantasy Cricket Expert Tips:
Since both teams have done well with the ball, make sure to have more bowlers and all-rounders in this contest. Also, there are a few seasonal campaigners who you shouldn't be missing out on here. Minnu Mani will be the player to watch out for in this contest.
SAP Squad
SAP Squad: Arathi Ravi, Farha Shirin, Nandini P T, Sajeevan Sajana, Siha Santosh, Anju Rajan, Bhoomika Umbarje, Renjusha, Sandra Suren, Sayoojya Salilan, Vinaya Surendran, Aiswarya A K, Alka a Suresh, Aparna K K, Aswathy M, Chilthanya J, Maneesha C K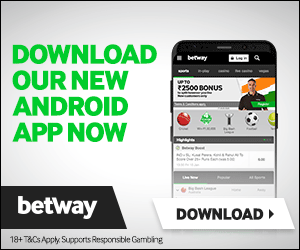 SAP News :
Team Sapphire was literally on a verge of losing two back to back games but luckily fortune favoured the brave in the previous game agaisnt Amber. They almost lost the game while defending 107 runs on the board but the credits goes to economical and wicket-taking spell by Sandra Suren who didn't allow the set batasmen Jincy George to lead his team towards victory.
SAP Predicted Playing 11 For Today's Dream11 Match
Chaithanya- 2 runs
Bhoomika Umbarge – 17 runs
Aswathy M – 1 run – 1 wicket
Sajeevan Sajana – 62 runs
Maneesha CK – 4 runs
S Salilan – 16 runs
Alka a Suresh – 2 runs
Sandra Suren – DNB – 2 wickets
V Surendran – DNB
Anju Rajan – DNB
Renjusha – DNB
PEA Squad
Keerthi James (c), Drishna N K, Drishya I V, Sooya Sukumar, B Souparnika, Aleena Shibu, Yuvanthika R, Aswathi Babu, Darsana Mohanan, Nandana, Sneha M, Maria George, Jisna Joseph, Akhila P, Sourabhya P, Bhadra Parameswaran, Jisha Jaimon
PEA News
Team Pearl started theri campaign with abc to back wins but suddently they lost their moemntum and were handed over three defeats in a row. At present, they are chasing down mere 66 runs against Emerald and already have lost threee wickets. Let's see if their middle order get them out of this situation.
PEA Predicted Playing 11 For Today's Dream11 Match
Keerthi James 0 runs
Drishna N K DNB
Drishya I V 0 Runs
Sooya Sukumar 1 run and 1 wicket
B Souparnika 8 runs
Aleena Shibu 0 runs
Yuvanthika R DNP
Aswathi Babu 3 runs
Darsana Mohanan 2 wickets
Nandana DNB
Sneha M DNB
SAP vs PEA Dream11 Match Prediction Choice For Captain And Vice-Captain
It is always wise to go in with the in-form players as the captain of the fantasy team.
Here are a few predictions for the captain pick for the SAP vs PEA
Sajeevan Sajana must be your priority. She has been impeccable with both bats as well as with the ball. In five innings, she has scored 134 runs at an average of 67.00 and has also been lethal with the ball. So far, she has 9 wickets to her name at an economy of 4.91.
No batsmen from Team Pearl hasn't been so effective with the bat. Akhila Ponnukuttan has scored maximum runs for the side including just 10 fours in five games. He has 90 runs in five games at an average of 18.00.
Here are a few picks for the Vice-captain in the Dream 11 team for SAP vs PEA
Soorya Sukumar and Darsana Mohanan have got five wickets each for Team Pearl Soorya Sukumar have the ability to trouble the batsmen with her variations but she usually misses the line and length. Don't miss them out as they would surely earn you points.
Sandra Suren has turned out as the best bowlers of the tournament so far. She has helped out her team at many crucial situations. Don't forget the match against Team Amber where she chipped two wickets in the last over. So far, she has 11 wickets from 6 games at an economy of 3.38.
Head to Head Dream11 Team Prediction SAP vs PEA
Wicket-keeper: Maneesha
Batsmen: U Bhoomika, P Akhila, S Aleena, S Sooya
All-rounders: K Aparna, S Sajana, V Drishya
Bowlers: R Anju, S Sandra, M Darsana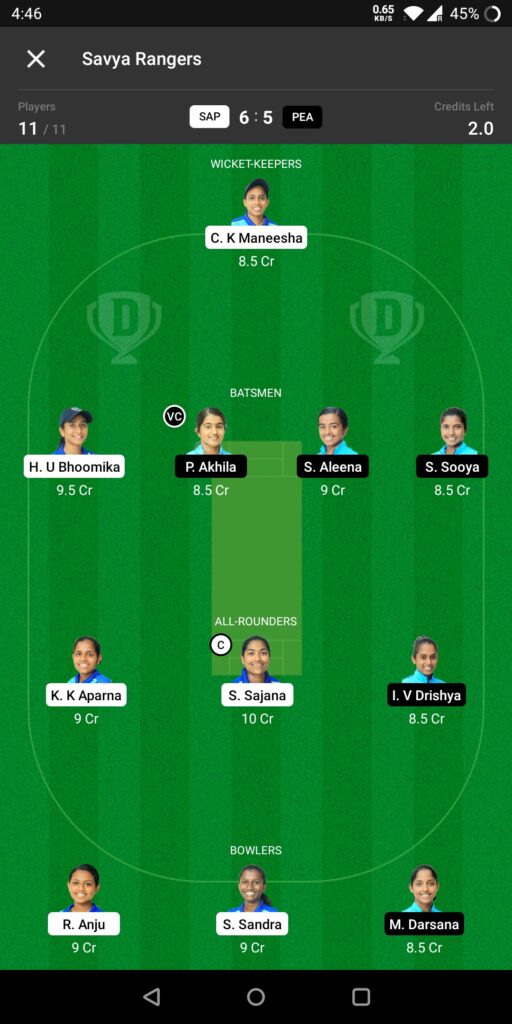 Grand League Team For SAP vs PEA
Wicket-keeper: Maneesha
Batsmen: U Bhoomika, P Akhila, S Sooya
All-rounders: K Aparna, S Sajana, V Drishya, A Alka
Bowlers: R Anju, S Sandra, M Darsana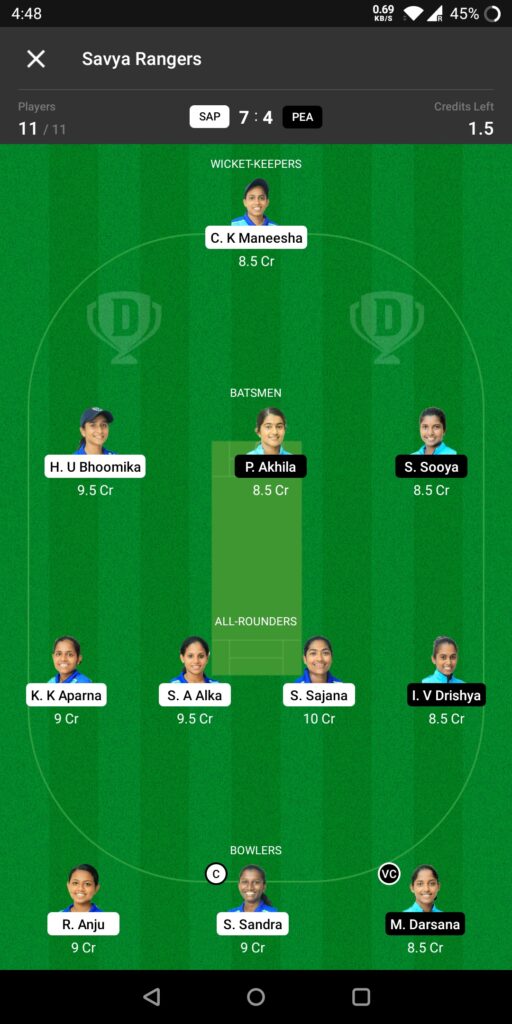 Who Will Win Today Between SAP vs PEA Dream11 Prediction, 16th Match?
According to Kheltalk's astrology SAP vs PEA Dream11 match Prediction, the SAP will win the match. Team Sapphire step up on the field with just one intention of winning the game at any cost. The win against Team Amber was a perfect example of it.
SAP vs PEA Toss Prediction today
According to Kheltalk's SAP vs PEA Dream11 toss prediction, SAP will win the toss and opt to bowl first as Team Pearl lack talents in their batting department and that's where Sapphire is likely to take an advantage.
Also Read:
Disclaimer: Fantasy Cricket is a game of skill and luck is also very much important to win the grand league in dream11 or any other fantasy cricket leagues. We have covered the skill part.