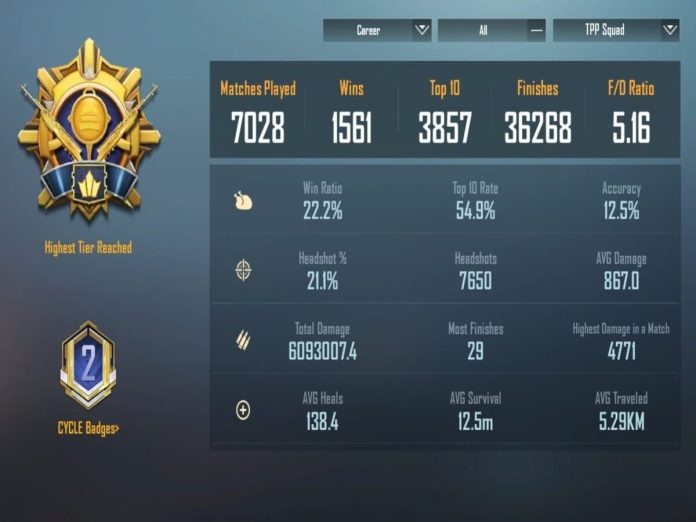 Scout is one of the most well-known names in the eSports industry in India. Every eSports fan in India is well aware of Scout and his abilities. Apart from being a professional gamer, Scout is also an extremely talented broadcaster of the game.
In addition to these feats, Scout also owns Team X Spark. Scout has demonstrated his prowess in Battlegrounds Mobile India (BGMI) with his immense knowledge of the game and flawless execution.
Scout has thus become a fan-favourite BGMI professional player in India. If you wish to know more about Scout's BGMI stats, keep reading.
Scout BGMI stats
BGMI players who wish to view Scout's BGMI profile can do so by entering his unique code in the search bar. The unique code is 5144286984. Alternatively, players can also view his profile by entering his IGN which is scprouttOP.
In the current season, Scout has played 7,028 matches in the classic squad mode. Out of these, he has triumphed in 1,561 matches. This gives him a win ratio of 22.2%. In the remaining matches, he has reached the top 10 in 3,857 matches.
Scout F/D Ratio
Scout's total damage is a humongous 6093007.4. This gives him an average damage of 867.0. His F/D ratio is impressive and a testament to the kind of player Scout is. His F/D ratio is 5.16, which is incredible. He has defeated a total of 36,268 enemies.
His headshot percentage is a mammoth 21.1. This comes from a total of 7650 headshots. His average survival time is 12.5 minutes in classic matches.
Out of all Scout's high-octane, intense matches, Scout's best performance was in a classic match, where he amassed 29 finishes. He dealt a total damage of 4,771.
Scout's stats are undoubtedly impressive, to say the least. He has also inspired several budding eSports players in the country.
Also Read: Valorant Mobile Version To Be Released: Details, Release Date