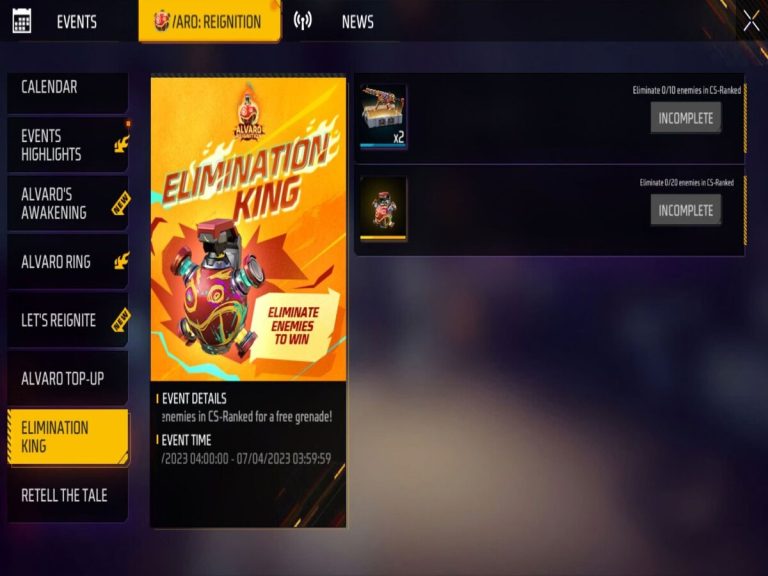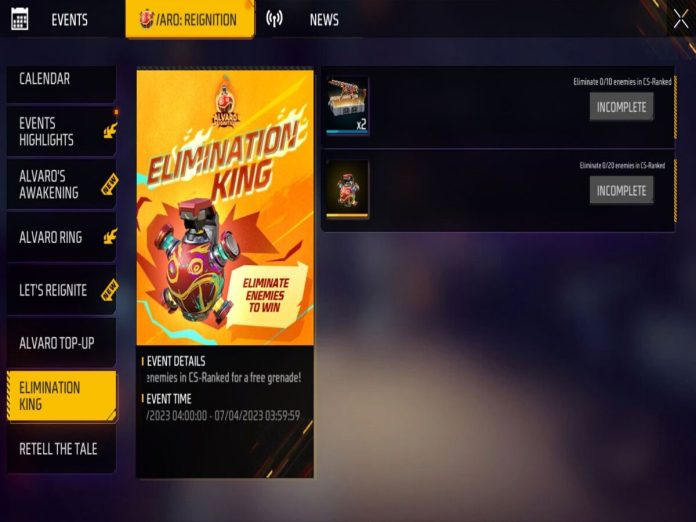 Free Fire MAX is known for its unique and rewarding events. The most recent themed event to be presented as part of the continuing "Alvaro: Reignition" celebrations is the Elimination King event.
Players must accomplish the required tasks in order to receive free weapon loot crates and a unique grenade skin during this event. Free Fire players will have three days to finish the tasks and receive the rewards, providing them plenty of time.
The Elimination King event in Free Fire MAX started on April 4 and runs till April 6. Players must achieve a certain amount of kills in the CS-Ranked mode in order to receive the Mr. Nutcracker Weapon Loot Crate and the Blast 'n' Shrug Grenade during this event.
Free Fire MAX Elimination King event prerequisites
The requirements that have to be met to receive the rewards are:
Get 10 kills in CS-Ranked: 2x Mr. Nutcracker Weapon Loot Crate
Get 20 kills in CS-Ranked: Grenade – Blast 'n' Shrug
These tasks are sequential and reasonably easy to finish. To receive both rewards, players only need to defeat a total of 20 enemies. They will finish the task in just four games when they average five points per game.
This is a simple way to obtain the loot crate and grenade skin. The majority of the grenade skins in the in-game shop cost 499 diamonds, so this is a wonderful chance to get them.
How to get rewards in Elimination King event
Once you have completed the aforementioned tasks, follow the steps below to receive your rewards.
To reach the in-game events tab, open Free Fire MAX on your smartphone and select the "Calendar" icon.
Locate and press on the "Elimination King" event under the "Alvaro: Reignition" option.
The two rewards will show up on the screen. You can get them by selecting "Claim."
By going to the game's Armory section, you can add the Grenade – Blast 'n' Shrug. You can open the 2x Mr. Nutcracker Weapon Loot Crate to get a trial edition or a permanent gun skin.
Free Fire MAX players should immediately hop into the game and make use of this opportunity.
Also Read: Jonathan's Return To BGMI Confirmed By Neyoo