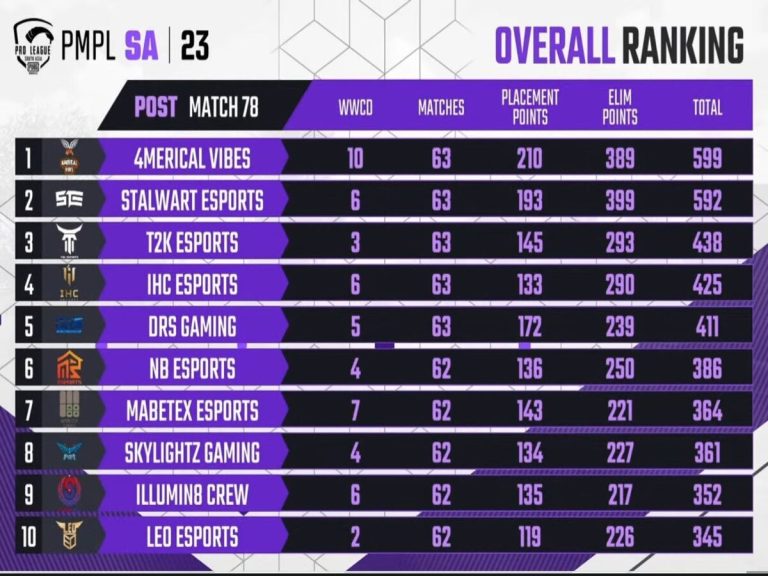 The League Stage of the PUBG MOBILE Pro League (PMPL) South Asia Spring 2023 concluded on April 9, after a three-week-long intense competition.
With the close of the League Stage of the PUBG Mobile Pro League South Asia Apring 2023, the top 16 teams will move on to the Grand Finals.
The best 20 teams from South Asia competed in a round-robin style over 15 match days as part of the first phase. It kicked off on March 21.
Each consisted of five matches, and at the conclusion of each week, teams received additional points based on their weekly standings.
The top 16 teams have been chosen for the Grand Final, which will take place from April 14 to 16, based on their accumulated bonus points in the PMPL 2023 South Asia Spring League Stage.
PMPL 2023 South Asia Spring League Stage Overall Rankings
4Merical Vibes
Stalwart Esports
T2K Esports
IHC Esports
DRS Gaming
The top squad from the previous season, Mongolia's 4Merical Vibes, demonstrated exceptional performance this time as well.
After 10 chicken dinners and 599 points overall, they triumphed and took first place.
Stalwart Esports came within seven points of 4Merical's point total. They played passionately, scoring 399 of their 592 total points through fragging.
T2K Esports made an outstanding comeback to the track with two straight solid weeks after a sluggish first week, securing a spot on the podium with 438 points.
IHC Esports finished with 425 points and held their place as one of the top five teams throughout the PMPL.
DRS Gaming, who had held third position for the first two weeks in a row, fell to fifth. Skylights Gaming had a dismal showing, coming in eighth.
Top players of the league stage
One of the young South Asian players that demonstrated their talent during the PMPL League Stage was East922, who took the top rank on the list of top fraggers with 124 eliminations.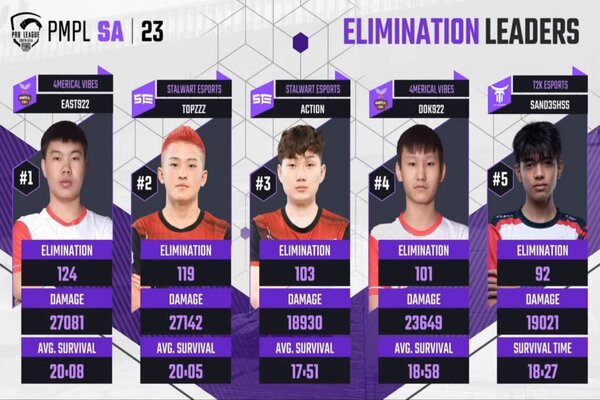 East922 (4Merical Vibes) – 124 kills
Topzzz (Stalwart Esports) – 119 kills
Action (Stalwart Esports) – 103 kills
DOK922 (4Merical Vibes) – 101 kills
Sand3shss (T2K Esports) – 92 kills
Also Read: Free Fire MAX Hyperbook Top-Up Event Revealed: All Details