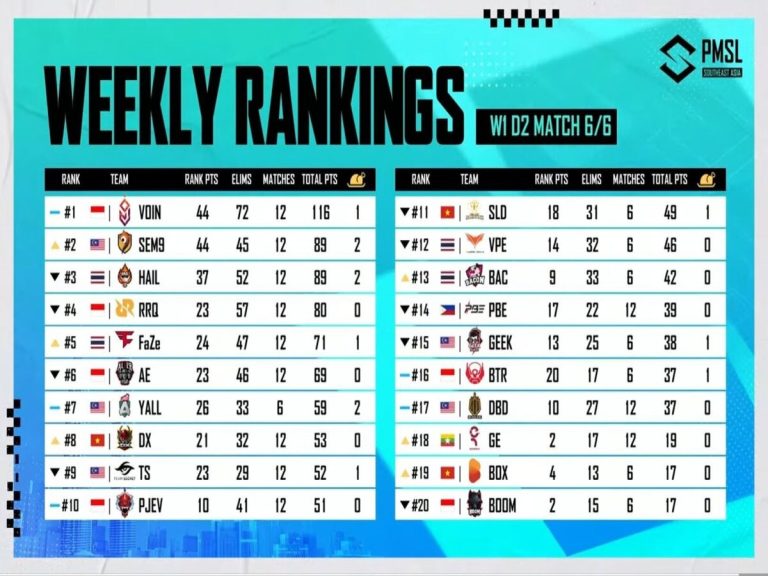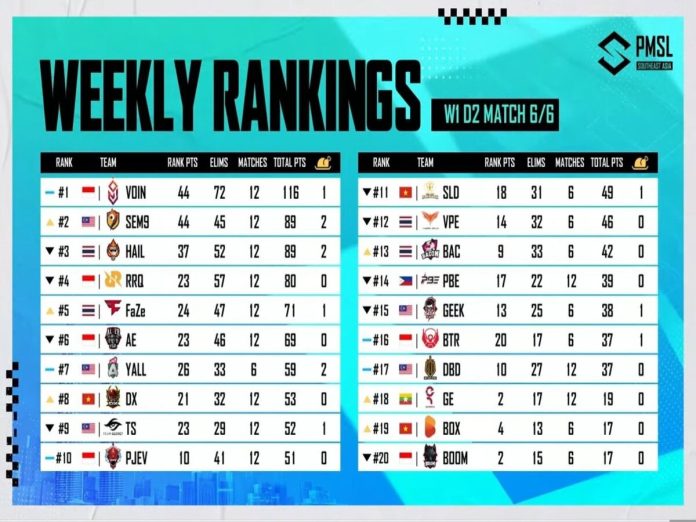 The second day of the first week of the PUBG Mobile Super League (PMSL) Spring 2023 has concluded, and Indonesia's VOIN Esports tightened their grip on the overall rankings. The team built on yesterday's success and kept first place with 116 points and 72 frags. Even though they failed to get a chicken dinner, the team's solid play across several games allowed them to hold onto first place.
SEM9 from Malaysia, who was in sixth position yesterday, showed outstanding competence to move up to second place. During the six games they played today, the team scored 46 points, bringing their total to 89 points and 45 kills.
The Thai champs HAIL Esports had a successful day as well. With 89 points and 52 kills, they took third position at the end of the day in the PUBG Mobile Super League. 
Overall Rankings
VOIN Esports
SEM9
HAIL Esports
Team RRQ
FaZe
PMSL 2023 Spring Week 1 Day 2 Match Highlights
Geek Slate successfully used the zone advantage in game 1 of the day to win by a score of 10 frags. In this match, Team RRQ from Indonesia came in second, and PlayBook Esports from the Philippines took third place with five kills.
Indonesian team BTR RV improved in the second game after struggling in the first. The team eliminated 11 players and easily won the match with Liquid earning MVP honors. With eight kills once more, Team RRQ had another excellent game to finish second. HAIL Esports, who attained four kills, took third place in this Erangel encounter.
Team Secret and HAIL Esports, won the third and fourth games respectively, contested on Erangel. Nine frags were obtained by Team Secret, whereas only seven by the HAIL Esports. HAIL Esports gained a solid spot on the scoreboard thanks to these two games in particular.
Team Faze Clan won the second last game of the day. The team successfully amassed 12 kills. They moved up to the top five on the overall scoreboard thanks to their chicken dinner. Bigetron RV took third place with three eliminations, followed by VOIN Esports in second place with eight kills. In the last game of the day, SEM 9 gained a chicken dinner to move up to second place overall in the standings. 
Also Read: Fortnite: How To Get 4 Free Cosmetic Items