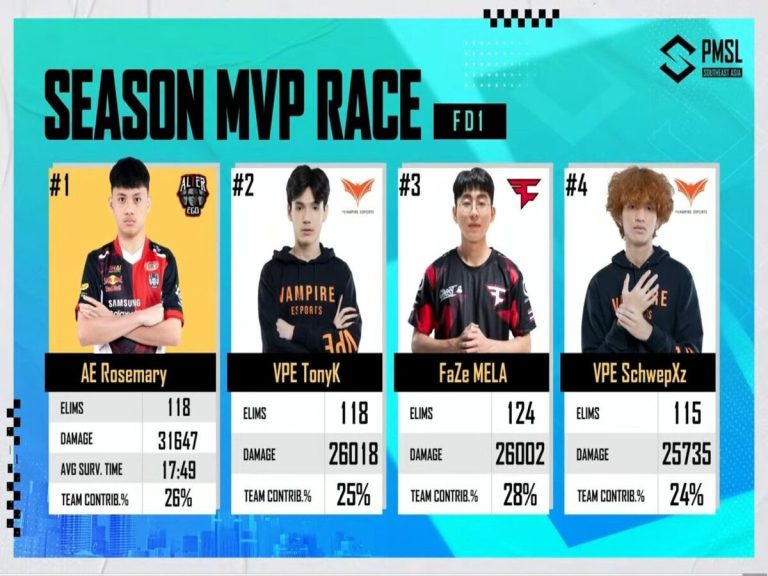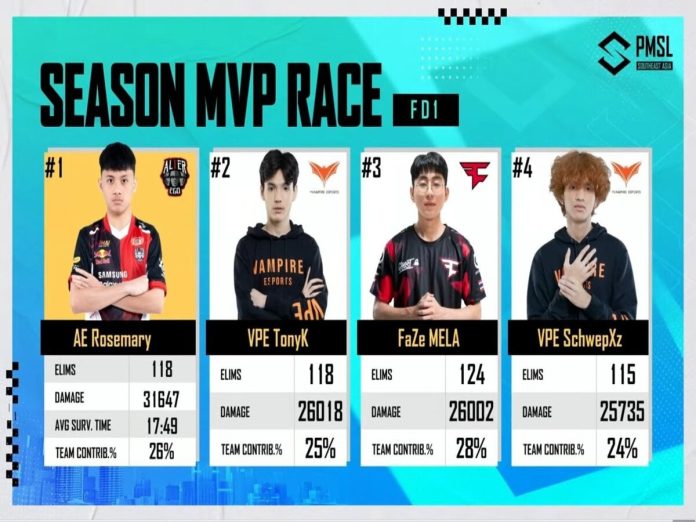 After six enthralling matches, Day 1 of the three-day PUBG Mobile Super League (PMSL) 2023 Spring Grand Finals came to an end.
After winning two Chicken Dinners, the Alter Ego team took the lead with 85 points. Securing 80 points, Shine Like Diamond (SLD) from Vietnam was in second place in the PUBG Mobile: PMSL 2023 Spring Grand Finals Day 1. 
Another well-known Indonesian team, Persija Evos, fought consistently during the first day, scoring 66 points, or 11 per game, on average.
With 62 and 57 points, respectively, Boom Esports and HAIL, the winners of the PMPL Indonesia and Thailand, are presently in fourth and fifth position.
With 118 kills and 31,647 damage, Rosemary from Alter Ego is currently leading the PMSL MVP race. TonyK is in second place, while Mela is in third.
PMSL 2023 Spring Grand Finals Day 1 Rankings
Alter Ego
Shine Like Diamond
Persija Evos
Boom Esports
HAIL
Match 1
Otka defeated Bacon Time in a 1v3 battle and assisted Alter Ego in obtaining a massive 17-kill Chicken Dinner. With eight eliminations individually, Bacon and Persija Evos got this game off to a strong start and scored 14 and 13 points, respectively.
Match 2
In match 2 of the PMSL 2023 Spring Grand Finals Day 1, following nine eliminations, Shine Like Diamond from Vietnam won the Chicken Dinner. Persija Evos played well once again, scoring 12 points with their top lineup. After putting up some fight, Boom and Evos both scored 11 points each.
Match 3
SLD won their second game with six kills, demonstrating their cohesiveness. Additionally outstanding were Bacon Time and Yoodo Alliance, who received 14 and 13 points, respectively.
Match 4
SEM9 and Persija Evos engaged in a remarkable battle in the fourth game's last circle, where the Malaysian team triumphed and earned a spectacular 10-kill Chicken Dinner. Evos scored 14 points, while Box scored 13.
Match 5
Alter Ego performed amazing feats on the opening Miramar map to record their second Chicken Dinner with 13 frags. In the end, Geek Slate put everything they had into the battle and scored 13 points.
Match 6
Match 6 of the PMSL 2023 Spring Grand Finals Day 1 was won by Bigetron Esports, who finished 16th in the league phase, with a four-kill Chicken Dinner.
Day 1 of the PMSL 2023 Spring Grand Finals was clear indication that the action has merely begun and there will be a lot more to look out for.
Also Read: BGMI Star Mavi Denied Slot In BGMI Tier-1 Scrims Due To "Lack Of Achievements"