February 8, 2021 by KhelTalk
Pros
Signup Bonus Fluid App Experience Many Deposit Options
Cons
Less Promotional Offers Outdated Desktop UI
FanFight Review
FanFight is one of the biggest fantasy Football and Cricket platform in India after Dream11, HalaPlay and among others. It is one of the fastest-emerging fantasy sports podiums.
It was established in 2017, and its parent organization is Head Digital Works Pvt. Ltd. It is headquartered in Hyderabad, India. The Founder and CEO of FanFight is Mr. Akhil Suhag.
Fantasy sport, which is also known as eSport, has suddenly found a niche market in India. From a handful of companies providing fantasy sports gaming websites and apps to more than 60 such platforms, the format has found many takers in India.
Until a few years before; it was Dream11 that had more than 90% of the market in the Indian domestic fantasy sports market. Its resounding success has opened the floodgates in India for many more companies like HalaPlay and others. They are now providing more opportunities for players to play and win some real cash.
FanFight is one such amazing platform. It has been providing its patrons with opportunities to use their skills to play matches in multiple sports and take home some real cash.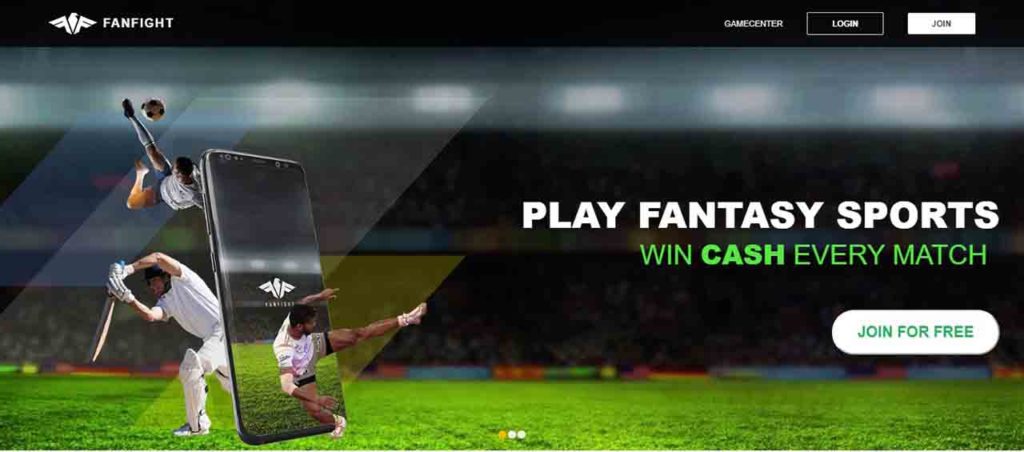 What's more, the fantasy sports gaming industry is also legal in India as it employs the use of players' skills to play and earn money.
India is a Cricket crazy country, and the data of viewership for IPL 2019, ICC Cricket World Cup 2019 and other Series recorded immense patronage.
People have started to indulge in playing fantasy Cricket matches and accumulate BIG cash. It is where platforms like FanFight are helping users to rake in huge moolah when it comes to offering perfect podiums to play fantasy games.
Let's see other aspects of this fantasy sports platform in this FanFght review.
By the end of this post, you may go ahead and download the FanFight app or use the website to start playing a fantasy match of your preferred sport and earn big bucks.
FanFight Overview – Everything you need to know
Here is our Brief FanFight Review, here you'll find everything you need to know about this platform.
How to join FanFight?     
Registering on FanFight is dead easy if you can follow a few steps:
Download the FanFight App
Register with either Facebook or Google. You can also join via your personal email
Once done, you will need to feed your Mobile number and referral code if any
You may lap up INR 100 sign up bonus – 30 for sign up and 70 for the referral code
Verify your email ID
Feed your KYC section to help you receive payments without hassles
Here is the FanFight Login link here. You can use this FanFight login link to get started on FanFight.
FanFight App Download –
Here are the FanFight Download links that you can use to download FanFight Apk as well as the FanFight IOS App.
FanFight apk latest version download Link – https://bit.ly/33FeYSE
FanFight IOS App latest version Link – https://apple.co/3biL1dF
What are the sports offered to users to play on this Platform?
There is nothing to worry if you don't like watching and playing Cricket. On this Platform, it is fine if you don't want to play Cricket fantasy games. You have other sports to accompany you towards the fun and earning money. Have a look at the sports offered on FanFight:
You may soon be able to play other sports as well on this Platform in the future.
FanFight Referral Code
Here is our Fanfight Referral Code – U90522
You can use this Fanfight referral code during signup and get extra INR 70 during signup. Just enter this Referral code on the signup page & you are sorted!
FanFight Review: How to play on FanFight?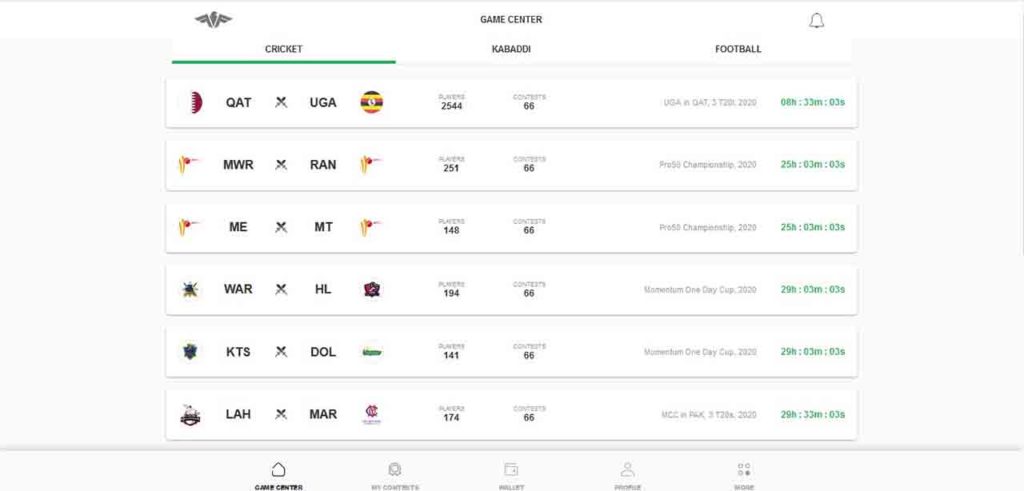 Step 1 – Pick a match
You can choose from a large list of daily Cricket match fixtures from Cricket and Football and select a Team.
Step 2 – Build your 11-member Team
It is where your Cricket/Football knowledge will be put to the test. You can use the sanctioned 100 points while joining and your skills to create a Team of 11 players.
Step 3 – Choose a contest and join
You will need to choose a contest and join it to win cash. Every scheduled match has different cash contests going on, and it is up to you to pick one as per your preferences. The deadline to select a game is at least 1 hour before the beginning of the live match.
Step 4 – Track your fantasy score
You can now check how your selected players in the squad are doing it for you and track your fantasy score. The fantasy score gets updated on the platform every 2 minutes.
Step 5 – Withdraw your earned cash
If you have earned a rank that is getting you cash, then it is possible to withdraw it immediately.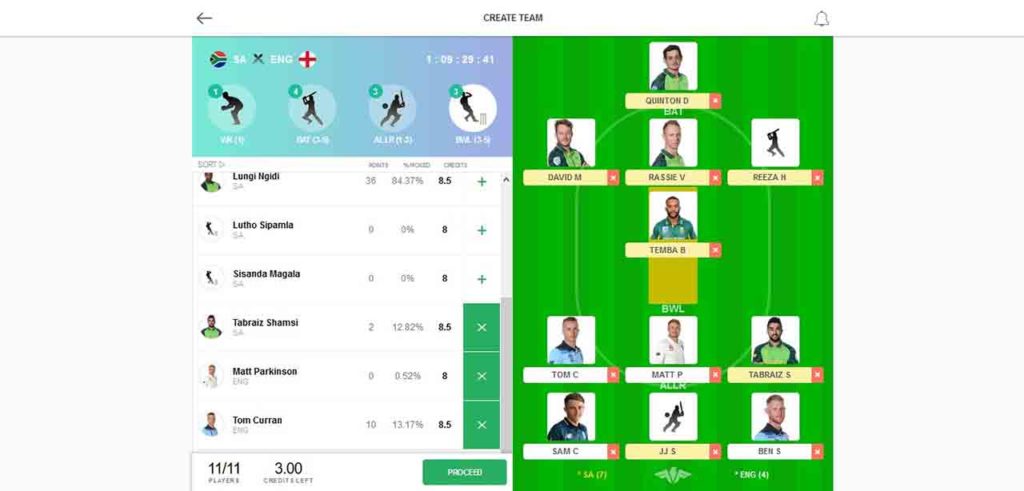 How do you deposit money into the FanFight wallet?
There are many ways to deposit money on FanFight –
Paytm
MobiKwik
UPI
Credit / Debit Card
Net Banking
FanFight lets you add money to help you participate in its multiple competitions scheduled on a daily basis across Cricket, Football, and Kabaddi. Adding money into the FanFight wallet is as easy as 1-2-3. Have a look:
The first thing is opening the FanFight app and click on the wallet tab
Now you can enter an amount that you were looking to add in the FanFight wallet
If you have any promo code, you can redeem it in the promo code section and hit submit to see the final amount
Once done, you will now make the payment
The payment can be made using any wallets like PayTM, UPI, credit and debit cards and net banking.
That's it! You may also get a 100% cash bonus on successful transactions
You will be free to use the extra cash bonus amount to participate in various leagues.
How to withdraw money on FanFight?
As and when you win contests, an amount keeps accumulating in this category. You also have an option here that states 'Withdraw'. It simply denotes that you are free to withdraw money from this section.
It is also up to you to use the money collected here for joining multiple cash contests. You can also see an option that lets you apply the coupon and offers on FanFight for you.
You will need to go to 'My Account' and verify it using your Aadhaar Card and PAN Card. It may not be required if you are withdrawing the FanFight amount into your PayTM account.
Once your account gets verified, you have the freedom to withdraw an amount. The minimum withdrawal amount is Rs.250.
Provide your bank name, name of the bank account holder, branch name, account number and IFSC Code.
Your desired amount will now be deposited into your bank account.
The withdrawn amount from your FanFight account will reflect into your bank account within 48 hours.
The maximum amount that you can withdraw at a time is Rs.10,000.
It is not possible to withdraw your bonus amount.
It is also possible to win more real cash while playing in the fantasy leagues. Here are some quick tips to follow:
Always create unique Fantasy Teams
Keep yourself updated with the latest Cricket and other sports news
Always go for players that are winners and can help you accumulate more points
Join leagues that provide you with 100% bonus utilization
Refer it to your friends and keep earning via referrals
What is the points system on the Platform?
The points system in Cricket (T20, ODIs and Tests)
From being a part of the Team to scoring runs and in many more situations, you continue to pick up points on FanFight. Here is the breakup of points for T20 Cricket, ODIs and Test Cricket:
For being a part of the Team – 2
For every run – 0.5
Wicket (run-outs not included) – 10 (12 in ODIs and 8 in Tests)
Catch – 4
Caught and bowled – 14 (16 in ODIs and 12 in Tests)
Run out and stumping (direct) – 6
Run out (catcher/thrower) – 2/4
Dismissal on Zero – Minus 2 (Minus 3 in ODIs and Minus 4 in Tests)
Every boundary – 0.5
Every 6 hit – 1
Scoring a 50 – 4 (2 in ODIs and Tests)
Hitting a ton – 8 (4 in ODIs and Tests)
Bowling a maiden over – 4 (2 in ODIs and No points in Tests)
Taking a 4-wickets haul – 4 (2 in ODIs and Tests)
Claiming a fifer (5 wickets) – 8 (4 in ODIs and Tests)
The player that you select as the Captain of your Team will receive 2x points
The Vice-Captain is entitled to yield you 1.5 times of the points collected
The points system in Football
For playing 55 minutes or more – 2
For playing less than 55 minutes – 1
For every goal (Forward) – 8. 9 and 10 for Midfielder and Defender
Assist point – 5
20 passes completion – 1
Every 2 shots – 1
Clean sheet (Midfielder and Defender) – 1 and 5
On every 3 saved shots – 2
Penalty saving point – 9
Successful tackles – 1
Yellow cards – Minus 1
Red cards – Minus 3
Own goal – Minus 2
On every 2 goals conceded – Minus 1
Penalty missing point – Minus 2
The points system in Kabaddi
For being a part of the Starting 7 – 4
Substitute – 2
Successful raid (Touchpoint) – 4
Raid bonus – 2
Tackle – 5
Failed raid – Minus 1
Super tackle point – 4
Points on Pushing all out – 3
Points for getting all out – Minus 2
Yellow cards – Minus 4
Green cards – Minus 2
Red cards – Minus 6
FanFight Promo Code & Offers
FF200 – Get 40% Extra Cash up to INR 200 on deposit of INR 100 and above.
Final Verdict
FanFight is an easy to play fantasy sports platform that ticks all the right boxes. From a stunning user interface, effortless signing modes and amazing points system and cash, everything is bang on this platform. A report of the Business Wire India report says that about 96% of users who have played on FanFight have played at least once a year. A high of 89% of patrons indulges on FanFight every month. Fantasy sports are addictive here on this platform, and as you yearn, so you learn and earn. If you are new to the adventure world of fantasy sports, then you can go ahead and try FanFight for the best experience!
FAQ
What is FanFight?
FanFight is one of India's leading DFS (Daily Fantasy Sports) platform, here you can play Cricket, Kabaddi & Football Fantasy. Here you can use your sports knowledge to win some legit Cash Prize. This company was founded in 2017 by Mr. Akhil Suhag. To get you started FanFight also provides you with ₹30 signup Bonus. You just have to Sign up on the Platform & Boom you are done. You can use this FanFight Login link here to get started.
How to get FanFight Referral Bonus?
Getting a Referral Bonus is very easy. Just use our Fanfight Referral Code – U90522 during signup. If you use this code, you'll get ₹70 referral Bonus on top of ₹30 Signup Bonus. You can also use this Referral link here for your convenience. With this, you can hit the ground running & start your Fantasy Journey!
Fluid App UI
Sign Up Bonus
Easy Withdrawal