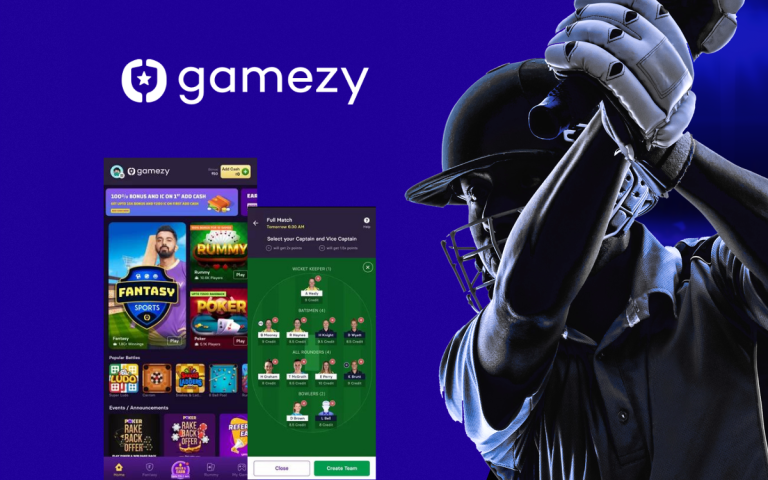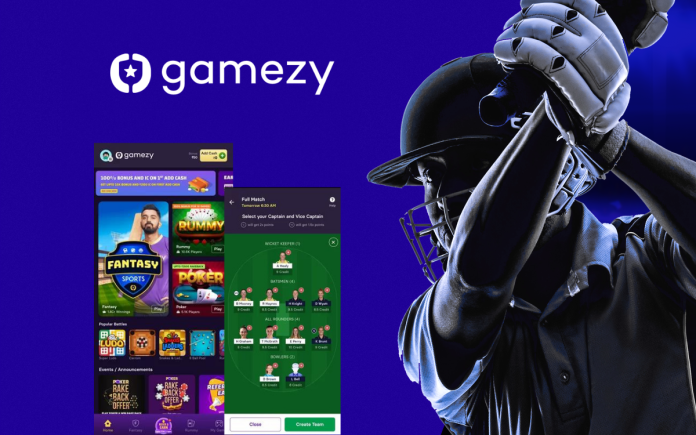 If you are new to the world of Fantasy gaming, this guide will surely help you. What is Gamezy? Well, Gamezy is a fantasy gaming app that chiefly focuses on cricket.
Gamezy is one of the newest and fastest-growing fantasy platforms in India. They claim to have 10M+ downloads and have given away 50+ crores in winnings according to their website.
Why are people switching to Gamezy all of a sudden? Aren't there other fantasy platforms as well?
In this article, we will look into various terms about Gamezy. We will also try to recognize why the fantasy sports platform has been growing at such a rapid pace! We will be looking into every aspect of Gamezy from a user's standpoint. We would be doing this to help you determine if the platform is safe, secure, and easy to use for you and your loved ones.
What is Gamezy?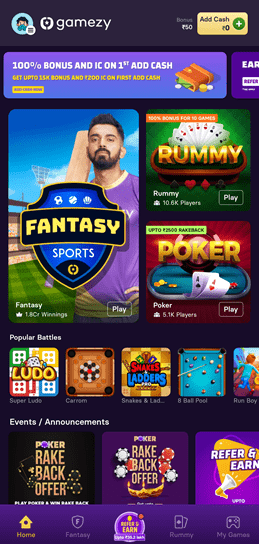 Gamezy is probably one of the most user-friendly fantasy apps in India currently!
The fantasy app has more than 10+ million downloads as of March 2022. Hence it is already a favourite among many sports fans.
One of the major reasons for playing Fantasy sports is to earn money! Hence, Gamezy has been a favorite to many sports fans as it has multiple attractive offers. In Gamezy you can earn money and other rewards for your skills and knowledge about live sports.
Gamezy Apk Download
Gamezy is not available on the Google Play Store but it is available on the App Store for IOS users.
Hence the application can be downloaded directly for the IOS users: https://apple.co/2DGHYQM
The Android users would have to download the APK, but it is not a tough process.
Just open the Gamezy website Download pages on the mobile browser.
On the Gamezy download page, scroll down and click the download option. The Apk will be downloaded to your phone.
You can directly download by clicking on the below button
---
To install the APK, allow your device to install the APK and you will be done.
Gamezy Referral Code 2022
Are you just installing Gamezy? Wait up! We would like to share a referral code with you to start your journey.
What is a referral code?
It is a code that a new user can enter while registering in the app. This code will help the new member and the person who gave the referral earn rewards!
Where should you use the referral code?
You would have to use the referral code when you open the app for the first time. The user will be asked about the referral code before he enters his mobile number in the app! If you don't have a code, just copy the following code:
| | |
| --- | --- |
| Gamezy referral code | YPBJY4 |
Now paste this code into the sign-up page to win rewards!
For whom will the referral work?
Referrals will work for any new user in the Gamezy app (on both Android and IOS)
As stated, the referral would be asked on the sign-up page when you open the app for the first time.
For every referral, the sender and the receiver will earn Rs. 100
In Gamezy, you will also earn money up to Rs. 12,516 depending on the transactions of your friend.
A clear table is mentioned here: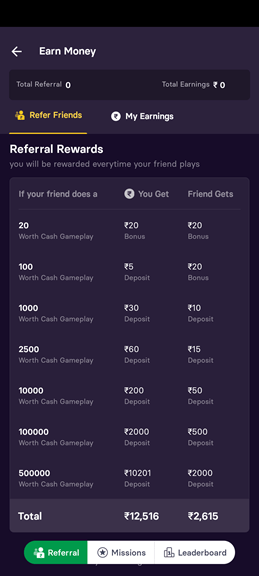 How to get your own referral code?
You can get your own code on the "Refer a friend" screen!
Here, you select your avatar and click on "Refer & Earn" to get your own referral code.
How to register on Gamezy
Registering on Gamezy is very easy. Just follow these steps:
All you need to do is enter your phone number when it is asked on the sign-in page
Upon verification of your phone number, you will be allowed to access the app!
Once you enter the home page, click on the top left of the screen to open your profile.
Here you can enter your Gamezy name, Email id, and complete the KYC verification as well.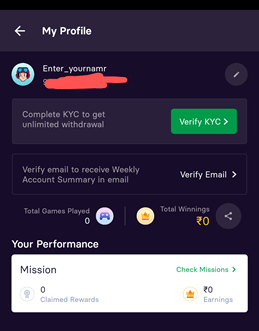 What Fantasy Sports and games are available on Gamezy?
Gamezy is not just about cricket, but there are other sports and rummy available on the platform as well. Here is the list of games that are currently available on the fantasy app:
Gamezy Fantasy Cricket
Gamezy Fantasy Football
Gamezy Fantasy Kabaddi
Rummy
Poker
Ludo
Snakes and Ladders
Carrom
8 Ball Pool
Run Boy Run, Etc.
How do you play Fantasy Cricket on the Gamezy app?
Playing fantasy sports is very easy on the Gamezy app. To play fantasy cricket on the Gamezy app, just follow the next steps:
Step 1: First and foremost, select the match that you want to participate in. (For example, a Women's ODI match between England and Australia. And you are looking to play fantasy cricket for this game.)
Step 2: Decide the type of contest that you want to enter. (there are multiple contest types available, more about this will follow after these steps…)
Step 3: Make a team of 11 players for the match!
Your team will consist of 11 players (For example, from both the Australian and England women's squad)
Your team will not have more than 10 players from a single side (For example, you can only select 10 Australian players in your team)
You can only choose 1-4 Wicket-keepers, 2-6 Batters, 1-5 All Rounders, and 2-6 Bowlers. You will have to fill in all the criteria mentioned above!
Step 4: Now that your playing XI is ready on Gamezy, you need to select your captain and your vice-captain.
A captain will earn 2x of the points in that game
A vice-captain will earn 1.5x of the points in that game
Step 5: Finalize everything and click on the Confirm option to confirm your participation in the contest!
Note: Try to select the player who is most likely to get good enough points in the game!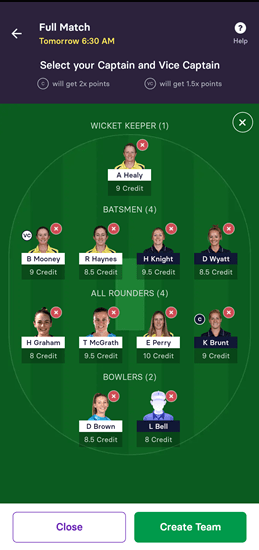 Types of contests available on the Gamezy app:
The following contest types are available on the Fantasy platform:
Full Toss
Head to Head
Private Contest
3 players 1 champ
Winner takes all
Winnings multiplier
Fantastic Contests
Safe Contest
Micro Contest
Practise Contest (Free)
Gamezy Fantasy Points System
In Gamezy, the points system is different based on different sports. Everything is mentioned in the app.
To see the points system, open the Gamezy app -> click on the top left icon -> click on Sports Fantasy -> choose the Fantasy Points System!
In this section, we will just use football as an example and explain the points system.
| | |
| --- | --- |
| Type of Action | Points |
| In playing XI | +2 |
| Substitute appearance | +2 |
| Goal | +20 |
| Assist | +10 |
| Shot on goal/ shot off-target | +2 |
| Crosses | +1.5 |
| Assisted shot/ Chance created | +2 |
| Clean Sheet (Midfielder) | +5 |
| Penalty won | +6 |
| Foul won | +2 |
| Penalty goal | +3 |
| Penalty miss | -2 |
| Def/GK goal bonus | +2 |
| Fouls conceded | -1 |
| Tackles won | +4 |
| Pass intercepted | +2 |
| Clean Sheet (defender/GK) | +6/+10 |
| Yellow card | -3 |
| Red card | -6 |
| Accurate Pass | +0.4 |
| GK save | +4 |
| Goal conceded | -4 |
| Win | +10 |
| Penalty kick save | +10 |
| Shootout save | +3 |
Similarly, the game of cricket and kabaddi follow a different points system! Download the Gamezy app to know more about it in detail.
How to Deposit Money on Gamezy?
You can add a credit/debit card to your Gamezy account by following the given steps:
Click on the "My Wallet" Option
Click on the Deposit Option
Enter the amount of cash that you want to add (Minimum Rs. 25)
There are offers/coupons available in the app so make note of them when you are entering the money
You can use UPI, Netbanking, Online Wallets, and Credit/Debit Cards to add money to your Gamezy account.
Please Note: You can add multiple cards to your Gamezy account and your money is 100% safe as per the Gamezy website.
How to do withdrawal on the Gamezy?
Withdrawing your money from Gamezy is a safe and easy process. You will just need to follow the next mentioned steps:
Click on the "My Wallet" Option
Click on the "Winnings" option
Select the amount that you need to withdraw (minimum Rs. 25)
Use Paytm or your Bank account to withdraw the amount.
You need to provide these details for withdrawal/verification: Name of the bank, Name of the branch, Name of the account holder, Account Number, IFSC code
Only one withdrawal is allowed every 24 hours
The remaining information can be seen in the screenshots attached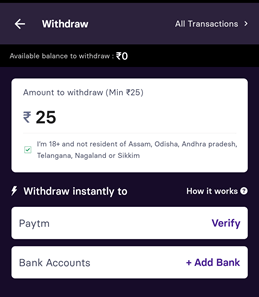 Please Note: KYC Verification is mandatory for withdrawing the money!
What we like and what we don't like on Gamezy
Pros
Low Competition for now (but the app is growing at a fast pace)
Good Brand Value, Safe and Trustworthy app
A trusted brand ambassador in KL Rahul.
A Fast and easy withdrawal Process
Low deposit amount (Rs. 25)
Low withdrawal amount (Rs. 25)
24×7 customer support services
Non-fantasy games are also available on the app.
Cons
ID verification is necessary for withdrawal, But this makes the app safer.
Less number of fantasy sports in the application as of now
The fantasy system may be a bit different from the other applications
Rummy and Poker have resulted in a ban in a few states
Gamezy Customer Care Number
Everything about Gamezy's customer care is given on the app!
You can easily get 24×7 support in the app itself.
To get support, click on the profile icon on the top left
After this, click on chat support
The following screen pops up, in this, you can enter your queries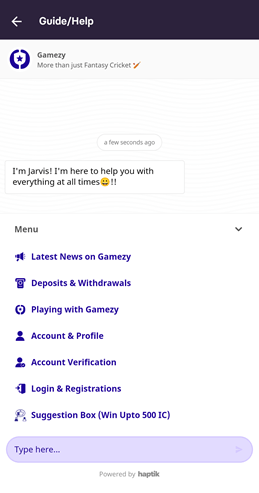 FAQs about Gamezy
Is Gamezy legal?
Yes, Gamezy is 100 percent legal and secure. This is even mentioned in their app and website. But you need to be 18 years old to play fantasy sports legally!
Which Indian states have banned Gamezy?
Andhra Pradesh, Karnataka, Kerala, Assam, Nagaland, Odisha, Telangana, and Sikkim have banned Gamezy for Rummy.
Whereas Gujarat has banned it for Poker
Is the Gamezy app safe?
Yes, Gamezy is safe. You have 24×7 chat support available. To add to this the security levels in the fantasy app is very commendable!
Who is the owner of Gamezy?
Gameskraft is the founder of the Gamezy app. They are a company based out of Bangalore, India.