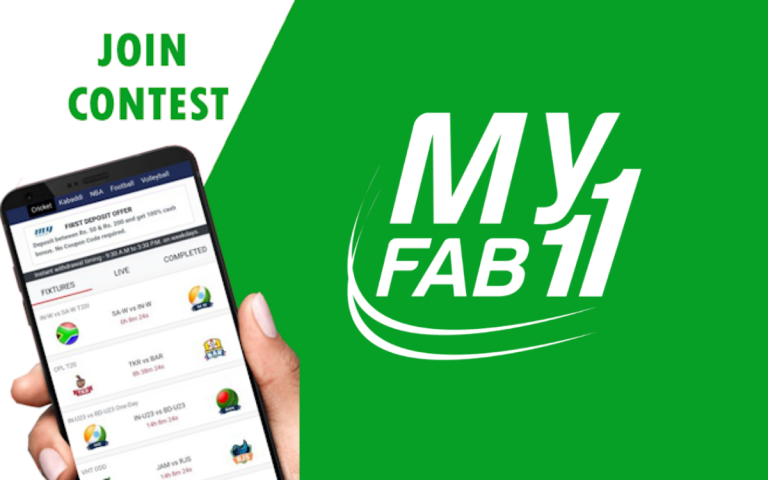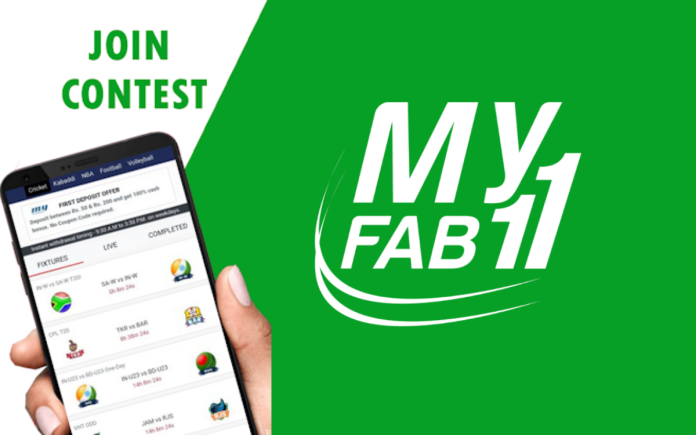 MyFab11 is another fantasy app from the Indian gaming market which has been on a rise lately. And in this article, we will put MyFab11 through an extreme DNA test to find out whether it is a trustworthy fantasy app for you or just another normal app in the market. We will review MyFab11's complete interface from registration to withdrawal in this article plus their value-added services and customer support.
What is MyFab11?
MyFab11 is the latest addition to the never-ending Indian fantasy app market and they commenced their services in 2018. MyFab11 is an Indian-based company that mainly focuses on Indian audiences. They have only 9 sports in their sportsbook which include popular Indian sports like Cricket, Kabaddi, Basketball, Volleyball, Football, Hockey, Baseball, Handball, and Rugby.
MyFab11 is starting to pick up pace in the Indian space lately and one of the biggest reasons has been their real-time quiz mode which makes them more entertaining, creative, and attractive to users. Their current Brand ambassadors are Indian cricketer Sanju Samson and Indian Kabaddi star Naveen Kumar Goyat.
MyFab11 Apk Download
Visit to MyFab11.com site
Click on the below mentioned button"Download Android App"
Install the APK
The size of the file is around 28.57 MB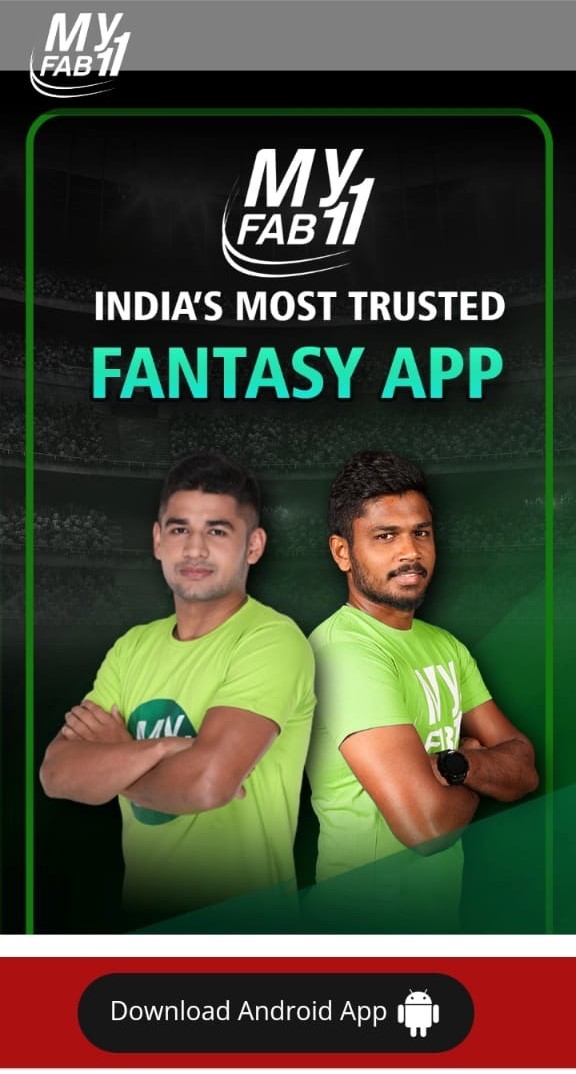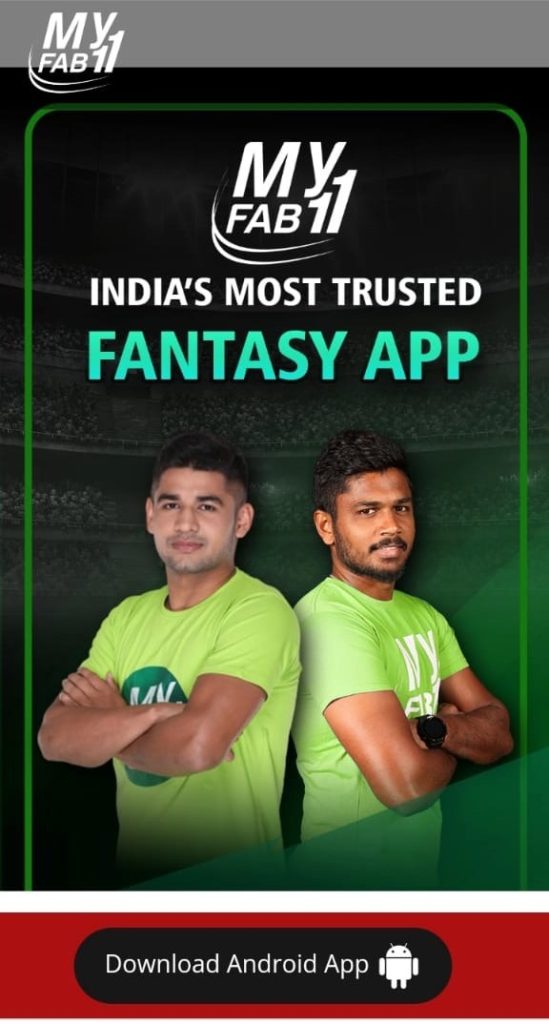 | | |
| --- | --- |
| App Version | v3.0 |
| Last Updated | 11 Oct 2021 |
| APK Size | 28.57 MB |
| Rating | 4.3/5 |
| Support Android Version | Android 4.4.4 or Above |
| Customer Care | [email protected] |
MyFab11 Referral code 2022
These are the following best referral codes for new users in MyFab11.
| | | |
| --- | --- | --- |
| MyFab11 referral code | Promo code and offers | Users / Customers |
| Get Rs. 150 as Bonus On Sign up | BCFFCEA24 | New User |
| Get Rs. 200 on the MyFab11 Referral code | BCFJJDD51 | First Time users |
| Get Rs 50 Deposit on Your First Time Deposit | BCFFCEA24 | All users |
| Get Rs.50 on Downloading MyFab11 Apk App | Download MyFab11 App | All users |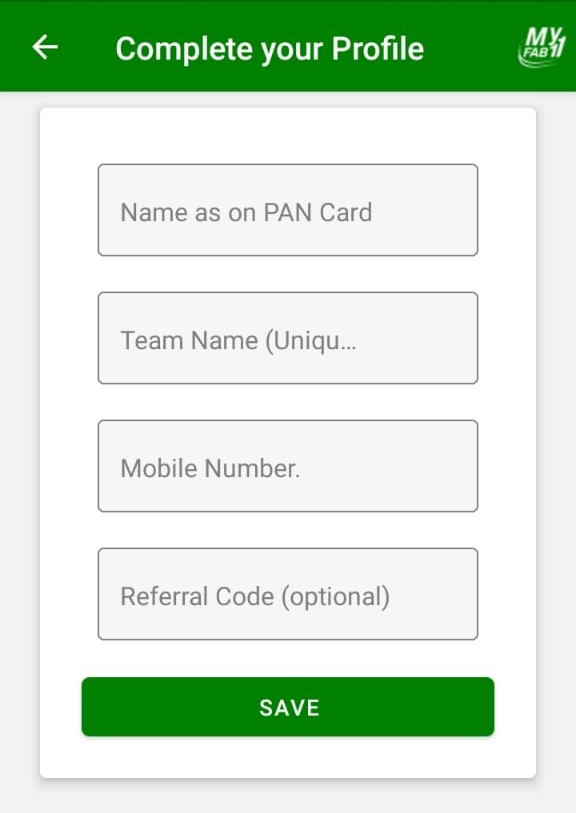 Best MyFab11 App offers
Flat 10% Cashback Up to Rs.50 Via Freecharge.
Deposit Via Amazon Pay & Get 50% Cashback on Amazon Shopping.
Deposit Via Mobikwik & Get 50% Supercash.
Cashback of Rs 250 On Placing Order Using MyFab11 Promo Code Via Paytm Wallet.
How to register on MyFab11
Step 1: Visit MyFab11 site or open App
Step 2: Click on the LET'S PLAY Button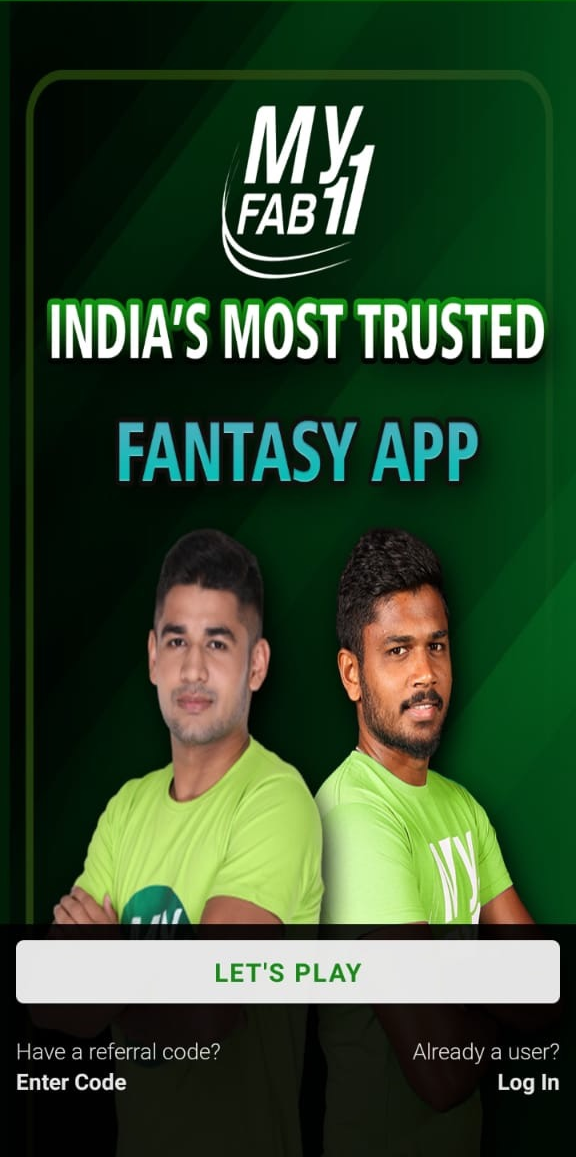 Step 3: Now you will be directed to the Register screen.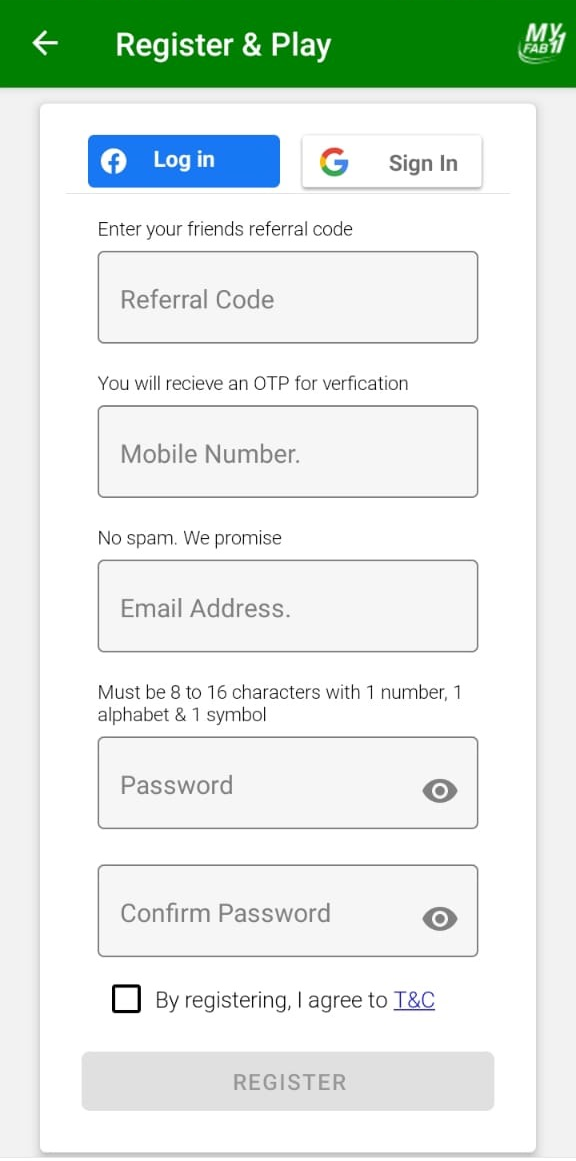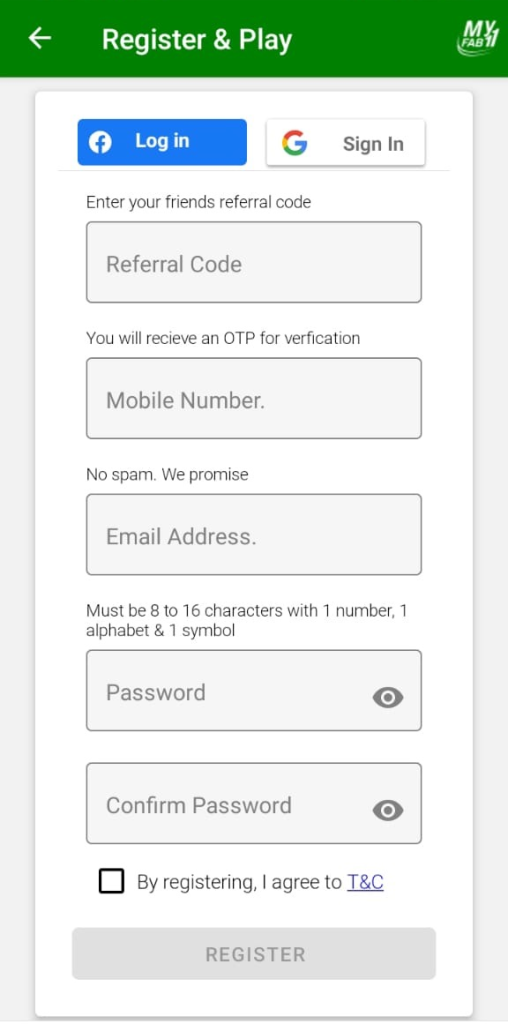 Step 4: Now you will be able to register using your Facebook, Email address, or phone number.
Types of Fantasy Sports are available on MyFab11
MyFab11 offers 9 different sports on their website which mainly targets the Indian audience and their needs. These 9 sports are
Cricket
Kabaddi
Basketball
Volleyball
Football
Hockey
Baseball
Handball
Rugby
Although there are 9 sports on their platform, coverage of these sports is exemplary. They deeply cover every single match of any of these games. Mostly they cover all tournaments from a regional level to international but their international level leagues and tournaments have extra detailing and bonuses opportunities compared to domestic tournaments.
How do you play Fantasy Cricket on MyFab11?
Like most Fantasy sites in India, MyFab11 has a special preference for cricket. They provide two unique types of Fantasy Cricket. These two formats are
Classic
2nd Innings Fantasy
Classic Fantasy Cricket
Their Classic Fantasy cricket mode is an old-school way of Fantasy cricket where we pick 11 players of our choice from both teams. These are the steps to play Classic Fantasy Cricket on MyFab11.
Choose the match from the cricket sportsbook at the first page of app
Create your Team from both available squads
There should be a maximum of 7 players from one team and a minimum of 4 players from one team in your squad.
Join the contest of your choice based on your cash limit.
Important Points
You can only pick 6 teams per match
You can only pick a Minimum of 1 and Maximum of 4 players from Wicket-keepers
You can only pick a Minimum 3 and Maximum 6 Batters
You can only pick Minimum 1 and Maximum 4 All-rounders
You can only pick Minimum 3 and Maximum 6 Bowlers
The captain gives you 2x returns so select captain wisely
The Vice-Captain gives you 1.5x returns
2nd innings Fantasy Cricket
2nd Innings Fantasy cricket is MyFab11's unique fantasy cricket mode that is not common in fantasy platforms around the world. Rules remain the same but here you pick a team after the completion of 1st innings of that match. These are steps through which you join the 2nd Innings Fantasy cricket.
The first step is the same as Classic Fantasy cricket and you need to select the match from sportsbook
Once the match begins, you just need to select the 2nd innings fantasy tab on tab
Now you have to choose contest
Create your team by following the same rules as Classic Fantasy cricket
Important Points
Although after opting for 2nd Innings Fantasy cricket, no points will be considered from 1st innings.
MyFab11 App Fantasy Points System
Cricket Fantasy Points
Batting points
1 point per run
1 point per boundary bonus
2 points per six
4 points for scoring 30 runs
8 points for a half-century
16 points for a century
-2 points for a duck (Batter, wicket-keeper, and all-rounder)
Bowling points
25 points per wicket, excluding run-outs
8 bonus points for wicket by LBW or Bowled
4 bonus points for taking three wickets
8 bonus points for taking four wickets
16 bonus points for taking five wickets
12 points per maiden over
Fielding points
8 points for a catch
4 bonus points for taking three catches in one match
12 points per stump/direct run-out
6 points per throw leading to an indirect run-out
Economy rate points
6 points for an economy rate below 5 runs per over
4 points for economy rate between 5 – 5.99 runs per over
2 points for economy rate between 6 – 7 runs per over
-2 points for economy rate between 10 – 11 runs per over
-4 points for economy rate between 11.01 – 12 runs per over
-6 points for an economy rate above 12 runs per over
Strike rate points
6 points for Strike Rate above 170 runs per 100 balls
4 points for Strike Rate between 150.01-170 runs per 100 balls
2 points for Strike Rate between 130.01-150 runs per 100 balls
-2 points for Strike Rate between 60-70 runs per 100 balls
-4 points for Strike Rate between 50-59.99 runs per 100 balls
-6 points for Strike Rate below 50 runs per 100 balls
*Above Mentioned Point system is for T20 games and points structure may differ format to format
Football Fantasy Points
Playing
4 points for a player in starting XI
2 points for coming as substitute
Attack
40 points for a goal scored by striker
50 points for a goal scored by midfield
60 points for a goal scored by defender/goalkeeper
20 points for assist
1 point for 5 completed pass
6 points for a shot on target
3 points for chance created
Defense
4 points for interception
20 points for clean sheet
6 points for saving by GK
50 points for penalty saved
4 points for tackle won
Other
-4 points for yellow card
-10 points for Red Card
-8 Points for own goal
-2 for conceding 2 goals
-20 for penalty miss
How to deposit money in MyFab11 app
First , "Open MyFab11 App."
Click on the "My Balance" logo on the bottom of the home screen.
Click on "Add Cash" and follow the instructions.
How to do withdrawal on the MyFab11 app
There are two kinds of withdrawal available in the MyFab11 app. Normal Withdrawal mode takes around 3-5 business days to transfer the amount and process. In Instant Withdrawal mode it takes around 30 minutes for the withdrawal to be processed, however, a small convenience fee is charged.
Click on the "My balance" logo on the bottom of the home screen.
Click on the "Withdraw" button and "Enter Amount."
Select your preferred withdrawal method, PayTM, Bank, UPI and Amazon Pay.
And click on the "Withdraw."
Important Notes:
A User can withdraw a maximum of Rs. 2 lacs every hour.
A User can withdraw 24 times per day (once every hour).
The minimum withdrawal amount limit is Rs.100.
MyFab11 App Review
One of the biggest problems in MyFab11 in recent times was their incompatibility with IOS devices but they have now released their IOS version as well. MyFab11 Android app is 27 MB and can be downloaded through their website. If we talk about their interface, then we can easily notice that their interface is very attractive and different from others.
It's very fast and bug-free and users could feel the essence of its interface. Their app is straightforward and doesn't have any negative to say. And if we talk about their IOS then things are exactly the same. To download the IMyFab11 Customer CareOS version, you need to visit the official AppStore of IOS.
What we like and what we don't like on MyFab11
Pros
MyFab11 provides 2 Fantasy Cricket forms which is quite unique
Its app is available for both IOS and Android versions
Withdrawal Process is very fast
Minimum Withdrawal limit is very low
Indian games like Kabaddi, Volleyball are available
Real-time quiz makes MyFab11 very interesting and unique
Cons
Customer Support service are not up to the market as they don't have phone number
Only 9 games are available at the platform
Convenience Fee is charged for Withdrawal
MyFab11 Customer Care
MyFab11 has satisfactory customer support but it lacks in providing quick solutions and responses as it doesn't have any option to contact on phone or through customer support. As of today, you can contact MyFab11 using their company address or you can contact them using their email.
To summarize it up, we would say MyFab11 has a slow process of providing customer support.
| | |
| --- | --- |
| Email | [email protected] |
| Address | Rajarhat, 2A, 6TH Floor, Ecospace Business Park Premises, AA II, Kolkata, West Bengal 700156 |
MyFab11 FAQ
Is the MyFab11 app safe?
Yes, the MyFab11 app is safe and virus-free. MyFab11 also has the required security licenses.
Is MyFab11 legal in India?
Yes, MyFab11 is completely legal in India and is a pure game of skill.
Does MyFab11 Require Any ID?
Yes, MyFab11 requires PAN Card for the complete registration.