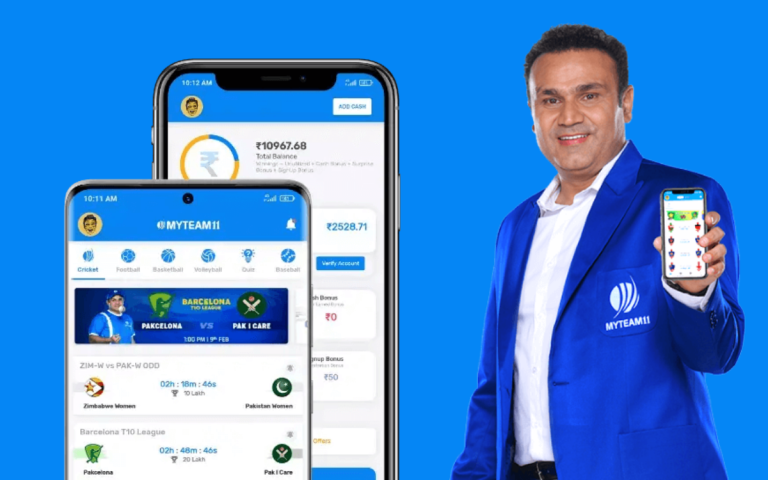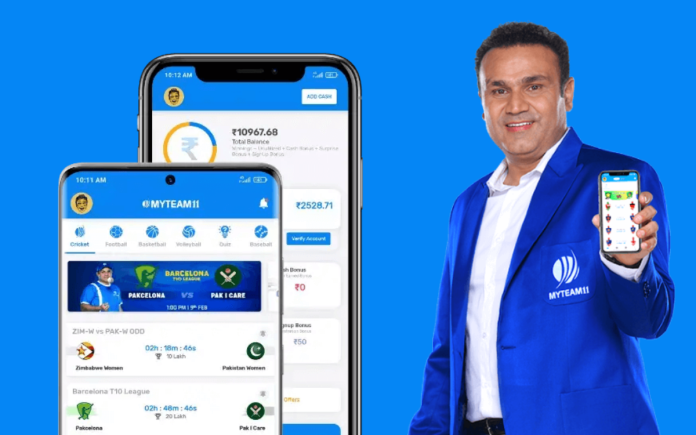 Are you also into fantasy sports just like us? Well, then what's stopping you from checking out MyTeam11?
MyTeam11 is the newest fantasy sports platform in India. It is one of the fastest-growing platforms and this can be seen from the number of downloads in recent months.
Why are people switching to MyTeam11 all of a sudden? Aren't there other fantasy platforms as well?
In this article, we will explain everything about MyTeam11 and why the fantasy sports platform is booming! We will be looking into every aspect from the view of the user and we hope that this will help you determine why the platform is safe, secure, and easy to use!
MyTeam11 Review: What is MyTeam11?
MyTeam11 is probably one of the best fantasy apps available in India currently! With more than 18 million+ downloads, MyTeam11 is already a favourite among millions of sports enthusiasts in India.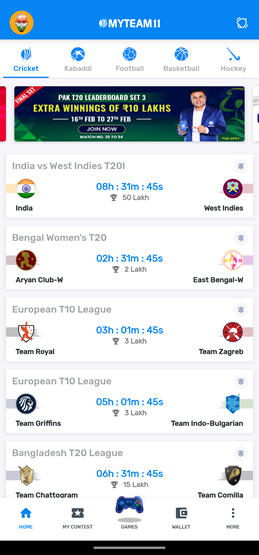 In MyTeam11 you can earn money and other rewards for your skills and knowledge about live sports.
If you are new to fantasy sports, do not worry! We have you covered as well. Here's all that you need to know about Fantasy Sports!
So What is Fantasy Sports? Well to explain in the most basic manner, you get to pick/select players whom you think would play well in a certain match.
For example, let us consider a cricket match between India and Australia! 22 players would be playing the game from both sides. Out of this, you have to field eleven players in your MyTeam11 squad for the match.
The players you select could be from either side. For example, if you feel that Yuzvendra Chahal is going to do well for India, you could pick him in your XI. Similarly, you can pick players from the Australian set-up as well.
MyTeam11 has multiple matches on their app daily. So you won't have to wait for a long time. Just make your winning strategy and start earning online!
Why should you trust MyTeam11? Well, 2011 World Cup winner Virender Sehwag is one of their brand ambassadors! With a cricketing legend onboard, it is highly unlikely that you would be cheated out of your hard-earned money.
MyTeam11 Referral Code 2022
Are you just installing MyTeam11? Wait up! We would like to share a referral code with you to start your journey.
Where should you use the referral code? You would have to use the referral code when you sign into the app!
Just copy the following code:
| | |
| --- | --- |
| MyTeam11 referral code | IHDFANTASY |
And paste this code into the sign-up page to win rewards!
For whom will the referral work?
Referrals will work for the user of the MyTeam11 app (on both Android and IOS)
The referral will work only when the user completes the verification (Mobile Number, Email Id, Pan Card No.)
The sender of the referral will earn Rs. 50 for every successful verification.
Meanwhile, the new user would earn Rs. 100 if they sign in with the referral!
You can get your own code on the "Refer a friend" screen!
Here, you select your avatar and click on "Refer & Earn" to get your own referral code.
MyTeam11 APK Download
MyTeam11 is not available on the Google Play Store but it is available on the Apple App Store for IOS users. Android users don't have to be worried as downloading the app is very easy! To download the app, you just have to open the MyTeam11 android app download.
MyTeam11 IOS App Download Link – https://apple.co/396Tmj4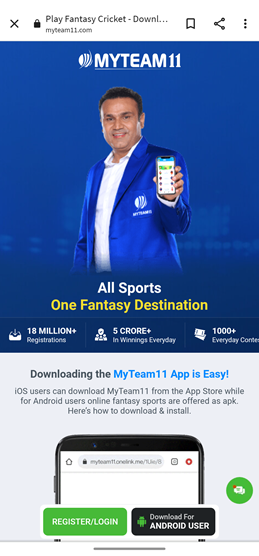 Once you open the website, just download the APK and install it on your device. This should get the app started on your device.
You can directly download by clicking on the below button
---
| | |
| --- | --- |
| App Version | v4.1.114 |
| Last Updated | 14 Feb 2022 |
| APK Size | 27.15 MB |
| Rating | 4.5/5 |
| Downloads | 12 Million+ |
| Support Android Version | Android 4.4.4 or Above |
| Customer Care | [email protected] |
How to register on MyTeam11
Registering on MyTeam11 is very easy. There are two ways to register on the website/app.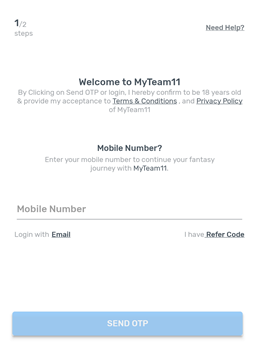 The easiest way to register on MyTeam11 is to link your Google+ or Facebook account to your fantasy profile. This would help you get started in a matter of seconds.
Another way to get registered is by filling up the form with general details. Details such as your age, name, city, etc. other information will be asked when you are registering for the first time.
Once you follow these procedures, you will be set to play on MyTeam11!
Types of Fantasy Sports are available on MyTeam11
MyTeam11 is not just about cricket, but there are various other sports available on the platform as well. Here is the list of sports that are currently available on the fantasy app:
Fantasy Cricket
Fantasy Football
Fantasy Kabaddi
Fantasy Basketball
Fantasy Volleyball
Fantasy Hockey
Fantasy Baseball
Fantasy Handball
Fantasy Rugby
Fantasy American Football
How do you play Fantasy Cricket on the MyTeam11 app?
To play fantasy cricket on the MyTeam11 app, just follow the next steps:
Step 1: Select the match that you want to participate in the fantasy app (For example, an ODI between India and Australia is taking place and you are looking to play fantasy cricket for this game.)
Step 2: Once you have decided the match, make a team of 11 players for the match!
Your team will consist of 11 players (For example, from both the Australian and Indian squad)
Your team will not have more than 7 players from a single side (For example, you can only select 7 Indian players in your team)
You can only choose 1-4 wicket-keepers, 2-6 Batsmen, 1-6 Allrounders, and 2-6 bowlers. You will have to fill in all the criteria mentioned above!
Step 3: Now that your playing XI is ready on MyTeam11, you need to select your captain and your vice-captain.
A captain will earn 2x of the points in that game
A vice-captain will earn 1.5x of the points in that game
Select the players that are most likely of scoring the points, according to you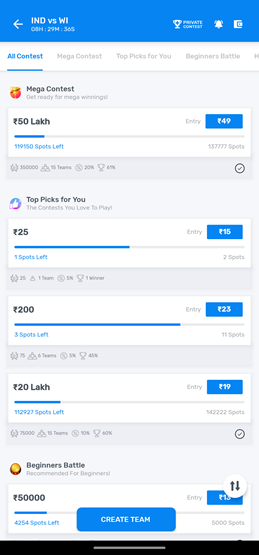 Step 4: Now that everything is selected, it's time to select the type of contest. It could be any of the following:
MyTeam11 Mega Contest: Mega-winning of up to Rs. 1 crore is available on this contest.
Head-to-Head Contest: Only two people can participate in this and the winner takes the entire reward.
Winner takes All: A certain number of people participate with only the top-ranked fantasy player winning the entire pool of rewards.
Practice Contests: These contests are great for beginners as they don't demand any entry fee. Hence you can enter and sharpen your skills without a risk of loss!
Step 5: Once you have entered the contest, let the match begin! If your strategy is the best, you could earn as much as Rs. 1 crore, depending on the type of contest.
MyTeam11 Fantasy Points System
The points system is different based on different sports. Everything is mentioned in the app. In this section, we will just use football as an example and explain the points system.
| | |
| --- | --- |
| Type of Action | Points |
| More than 55 minutes played | +4 |
| Less than 55 minutes played | +2 |
| Goal scored | +20 |
| Assist provided | +10 |
| 20 passes completed | +4 |
| 10 passes completed | +2 |
| Shot on target | +2 |
| Clean Sheet (Midfielder) | +5 |
| Clean Sheet (Defender/GK) | +10 |
| GK saves (every 2 shots) | +5 |
| GK saves (Penalty) | +10 |
| Successful tackle | +1 |
| Yellow card | -2 |
| Red Card | -4 |
| Own goal | -4 |
| For every two goals conceded by GK/defender | -2 |
| Penalty missed | -4 |
The points vary between different variants of the game in cricket (T20, ODI, Test), plus the terms are best explained on the MyTeam11 app and website. Similarly, other sports also follow a different points system for different actions!
How to Deposit Money on MyTeam11?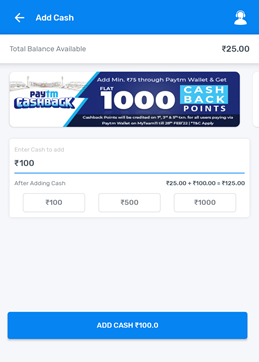 You can add a credit/debit card to your MyTeam11 account by following the given steps:
Click on the 'Add Cash' tab, enter the amount you wish to add, select your payment gateway
Select a card, and enter your card details. Click on Save & Proceed.
You can add multiple cards to your MyTeam11 account and your money is 100% safe as per the app.
How to withdraw money on MyTeam11?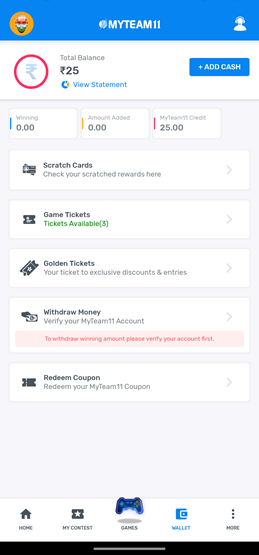 Withdrawing your money from MyTeam11 is safe and easy. You will just need to follow the next mentioned steps:
The account holders are allowed to withdraw winnings from the "My Winnings" section of their MyTeam11User Account.
But this can be done only after they successfully complete the verification process.
The users can withdraw a minimum of ₹200 and a maximum of ₹1,00,000 in a day.
An account holder can make a maximum request of ₹50,000 at a time.
Further, the withdrawal amount will be deposited into your bank accounts within a period of 2-3 days.
You need to provide these details for withdrawal/verification: Name of the bank, Name of the branch, Name of the account holder, Account Number, IFSC code.
Why is MyTeam11 APK better than other Fantasy Sports Apps?
The MyTeam11 app is very informative, and the app has a very user-friendly interface! But why exactly should you choose MyTeam11 over 10s of other fantasy apps?
100% Legal & Secure
Strict Fair Play policies
Instant Withdrawals
24×7 customer support
Exciting Cash Bonus offers
These are some key points that we as a user ourselves consider. The biggest worry for any fantasy app user would surely be, "Is my money safe?"
MyTeam11 has given assurance for this point and they also have a 24×7 customer support system in case something goes wrong!
To add to this, the strict fair play rules and the cash bonus offers are other privileges that most fantasy apps don't provide in this day and age. Hence, without a doubt, you should give MyTeam11 a try!
MyTeam11 Pros and Cons
Pros
Low Competition for now, but the user base is slowly growing
Good Brand Value, Safe and Trustworthy
The brand ambassador is Virender Sehwag.
A Fast and easy withdrawal Process
Instant Payment.
24×7 customer support services
Cons
Minimum Payout, which is Rupees 200
ID verification is necessary for withdrawal, But this makes the app safer.
Hard Referral program as any new user would have to complete everything and sign up before the person referring earns!
MyTeam11 Customer Care Number
Everything about MyTeam11s customer care is given on the app! You can easily get 24×7 support in the app itself. Hence it is best if you download the app.
FAQs about MyTeam11
Which is better: Dream11 or MyTeam11?
Both the fantasy websites are quite good. Dream11 is an established platform whereas MyTeam11 is on the rise. Hence with a lesser number of fantasy players, your chances of winning are better at MyTeam11 at the moment.
Is MyTeam11 legal?
Yes, MyTeam11 is 100 percent legal and secure. This is even mentioned in their app and website.
Is the MyTeam11 app safe?
Yes, MyTeam11 is safe. You have 24×7 customer support and the security levels of the fantasy app are very commendable!
Who is the owner of MyTeam11?
Mr. Sanjit Sihag (COO) and Mr. Vinit Godara (CEO) are the founders of the MyTeam11 app.