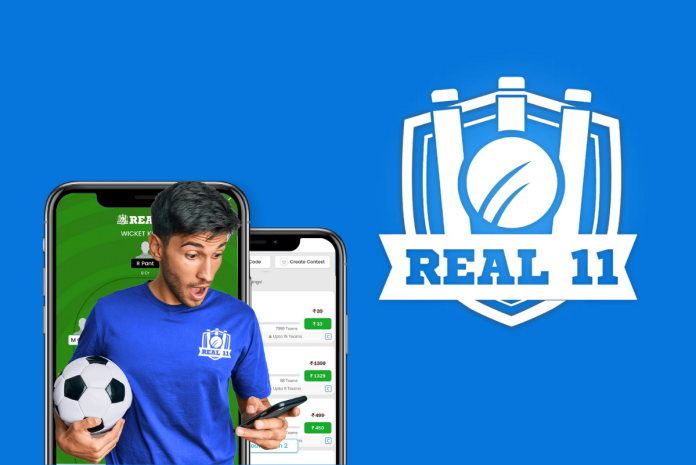 Real11 is a fantasy gaming app that has 25+ million downloads as per their website. But what is Fantasy gaming? This guide will surely help you in understanding fantasy gaming as well as Real11.
Real11 is one of the fastest-growing fantasy gaming platforms in India. According to their website, the platform offers rewards and bonuses to their users to keep them engrossed with their app.
But with so many fantasy gaming platforms around, why should you use Real11? Well, in this article we will look into Real11 in detail. We will also try to determine why the fantasy sports platform has been successful and has been growing at such a rapid pace!
We will be looking into every aspect of Real11 from a guest/user's standpoint. This way, we will come to know if the application is user-friendly and is safe to use for you and your family.
What is Real11?
As stated earlier, Real11 is a fantasy gaming application that was launched in 2019 by the founders Amit Yadav and Lalit Yadav.
Since then, Real11 has grown significantly in stature. As of March 2022, The fantasy app has 25+ million downloads according to their website. Hence the Real11 application has already become a favourite among many fantasy sports enthusiasts globally.
One of the major reasons for playing Fantasy sports is to earn money and feel the thrill of the game! Hence, with attractive offers, Real11 has become one of the biggest players in the fantasy sports sector in India.
Real11 APK Download
Real11 is not available on the Google Play Store for the Android users
Whereas Real11 is readily available on the App Store for IOS users. Hence the application can be downloaded directly for the IOS users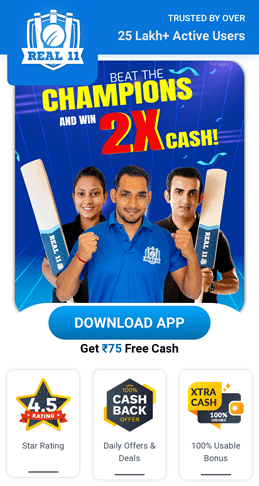 The Android users would have to download the APK from the Real11 website.
On the Real11 website, scroll down and click the download option. The apk will be downloaded to your phone
To install the APK, allow your device to install the APK and you will be done.
You can directly download by clicking on the below button
Please Note: You would have to change your phone settings to enable applications to be downloaded from APKs!
Real11 Referral Code 2022
Are you new to Real11? Are you just installing the app? Wait up! We would like to share a referral code to help start your journey.
What is a REAL11 referral code?
A referral code is one that a new user can enter while registering in the app.
What is the use of a referral code?
This code will help the new member (the one who has been invited) and the sender of the code (the one who has invited the other) earn rewards!
Where should you use the referral code?
You would have to use the referral code when you open the app for the first time. The user will be asked about the referral code before he enters his mobile number in the app! This can be seen in the screenshot that has been attached: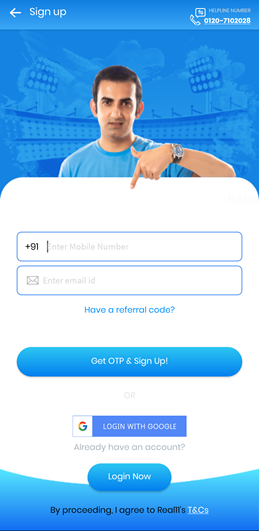 For whom will the referral work?
Referrals will work for any new user in the Real11 app (on both Android and IOS)
As stated, the referral would be asked on the sign-up page. (It won't be available later on)
For every referral, the sender and the receiver will earn Rs. 75
You can earn money by sending your referral code to multiple friends and family members.
How to get your own referral code?
You can also get your own referral code to share it with your friends and earn!
You can get your own code on the "Refer & Earn" option in the Real11 menu!
Here, you can copy the referral code and share it with your friends.
How to register and get started on Real11
Registering on Real11 is very easy. Just follow these steps:
Step 1: Open the application, enter your referral code (if you have one), phone number, and email id
Step 2: Once the phone number is verified, you will gain entry into the application!
Step 3: Click on the top left of the Real11 screen to open your profile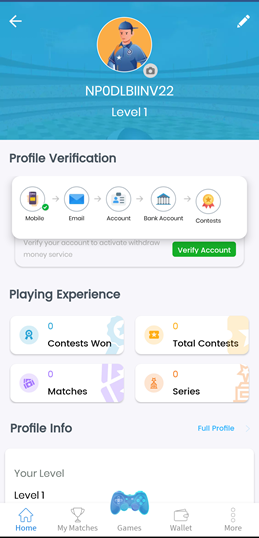 Step 4: In your profile, you can complete the profile verification and the KYC verification
Step 5: You can also change your REAL11 name, Email id, Phone number, and other information
What Fantasy Sports and games are available on Real11?
Real11 initially started as a cricket fantasy app. Since then, they have brought in kabaddi and football as well. It is expected that the app will add other fantasy sports to their list soon.
Here is the list of games that are currently available on the fantasy app:
Real11 Fantasy Cricket
Real11 Fantasy Football
Real11 Fantasy Kabaddi
Ludo
Carrom
Solitaire
Bubble Shooter, etc.
How do you play Fantasy Cricket on the Real11 app?
Playing fantasy sports is very easy on the Real11 app and this can be taught to anyone easily.
To play fantasy cricket on the Real11 app, just follow the next steps:
Step 1: Firstly, select the match that you want to participate in. (For example, a T20 match between Bangladesh and Afghanistan is set to take place. And you are looking to play fantasy cricket for this game.)
Step 2: Secondly, Decide the type of contest that you want to play in. (there are multiple contest types available on the Real11 fantasy app, more about this will follow after these steps…)
Step 3: Make a Fantasy team of 11 players for the match!
You will have 100 credits to make your team
Each player will have specific credits next to their name, depending on their form/stature
Your team will consist of 11 players (From both the Afghanistan and Bangladesh squad)
Your team will not have more than 7 players from a single side (For example, you can only select 7 Bangladeshi players in your team)
You can only choose 1-4 Wicket-keepers, 3-6 Batters, 1-4 All Rounders, and 3-6 Bowlers. You will have to fill in all the criteria mentioned above!
Step 4: Now that your playing XI is ready on Real11, you need to select your captain and your vice-captain. (Note: Try to select the player who is most likely to get good enough points in the game!)
A captain will earn 2x of the points in the fantasy game
A vice-captain will earn 1.5x of the points in the fantasy game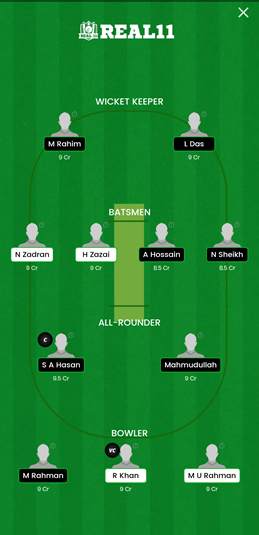 Step 5: Once you have finalized everything, click on the 'Join Contest' option to confirm your participation in the contest!
Step 6: You are all set to play!
Types of contests available on the Real11 app
The following contest types are available on the Fantasy platform:
Mega Contest
Hot Contest
Head-to-Head
Beat the Champion!
One Man Show
Last Man Standing
Mini Leagues
One Winner
Beginners Battle
Practice Contest (Free), etc.
To know more about these contests, open the Real11 app and find out about them in the description section!
Real11 Fantasy Points System
Every sport has a different points system as the gameplay is different. The same is valid on fantasy sports that are featured on Real11
To see the points system, open the Real11 app -> click on More -> click on Fantasy Points System -> choose your favourite sport!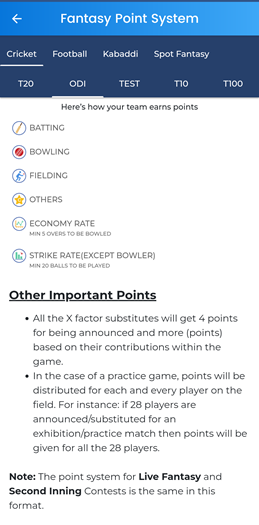 As we covered cricket earlier, In this section we will just use football as an example and explain the points system.
| | |
| --- | --- |
| Type of Action | Points |
| In playing XI | +4 |
| Substitute appearance | +2 |
| Goal by striker/midfielder/defender | +40/+50/+60 |
| Assist | +20 |
| Shot on-target | +6 |
| Chances created | +3 |
| Five passes completed | +1 |
| Tackles won | +4 |
| Interception won | +4 |
| GK Save | +6 |
| GK Penalty save | +50 |
| Clean sheet (GK/DEF) (played 55 mins) | +20 |
| Yellow card | -4 |
| Red card | -10 |
| Own Goal | -8 |
| Goal conceded | -2 |
| Penalty missed | -20 |
Similarly, the game of cricket and kabaddi follow a different points system! Download and check out the Real11 app to know more about their points system in detail.
How to Deposit Money on Real11?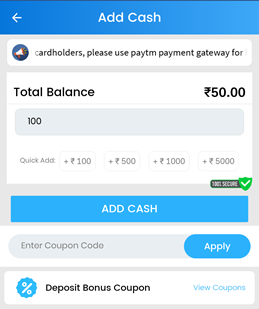 You can add money very easily to your Real11 account by following the given steps:
Click on the "Wallet" Option
Next click on the "Add Cash" Option
Enter the amount of cash that you want to add to your Real11 account
There are coupons available in the app so make note of them and enter a coupon code to get more money!
Now to finalize your payment, you can use UPI, Netbanking, Online Wallets, and Credit/Debit Cards to add money to your Real11 account.
Once you follow all these steps, you can successfully add money to your Real11 account and start playing your favourite fantasy sport!
Please Note: You can add multiple cards to your Real11 account!
How to withdraw money on Real11?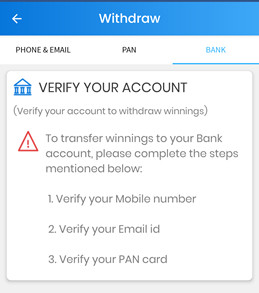 Withdrawing your money from Real11 is a safe and easy process. You will just need to follow the below-mentioned steps:
Click on the "Wallet" Option
Here you can see all of the "winnings" that you have won on the app
Click on the Withdraw Cash option
You would need to verify your Email, Pan, and Bank account to continue further.
Select the amount that you need to withdraw
Use your Bank account to withdraw the amount.
You need to provide these details for withdrawal/verification: Name of the bank, Name of the branch, Name of the account holder, Account Number, IFSC code, and Pan Card
Please Note: KYC Verification is mandatory for withdrawing the money!
What we like and what we don't like on Real11
Pros
Safe and trusted fantasy platform
A trusted brand ambassador
Low deposit amount (minimum Rs. 5)
24×7 customer support services
Non-fantasy games are also available in the app
Cons
ID verification is necessary for withdrawal, But this makes the app safer.
Less number of fantasy sports in the application as of now
Minimum withdrawal of Rs. 200
Rs. 10 deducted from winnings during every 'Instant Withdrawal'
Real11 Customer Care Number
Real11 have made their customer care number available on their app. This has been done to assist with instant queries.
The Real11 customer care number is: 01207102028
You can make direct calls from within the application itself.
FAQs about Real11
Is Real11 legal?
Yes, Real11 is legal and secure. This is even mentioned in their app and website under the "Legality" subheading.
Which Indian states have banned Real11?
Real11 is not banned in any Indian states or union territories!
Is the Real11 app safe?
Yes, Real11 is safe. You have 24×7 customer support available. The security arrangement on the app is also commendable!
Who is the owner of Real11?
Real11 was launched in 2019 by the founders Amit Yadav and Lalit Yadav.