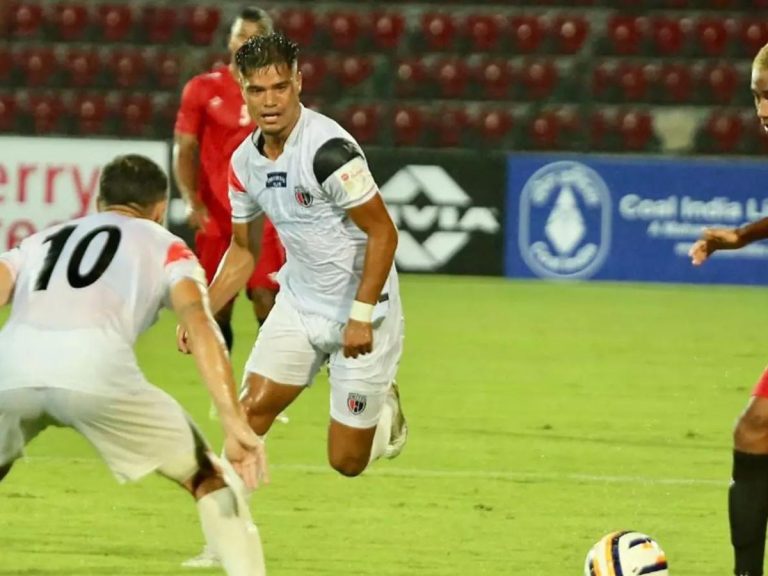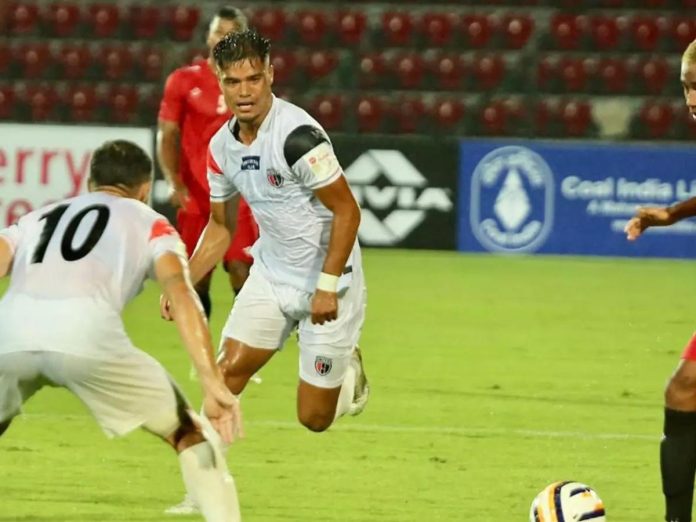 NorthEast United FC started their Durand Cup 2023 campaign on a positive note as they steamrolled past Shillong Lajong, 4-0. A hat-trick from Parthib Sundar Gogoi set the stage up for the Highlanders.
The Highlanders displayed discipline and consistency and in the 26th minute. Parthib Gogoi netted the first goal for NorthEast United FC in the 26th minute and then Romain Philippoteaux scored the 2nd goal for the Highlanders.
With this win, the Highlanders move up to the 1st position in Group D and look like favourites to advance to the next round of the Durand Cup 2023.
The second half was again a show of dominance and aggression from NorthEast United FC. Gogoi completed his 2nd goal of the match from close-range with a very simple tap-in shot.
Parthib Gogoi completed his hat-trick after a perfectly timed whipped-in cross from Jithin MS. NorthEast United FC completed a 4-0 dominant victory over Shillong Lajong FC in their opening fixture of Durand Cup 2023.
NorthEast United FC next lock horns with FC Goa on 12th August 2023 at the Indira Gandhi Athletic Stadium in Guwahati.
Shillong Lajong FC next cross swords with FC Goa on 8th August 2023 at the same venue in Guwahati.
Notably, NorthEast United FC finished with the wooden spoon in the Indian Super League (ISL) 2022-23. A change of coach mid-way into the season didn't help their cause as they kept losing matches.
Shillong Lajong FC finished as the semi-finalists in the previous edition of the Meghalaya State League. They had lost to Rangdajied United FC in the semi-finals, by a very close margin.
After the completion of the two legs, it was tied 3-3 between the two sides. Rangdajied then move the penalties, 4-3.
Squads
NorthEast United FC
GK: Khoirom Jackson Singh, Mirshad Koottappunna, Nikhil Deka
DF: Soraisham Dinesh Singh, Ngasepam Tondonba Singh, Miguel Zabaco Tome, Asheer Akhtar, Gaurav Bora, Hira Mondal
MF: Mohamed Irshad Thaivalappil, Gani Ahmmed Nigam, Konsam Phalguni Singh, Shighil, Shajan Franklin, Pragyan Sundar Gogoi, Fredy Chawngthansanga
FW: Rochharzela, Nestor Albiach Roger, Romain Philippoteaux, Parthib Sundar Gogoi, Jithin M.S, Manvir Singh, Redeem Tlang
Shillong Lajong FC
GK: Ngamsanglena Haokip, Wanteilang Malngiang, Neithovilie Chalieu, Rajat Paul Lyngdoh
DF: Iohborlang Lyngdoh Lyngkhoi, Kynsailang Khongsit, Saveme Tariang, Kenstar Kharshong, Atlanson Kharmaw, Laiwang Bohham, Ronney Willson Kharbudon
 MF: Istarbor Marngar, Sangti Janai Shianglong, Donboklang Lyngdoh, Ronaldkydon Lyngdoh Nonglait, Hardy Cliff Nongbri, Phrangki Buam, Gladdy Nelcen Kharbuli, Batskhemlang Thangkhiew, Allen Camper Lyngdoh Nongbri, Hamedamanbha Wahlang, Abhay Chhetri, Dibinroy Nongspung FW: Figo Syndai, Wadajied Kynsai Ryngkhlem, Pursunep, Kynsaibor Lhuid, Shano Tariang, Everbrightson Sana Mylliempdah
Also read: Premier League 2023-24: When & Where To Watch Burnley vs Manchester City, Predicted Playing XI