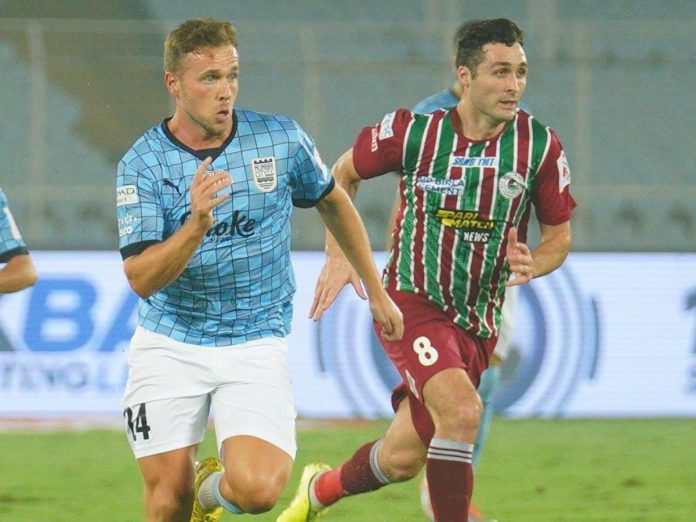 It was ecstasy all around for Mumbai City FC as they became the first team to qualify for the Indian Super League (ISL) 2022-23 playoffs. Absolutely no one can second the fact that they have been a formidable force in ISL 2022-23. In this game, they defeated the home team ATK Mohun Bagan 1-0.
It was a busy day for the ATK Mohun Bagan custodian Vishal Kaith and their defenders. The constant attacks from the Islanders were being exceptionally neutralized by the Mariners. Vishal Kaith made some stunning saves but succumbed to a stunning shot from Lallianzuala Chhangte in the 29th minute.
Even though Kaith dived to his left to try and stop the incoming ball of fire, he could not do it with perfection. Chhangte continued his impressive form in ISL 2022-23 and netted his 8th goal. In terms of goal-scoring abilities, it is the best season for the silky-skilled forward.
In the second-half, it was Phurba Lachenpa's turn to grab the eyeballs. The 24-year-old Sikkimese goalkeeper gave his 120% to save the incoming threats from the Maroon and Green Brigade.
There was a solid chance for ATK Mohun Bagan's Liston Colaco from the right flank to score but it went outside after Lachenpa stretched out one of his hands.
Several set-pieces were earned by the home team and that fired up the crowd. However, they failed to convert that into any goal. Des Buckingham's Mumbai showed great nerves to maintain their lead and remain unbeaten in ISL 2022-23.
ATK Mohun Bagan are presently 4th in the ISL 2022-23 points table with 23 points under their belt. The Islanders on the other hand have 36 points under their belt and are nothing short of a juggernaut. They have won 11 out of the 14 games they have played in this edition of the ISL.
Also read: ISL 2022-23: 3 Strikers Who Have Impressed In This Season So Far