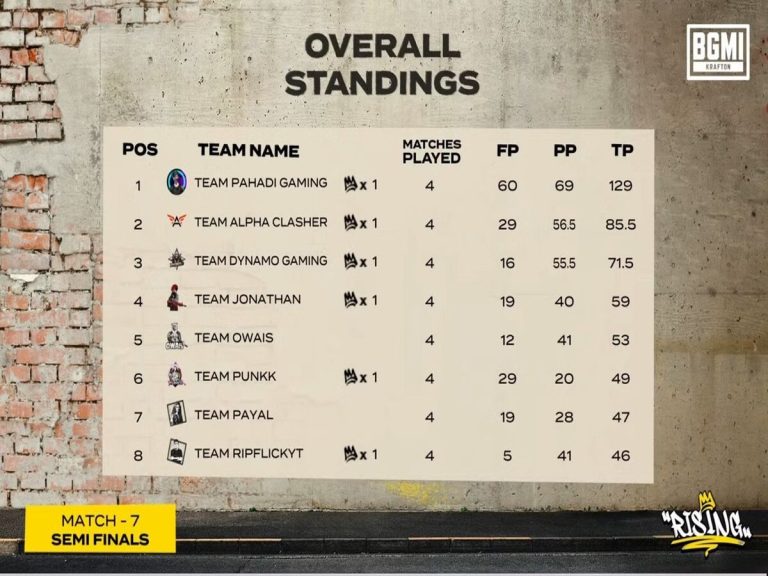 The top 16 teams of the BGMI: Rising Launch Party tournaments have qualified for the Finals after the intense semi-final bouts.
The 32 teams were split up into four groups of eight teams, and in each group, four games were played.
Team Pahadi Gamer put up outstanding performances in the Battlegrounds Mobile India, earning an amazing 129 points to take first place at the conclusion of the day.
BGMI: Rising Rakings after semi-finals
1. Pahadi Gamer
2. Alpha Clasher
3. Dynamo Gaming
4. Jonathan
5. Owais
Team Scout, on the other hand, had a terrible experience, coming in second to last and getting disqualified from the competition.
Match 1
With six eliminations, Team Alpha Clasher won the Erangel map to start the day off victorious. The team scored a total of 28.5 points with the help of a position card.
Team Shadow earned the second place with a total score of 28. Team Sensei achieved a podium slot with a total of 21 points thanks to Fierce, who displayed great competence throughout the competition.
Match 2
Jaadu helped Team Kanary win the second match, and his incredible seven eliminations earned him the title of match MVP.
With their games being well-balanced, Team Snax was able to earn 20 points.
Match 3
The first pan-fight game was won by FlickYT, while Pahadi Gamer, in the last circle and quickly finished five opponents.
Match 4
Team Punkk successfully used the high ground advantage in the last circle of the fourth round on Sanhok, earning a chicken dinner with an incredible 10 eliminations.
In the BGMI Rising Semifinals' fourth round, Team Dynamo Gaming played it safe and finished in second place with four eliminations.
Match 5
With 11 eliminations, the crowd favourite Team Jonathan won Match 5. Pahadi Gamer, however, took first place in the rankings with a strong 34 points thanks to their Finish Card.
Match 6
Pahadi Gamer earned a deserving win owing to Justin's outstanding 1v2 performance in the last seconds, which earned them 30 points.
With 16 points each, Team Owais and Lollz came in second and third.
Match 7
The winning team was Team Dynamo, who eliminated 12 opponents. With 14 eliminations, Team Pahadi Gamer once again displayed excellent performance to take second place.
Team Owais earned third place in this match.
Also Read: Trio Mode Brought Back To Fortnite: Check Details