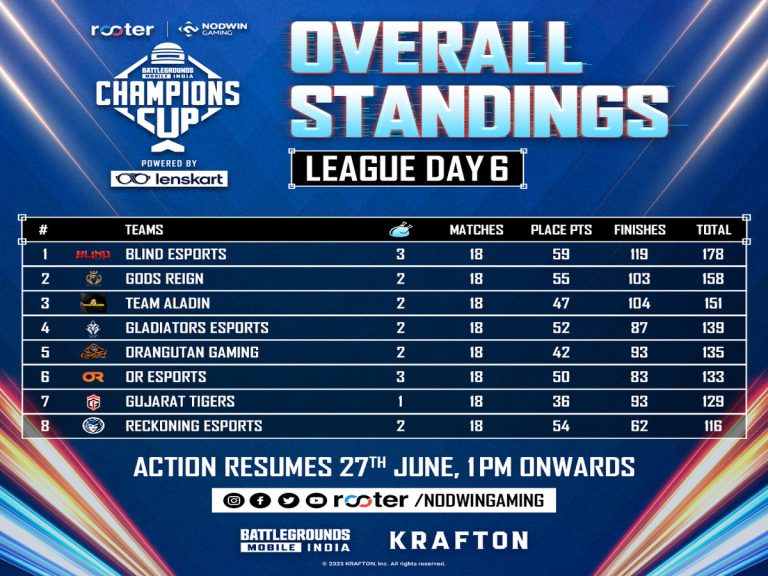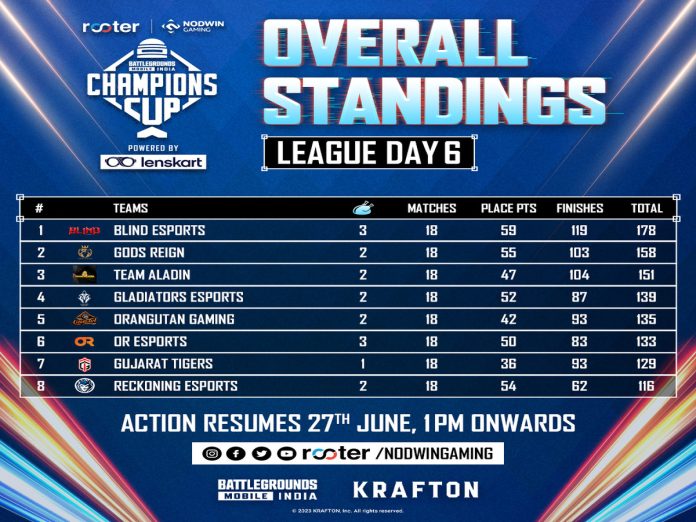 Day 6 of the Nodwin x Rooter BGMI Champions Cup 2023 League Stage came to a close on June 26.
With 178 points from 18 games, Blind Esports is still in first place. Gods Reign is in second place with 158 points, followed by Team Aladin, formerly known as 7SEA Esports, in third place with 151 points.
Team Gladiators' performance on Day 6 was outstanding, and they improved to fourth position with 139 points.
Gujarat Tigers, OR Esports, and Orangutan Gaming have taken the fifth, sixth, and seventh spots, respectively.
With 54 eliminations, Blind's Spower continues to be the most successful player after Day 6 of the Nodwin x Rooter BGMI Champions Cup. 
NinjaJod, a seasoned BGMI player from Gods Reign, is in second place with 35 frags. Neyo and GT Prince each had 32 and 31 kills, respectively.
Nodwin x Rooter BGMI Champions Cup Day 6 Rankings
Blind Esports
Gods Reign
Team Aladin
Gladiators Esports
Orangutan Gaming
Match Highlights
Team Gladiators won the first game of day 6 of the Nodwin x Rooter BGMI Champions Cup in Sanhok between Group A and D, grabbing seven eliminations.
Team AVI and Phyche each scored 12 and nine points. The three teams who were unable to score even a single point were GodLike, 8Bit, and WSB.
After a weak start today, Blind Esports changed to offensive style and won the second round by a score of 11 kills.
Team XSpark put up a strong fight as well, scoring 19 points and displaying remarkable fortitude. Team Enigma and GodLike were eliminated after scoring only one point each.
Gods Reign made a powerful performance in the third round, winning the Chicken Dinner with 11 significant kills.
While 8Bit and True Rippers scored eight and seven points, respectively, Rivalry and Team AVII each scored nine.
Following a string of defeats, GodLike Esports reclaimed a crucial 13-kill victory in the fourth match of Day 6 of the Nodwin x Rooter BGMI Champions Cup.
Team Insane scored 17 points, including 12 frags, while putting up a thunderous performance. Six kills were each taken by Big Brother, Global Esports, and TWOB.
The sixth game, which was played in Miramar, was won by Orangutan Gaming thanks to their flawless zone analysis. Entity Gaming, which has previously struggled, received 12 points.
Team Gladiators won the sixth game, demonstrating their consistency. The team achieved a significant 18-kill win. Nine eliminations were claimed by their teammate Shogun.