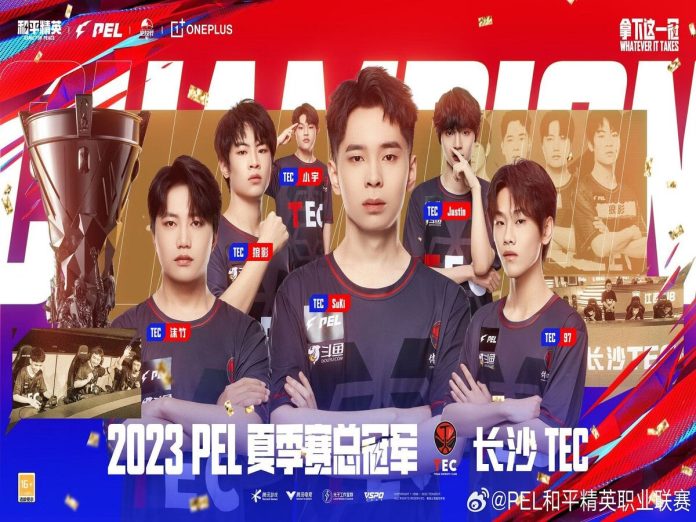 The winner of the Peacekeeper Elite League (PEL) Summer 2023 Finals is Titan Esports Club.
Over the course of the four-day tournament, this team played with unshakable precision and accumulated 200 points.
The team's gameplay wasn't as strong during the previous PEL Summer season, but they improved their performance this time around.
From the start of this competition, Kone continuously placed in the top five, and their success was further enhanced when they secured two Chicken Dinners on the last day.
With a final score of 225 points, this amazing accomplishment helped them move up to second place.
Despite having the same number of points as TEC, Kone had to settle for second place due to their lower frag points.
PEL 2023 Qualified Teams
PMGC 2023 Finals are now open to the best team in PEL points (Spring + Summer Splits). The second and third ones, on the other hand, have started the League Stage.
TEC qualified for the PMGC Grand Finals by earning an astounding 200 PEL points.
After placing third in both the Spring and Summer Splits, Weibo Gaming earned a total of 120 PEL points.
They were able to participate in the PMGC League Stage as a consequence. The Spring season's winners, Tianba, earned a spot in the League Stage with 120 PEL points.
In addition, the top eight teams from the final qualified for the China vs. South East Asia PUBG Mobile Regional Clash.
Titan Esports Club
Kone
Weibo Gaming
Team Pai
ThunderTalk Gaming
LGD
Tianba
Wolves Esports
The teams who finished fourth till eighth have also been chosen to compete in the PEL PMGC Qualifier China, where they will compete for a spot in the League Stage of the PUBG Global Championship.
On the third day of the Peacekeeper Elite League 2023 Summer, Weibo Gaming, who had been in first position for a considerable amount of time, suffered a setback and dropped to sixth place.
Even then, they rallied on the last day to finish third with a respectable 218 points.
Also Read: BGIS The Grind 2023 Grand Finals: Qualified Teams For Round 2 And Round 3