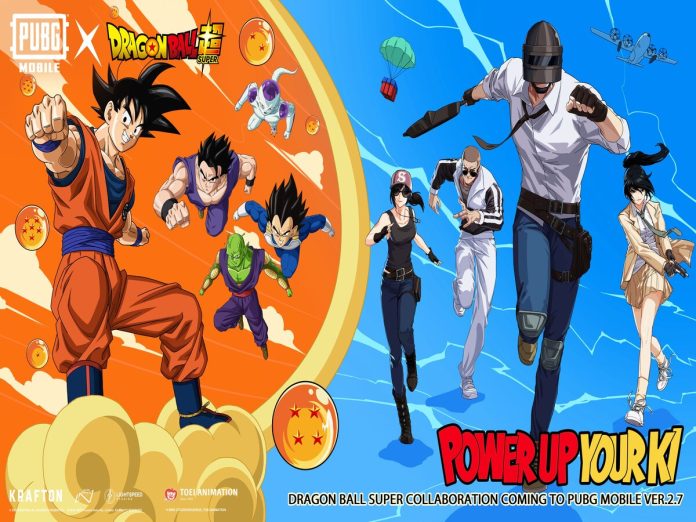 PUBG Mobile and Dragon Ball Super are ready to drop the collaboration everyone has been waiting for with the 2.7 update of the game.
This collaboration blends the well-liked characters and setting of this anime series with the well-known battle royale game.
Complete with themed locations, skills, character skins, and an event roadmap, players will be able to completely lose themselves in this thrilling collaboration.
PUBG Mobile x Dragon Ball Theme
As part of the collaboration, PUBG Mobile will offer a variety of Dragon Ball-themed areas. 
Famous locations from the series, like Kame House, Aru Village, Korin Tower, and the Martial Arts Temple, are available for exploration and combat.
The Dragon Ball universe is brought to life in this game through the distinct atmospheres and challenges found in each zone.
Dragon Ball Skills
Players will have access to special skills with anime-inspired themes. Goku's well-known energy blast, Kamehameha, has so far been made public on Twitter.
When used against other players, this manoeuvre has the potential to be catastrophic. The inclusion of Vegeta's signature technique, the Final Flash, has also been suggested by fans. This will be a way to increase the intensity and variety of skills in the game.
PUBG Mobile x Dragon Ball Collaboration Roadmap
The schedule of events and activities for the PUBG Mobile 2.7 update collaboration with this anime series is jam-packed with fun things to do. The roadmap is as follows:
Themed Mode (July 13th – September 4th)
Battle Royale Dragon Ball Super (July 15th – September 4th)
Exclusive outfits, companions, weapons, and items (July 14th – September 4th)
In-game collaboration event (July 14th – September 4th)
More exclusive outfits (August 11th – September 4th)
Character skins
Our favourite characters from the Dragon Ball anime series will be available in the game as skins. This is thanks to the collaboration between PUBG Mobile and Dragon Ball Super. 
Five new characters for the battle royale game have been revealed on Twitter: Goku, Vegeta, Frieza, Gohan, and Piccolo.
While competing in the battle royale game, these character skins will distinctively depict the renowned characters and let you flaunt your anime enthusiasm.
Also Read: How To Win More Matches In Nusa Map Of BGMI