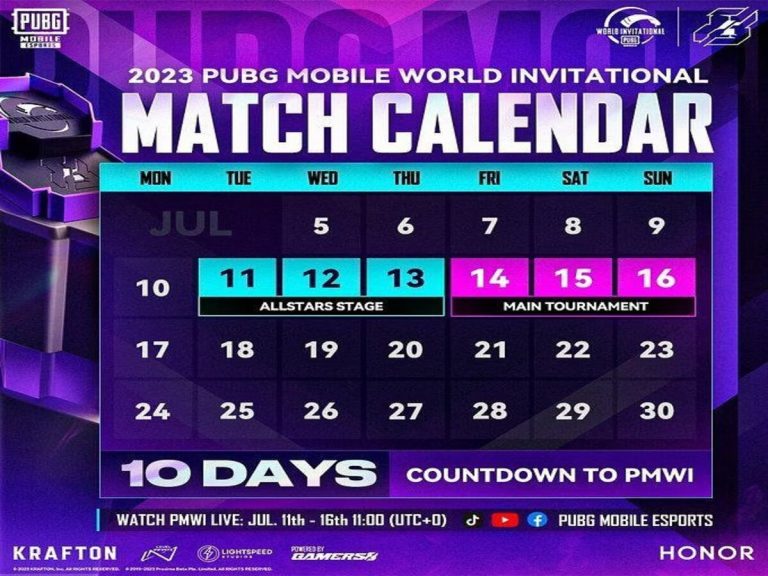 PUBG Mobile fans have a lot of thrilling days ahead of them as the biggest tournament for the game is on the horizon – the PUBG Mobile World Invitational 2023. 
In a few days, the PUBG Mobile World Invitational (PMWI) 2023 Riyadh will begin, featuring the best teams from across the globe competing for the $3 million prize pool.
After Pro Series Korea ended on July 2, all competitors who were guaranteed spots in this illustrious event were confirmed.
The format of the PUBG Mobile World Invitational (PMWI) 2023 Riyadh will include two stages: the Allstars and the Main Event, similar to the previous year.
On July 11, 12, and 13, 18 teams will compete in the Allstars competition, with the top six teams moving on to the next stage.
There will be 16 teams in the Main Event, which will take place from July 14 to July 16, including 10 direct invitees.
The winner of this round will bring in an extra spot in the League round of the PUBG Mobile Global Championship 2023 for their region.
Allstars phase – Teams
Vampire Esports, the reigning champions, and R8 Esports, the national squad of the host nation, have been directly invited to the first stage by Tencent.
Based on the in-game vote in each region, 14 teams from the PMPLs spring edition have been selected.
Vampire Esports (Thailand)
R8 Esports (Saudi Arabia)
S2G Esports (Turkey)
Gaimin Gladiators (Europe)
N Hyper (North America)
ATON Esports (LATAM)
Alpha7 Esports (Brazil)
Bigetron Esports (Indonesia)
SEM9 (Malaysia)
Faze Clan (Thailand)
Infinity IQ (Vietnam)
Yangon Galacticos (Myanmar)
DRS Gaming (Nepal)
AgonXi8 (Pakistan)
IKURD (Saudi Arabia)
Titan Gaming (Africa)
Varrel (Japan)
Dplus (South Korea)
PUBG Mobile World Invitational 2023 Main Event – Teams
The top six teams from the Allstars will be faced by a total of 10 teams from their regional competitions in the second round.
The list of all the qualifying teams from each region can be seen below.
Twisted Minds (Saudi)
Tianba (China)
STE (China)
Reject (Japan)
Alter Ego (Indonesia)
Box Gaming (Vietnam)
Stalwart Esports (Mongolia)
Geekay Esports (Middle East)
Alpha7 Esports (Brazil)
Fire Flux Esports (Turkey)
How to watch PUBG Mobile World Invitational 2023 live
The 2023 edition of the PUBG Mobile World Invitational will take place in Saudi Arabia's capital, Riyadh.
At 11 am (UTC+0), all the exciting matches will be live-streamed on the PUBG Mobile Esports channels on Facebook, YouTube, and TikTok. 
Also Read: PUBG Mobile 2.6 Update Latest Version Download Guide In July 2023