With the Pandemic surging forward and a few players are planning an exit, today's clash would be a mouth-watering encounter for sure between DC and RCB.
Both teams have faced each other on 26 occasions, and RCB has won 15 against DC. DC have won 10, with one match abandoned.
Two strong contenders for the coveted IPL cup clash today, with only the run-rate distinguishing their performances.DC is marginally ahead of RCB in second Place after RCB receiving a sound thrashing at the hands of CSK, which was least expected.
The current edition of the IPL, the 14th, has reached its 19th day. We had also had the taste of a super-over match, which should have happened before as many matches went down the wire.
Kheltalk.com analyzes the strength and weaknesses of the two teams and an overview of DC VS RCB Head to Head Record in the history of the Indian Premier League.
DC: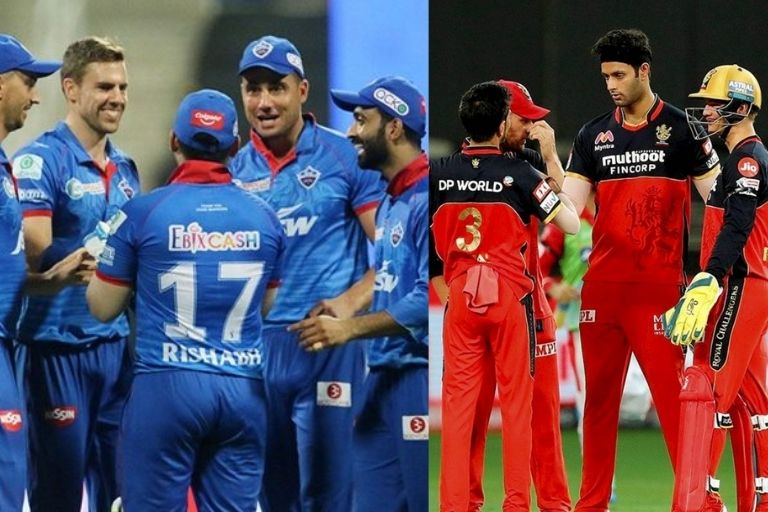 The Delhi Capitals team underwent a radical transformation in 2018 and has played better than before. They ended up as Runners -Up in the last edition even though many felt it was a lopsided final.
Despite losing their captain Shreyas Iyer, the DC army has performed well under Rishab Pant.
The opening pair has rarely failed, and the middle order has lent support. They have even survived the Super over contest against SRH with a last-ball victory.
DC has more than a nose ahead against RCB as they have beaten them in 2019 and 2020 without surrendering a solo defeat. Despite this, the head-to-head comparison shows DC having won only ten matches to RCB's 15. The dominance of RCB over DC can be seen here.
DC has a class bowling act with Chris Woakes and Rabada. The surprise element was, of course, Avesh Khan. He has tipped the scale in a few encounters this year, favoring his team.
There is no doubt that DC players jell well, and they would not leave any stones unturned in their journey to the playoffs.
RCB:
The rejuvenated team started their journey well by defeating the Champions MI in the first game. The juggernaut rolled unstoppably till CSK took them on.RCB needs to wake up from the fairy tale beginning as they take on DC, who has tormented them over the past two years.
Virat and Padikkal are opening for RCB, but the captain needs to step up more than a notch to keep pace with his under- study. Padikkal has bloomed at the right time and has an unbeaten century under his belt. Even though Maxwell started well, he seems to be heading in the wrong direction once again. AB DE Villiers, the mainstay of RCB, also has been inconsistent.
The bowling department rallied around Harshal Patel; the X factor was taken to the cleaners by CSK a couple of nights back. Harshal has to leave behind that final over, in which Jadeja scored 37 runs equalling the IPL record for most runs in an over.
Cometh the hour, cometh the captain. It is up to Virat to prove that he is the best batsman globally, which has turned its gaze to Babar Azam. If he posts a good opening partnership score, the Red Brigade has every chance of a victory against DC.
Head to Head IPL 2021 Record of RCB vs. DC
Date
Winner
Won by
Venue
02-Nov-20
Delhi Capitals
6 Wickets
Abu Dhabi
05-Oct-20
Delhi Capitals
59 Runs
Dubai
28-Apr-19
Delhi Capitals
16 Runs
Delhi
07-Apr-19
Delhi Capitals
4 Wickets
Bengaluru
12-May-18
Royal Challengers Bangalore
5 Wickets
Delhi
21-Apr-18
Royal Challengers Bangalore
6 Wickets
Bengaluru
14-May-17
Royal Challengers Bangalore
10 Runs
Delhi
08-Apr-17
Royal Challengers Bangalore
15 Runs
Bengaluru
22-May-16
Royal Challengers Bangalore
8 Wickets
Raipur
17-Apr-16
Delhi Daredevils
7 Wickets
Bengaluru
17-May-15
N/A
Match Abandoned
Bengaluru
26-Apr-15
Royal Challengers Bangalore
10 Wickets
Delhi
13-May-14
Royal Challengers Bangalore
16 Runs
Bengaluru
17-Apr-14
Royal Challengers Bangalore
8 Wickets
Sharjah
10-May-13
Royal Challengers Bangalore
10 Runs
Delhi
16-Apr-13
Royal Challengers Bangalore
Super Over
Bengaluru
29-Apr-12
Royal Challengers Bangalore
21 Runs
Delhi
07-Apr-12
Royal Challengers Bangalore
20 Runs
Bengaluru
26-Apr-11
Royal Challengers Bangalore
3 Wickets
Delhi
04-Apr-10
Delhi Daredevils
37 Runs
Delhi
25-Mar-10
Delhi Daredevils
17 Runs
Bengaluru
17-Oct-09
Royal Challengers Bangalore
8 Wickets
Bengaluru
17-May-09
Royal Challengers Bangalore
7 Wickets
Johannesburg
26-Apr-09
Delhi Daredevils
6 Wickets
Port Elizabeth
19-May-08
Delhi Daredevils
5 Wickets
Bengaluru
30-Apr-08
Delhi Daredevils
10 Runs
Delhi
Top Batsman with Most Runs in DC vs. RCB matches.
Virat Kohli tops the table for most runs scored in encounters against DC( or DD). He has amassed 921 runs, with his highest being 99!
AB De Villers is second go him by scoring 474 runs against Delhi, but this was before he shifted to RCB.
Rishab Pant is third on the table with 319 runs for DC.
Top Bowler with Most Wickets overall games between DC and RCB
Chahal asserts his authority once again with 14 DC wickets. Rabada is found snapping at his heels with 12 for DC.