The story of IPL 2021 as it steps on to the 20th day can be summarised in three words. If's and Buts'. Such has been the competition between the eight franchises as three teams try to tear away from the pack. Set amidst the chaotic Pandemic, all the teams are fighting for their piece of meat. The first match of the doubleheader today would be no less as MI takes on RR.
Advertisement

Both teams have faced each other on 25 occasions, and RR has won 12, with MI too posting 12 victories, with one match abandoned.
By the end of the second match tonight, all the teams would have played in six games each, and there would be better clarity on the IPl points table. But, indeed, the match between RR and MI would not give us a new top contender, which CSK occupies.
From the point of view of both teams, they are Even-Stevens at 12 victories each against each other .Kheltalk.com analyzes the two teams' strengths and weaknesses and an overview of MI VS RR Head Head Record in the history of the Indian Premier League.
RR:
It has been a see-saw performance for the Royals in this edition. They lost Ben Stokes due to an injury in their first match and played two matches in which victory could have easily swung their way. In the other three, they were grounded to dust and lost heavily. In all this, they have won against DC, who are tipped to be the champions.
The up and down graph of RR reflects only one thing; Lack of consistency. None of their batsman and bowlers have shown consecutive top-of-form performances.
Sanju Samson, the young captain, does hide his pressure well, but we can feel the blast. Lucky enough, their last outing with KKR got them a victory, and they should use this high to conquer MI today.
RR should also take comfort because they have triumphed over MI on five out of six occasions starting 2018. It is noteworthy to mention that MI has won the cup in 2019 and 2020 despite that odd surrender to RR.
Advertisement

The team would depend heavily upon Butler, Miller, Samson, and Tewatia to deliver in their batting department.
Much would depend upon the new Southpaw Chetan Sakariya, Chris Morris, and Shreyas Gopal in the bowling department.
If these forces jell well today, MI would require more than hard work to beat them. On the other hand, RR can catapult themselves into the top four by the end of the first league.
MI: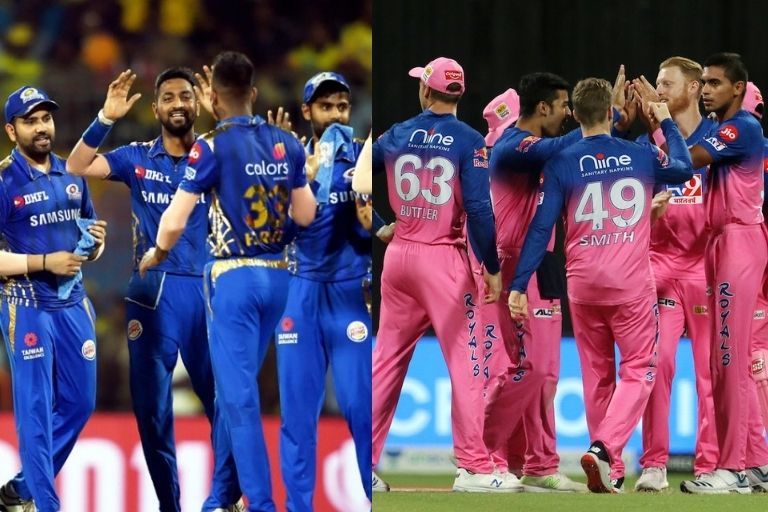 MI has to, first of all, admit it's not a nightmare but a reality that is happening to them. They have a stronger team than 2020 as a few of their players have become part of the Indian National team. Given this fact, the odds weigh heavily in their favor. They can call RR their nemesis as they have found it tough to beat them despite being Cup Champions.
More worrisome is the fact that I have lost both their matches which precedes this one. Both were ' meek' surrenders to DC and PBKS. The truth is RR won their match against DC and lost to PBKS in the final delivery by a mere four runs!
All these statistics should worry MI, who otherwise are to contenders, and DC at the beginning of the tournament. The juggernaut called CSK is now perched at the top, which is more than a worry.
MI has a problem with their openers. De Kock gets out early, and Rohit is slow. Ishan Kishan, who is supposed to blast away, maybe dropped with his colorless performance as of date. Surya Kumar Yadav (SKY) outshines everybody, but he falls prey once he reaches a milestone. Pollard is capable of blitzkrieg performances, but we have witnessed that in only one match. Hardik Pandya, the most talented of them all, seems to be totally out of form.
In the bowling department, Trent Boult and Rahul Chahar have shown some promise as Bumrah is also not at the top of his mark. One can expect a few chops today, and others are entering the team to bolster the image of the champion team called Mumbai Indians. No, certainly not Arjun Tendulkar!
Head to Head IPL 2021 Record of RR vs. MI
Date
Winner
Won By
Venue
26-Oct-2020
Rajasthan Royals
8 Wickets
Abu Dhabi
6-Oct-2020
Mumbai Indians
57 Runs
Abu Dhabi
20-Apr-2019
Rajasthan Royals
5 Wickets
Jaipur
13-Apr-2019
Rajasthan Royals
4 Wickets
Mumbai
13-May-2018
Rajasthan Royals
7 Wickets
Mumbai
22-Apr-2018
Rajasthan Royals
3 Wickets
Jaipur
1-May-2015
Mumbai Indians
8 Runs
Mumbai
14-Apr-2015
Rajasthan Royals
7 Wickets
Ahmedabad
25-May-2014
Mumbai Indians
5 Wickets
Mumbai
19-May-2014
Mumbai Indians
25 Runs
Ahmedabad
6-Oct-2013
Mumbai Indians
33 Runs
Delhi
21-Sep-2013
Rajasthan Royals
7 Wickets
Jaipur
24-Apr-2013
Mumbai Indians
4 Wickets
Kolkata
17-Apr-2013
Rajasthan Royals
87 Runs
Jaipur
15-Apr-2013
Mumbai Indians
14 Runs
Mumbai
20-May-2012
Mumbai Indians
10 Wickets
Jaipur
11-Apr-2012
Mumbai Indians
27 Runs
Mumbai
20-May-2011
Rajasthan Royals
10 Wickets
Mumbai
29-Apr-2011
Rajasthan Royals
7 Wickets
Jaipur
11-Apr-2010
Mumbai Indians
37 Runs
Jaipur
13-Mar-2010
Mumbai Indians
4 Runs
Mumbai (BS)
14-May-2009
Rajasthan Royals
3 Wickets
Durban
21-Apr-2009
—
Match Abandoned
Durban
26-May-2008
Rajasthan Royals
5 Wickets
Jaipur
7-May-2008
Mumbai Indians
7 Wickets
Mumbai (DY)
Top Batsman with Most Runs in MI vs. RR matches.
Skipper Sanju Samson of RR has scored maximum runs in the encounters between both teams at 485. He is followed by yet another ex- RR player Ajinkya Rahane at 406. MI all-rounder Pollard takes third place with 357 runs.
Top Bowler with Most Wickets overall games between MI and RR
Dhawal Kulkarni of MI captures the top spot among bowlers with 17 RR wickets. Pollard is a close second with 15 wickets, and ex-MI off-spinner Harbhajan Singh grabs the third position with 14 wickets.