Both teams have faced each other on 27 occasions, and KKR has won 18 of those, with Punjab Kings only Nine.
Today is the faceoff between KKR and Punjab Kings as we step into the 21st match of the ongoing IPL Tournament.
It is also the sixth match in the fixture as all teams have played five each.
IPL fans who thirsted for a super over would have enjoyed it thoroughly last night as DC and SRH battled it till the final delivery, with DC winning by a nose. CSK has fought against the odds and is back to its winning ways, and is placed at number one.
It is a game of glorious uncertainties for KKR can rewind its way to the top of the table even though it is embarrassingly placed at the bottom. Punjab Kings would also love to get ahead of MI and enter the top four.
After five outings this year, Punjab Kings are placed fifth and KKR eighth.
Kheltalk.com analyses both strengths and weaknesses of these two franchises today.
Kolkata Knight Riders (KKR):
A Strong team on paper but fails to convert themselves. Any cricket fan would say this about KKR. Having been champions twice in the past, the Kolkata team could not convert possible and easy victories.
Instead, they have found their middle-order sink into the depths of the ocean. The same can be said about the upper order that has collapsed in a heap within the sixth over. This is the truth behind KKR's woeful performances. Apart from one match which they won, they have not jelled as a batting unit.
The bowling department has performed more admirably in restricting scores of the opposition.
Morgan, the captain, is yet to display his brilliance in both batting and captaining. With Russell, Dinesh Karthik, and Cummins coming into batting form, Morgan needs to coordinate better. They won one and lost one against each other in the UAE last year.
Punjab Kings (PBKS):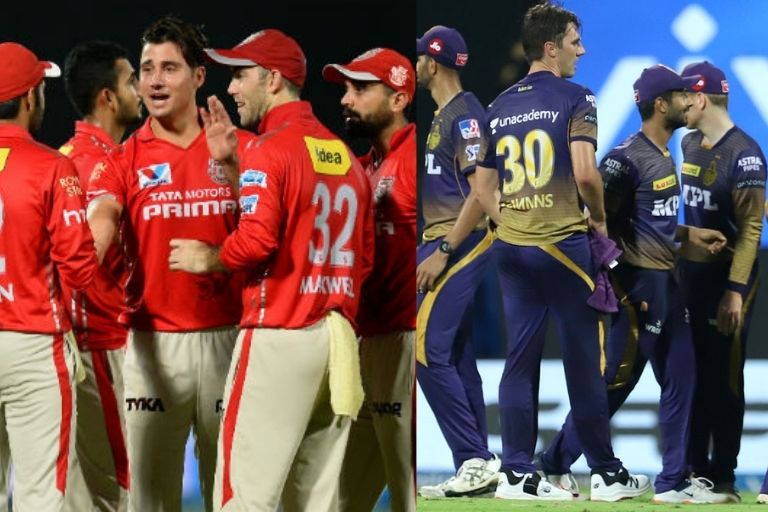 Punjab Kings are a mixed bag. They believed that they have the best combination ever, but their start and stops have been worrying the fans. KL Rahul is reaping runs with his batting along with Mayank Agarwal. Hooda came in with lots of promise but has not been consistent.
PBKS have won convincingly against MI three days back and would expect to take that form into today's match.
Their other delight is the advent of Sharook Khan. Who has been the mainstay in the middle order?
On paper, PBKS is also a strong team with the likes of Chris Gayle and Nicholas Pooran, who can tear the ball's leather on their day.
Shami, Ravi Bishnoi, and Hooda kept the Mumbai batters at bay with their clever bowling and are expected to do the same today.
Head to Head IPL 2021 Record of KKR Vs. PBKS.
Date
Winner
Won by
Venue
26-Oct-2020
Punjab Kings
8 Wickets
Sharjah
10-Oct-2020
Kolkata Knight Riders
2 Runs
Abu Dhabi
3-May-2019
Kolkata Knight Riders
7 Wickets
Mohali
27-Mar-2019
Kolkata Knight Riders
28 Runs
Kolkata
12-May-2018
Kolkata Knight Riders
31 Runs
Indore
21-Apr-2018
Punjab Kings
9 Wickets
Kolkata
9-May-2017
Punjab Kings
14 Runs
Mohali
13-Apr-2017
Kolkata Knight Riders
8 Wickets
Kolkata
4-May-2016
Kolkata Knight Riders
7 Runs
Kolkata
19-Apr-2016
Kolkata Knight Riders
6 Wickets
Mohali
9-May-2015
Kolkata Knight Riders
1 Wicket
Kolkata
18-Apr-2015
Kolkata Knight Riders
4 Wickets
Pune
1-Jun-2014
Kolkata Knight Riders
3 Wickets
Bangalore
28-May-2014
Kolkata Knight Riders
28 Runs
Kolkata
11-May-2014
Kolkata Knight Riders
9 Wickets
Cuttack
26-Apr-2014
Punjab Kings
23 Runs
Abu Dhabi
26-Apr-2013
Kolkata Knight Riders
6 Wickets
Kolkata
16-Apr-2013
Punjab Kings
4 Runs
Mohali
18-Apr-2012
Kolkata Knight Riders
8 Wickets
Mohali
15-Apr-2012
Punjab Kings
2 Runs
Kolkata
30-Apr-2011
Kolkata Knight Riders
8 Wickets
Kolkata
4-Apr-2010
Punjab Kings
8 Wickets
Kolkata
27-Mar-2010
Kolkata Knight Riders
39 Runs
Mohali
3-May-2009
Punjab Kings
6 Wickets
Port Elizabeth
21-Apr-2009
Kolkata Knight Riders
11 Runs
Durban
25-May-2008
Kolkata Knight Riders
3 Wickets
Kolkata
3-May-2008
Punjab Kings
9 Runs
Mohali
Top Batsman with Most Runs in KKR vs. PBKS matches.
In the past encounters between both teams, Gautam Gambir has emerged tops in the batting department. He amassed 492 runs. Robin Uthappa was not far behind with 438 runs. Saha, the Wicket-keeper batsman for PBKS, topped his team at 332.
All three performers have either retired or playing in a different franchise now.
Top Bowler with Most Wickets overall games between KKR and PBKS
The Mystery bowler Sunil Narine who has been with KKR since inception has scalped most PBKS wickets. He took 28. Umesh Yadav and Piyush Chawla also played for KKR and took 14 wickets each.