IPL 2021's 14th match will be played between the Orange Army, Sunrisers Hyderabad, and the renamed franchise Punjab Kings.
In the 14th match of this IPL 2021 season, David Warner's Orange Army, Sunrisers Hyderabad, will take on KL Rahul's Punjab Kings at Chennai today first match of this doubleheader contest. Both the teams are losing form, and they will want to get back into their winning ways.
Punjab Kings started their IPL 2021 campaign with a close four win against Rajasthan Royals, and the orange army hasn't put any points on the table. SRH is the only team that hasn't won any matches of this 14 edition of the Indian Premier League season. Warner and his orange army will want to win their first game today.
Before the match starts, Khel Talk analyzes both the teams and gives a stat on their head-to-head performances since the 2008 season of the IPL.
Sunrisers Hyderabad – SRH
SRH will be in more worry than Punjab Kings. The orange army hasn't put a performance which they would be proud of. They are still searching for their first win in this year's competition. SRH are the title winners of the IPL 2016 season. They defeated the Royal Challengers Bangalore franchise to lift their trophy under the leadership of David Warner.
If SRH wants to do well in this season, then they will have to start winning from this match. They will be playing an equally strong side Punjab Kings, who are also a heavy batting unit. SRH bowling looks weak. They need their pace bowlers to fire in this match against Rahul and Co. It has been only Rashid Khan who has looked lethal for them. But the other pacers and spinners need to contribute as well.
Then their batting without Kane Williamson is like a fish without water for SRH. The Kiwi captain brings a lot more solidity in the middle order, which no other Indian and overseas players bring to this side. Williamson's calm and composed nature is needed when SRH chases a target. The orange army has lost all their matches while chasing because they didn't have the Williamson effect in those losing matches.
SRH should take a call on Manish Pandey. His inconsistent run has not helped the team in any way. Pandey should be dropped, and Kedar Jadhav should make it to the playing XI in this match. Jadhav can play at number three, and he can be the extra bowling option for SRH. Williamson should be in the XI in place of Mujeeb Ur Rahman.
Punjab Kings – PBKS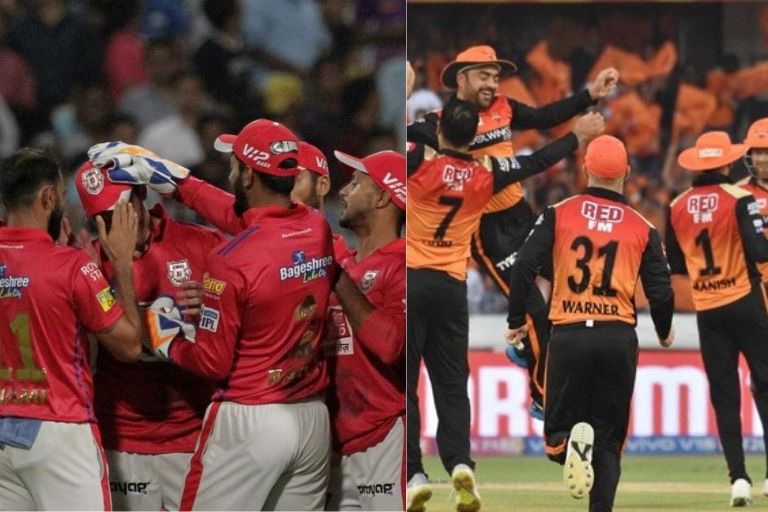 Rahul-led PBKS also have batting issues. Even though KL is in good form, Mayank finds his lost touch in the last previous match. But there has been a missing link in their batting. Rahul hasn't scored strike rate quick runs, and he's been an issue. At the same time, it needs to be seen how consistent Mayank Agarwal is for PBKS. He smashed a well-compiled half-century. But Punjab needs runs consistently from Agarwal.
It would be better if they open with Chris Gayle in this match. They need runs quickly, and Gayle is the only one who can provide that with Mayank Agarwal. At the same time, KL Rahul can take the number three position to anchor the innings. Then Punjab Kings have Deepak Hooda and Shahrukh Khan to finish the innings on a high. But they need to drop Nicholas Pooran for his flop show in the three games so far. Fabian Allen is the perfect replacement for them as he can provide them an extra spinning option.
The bowling is also weak of Punjab. Shami hasn't been at his best, and they have inexperienced spin bowlers in their team. Arshadeep Singh has the only one to provide the breakthroughs, and that is why PBKS needs Fabian Allen, the spin-bowling all-rounder from the West Indies. Allen can bat at number six and bowl his full quota of his four overs. PBKS should give him the role of Ravindra Jadeja in this team.
PBKS can include another all-rounder from Australia, Moises Henriques, or make the batting solid. They can opt for the number one T20I batsman Dawid Malan. But the thing which might stop Punjab from playing Malan is his weakness against the spin. On the track like Chennai, Malan might look vulnerable. So they should go with Moises Henriques in this match. Their four overseas players should be two West Indians and two Australians.
Head to Head Record – SRH Vs PBKS
| | | |
| --- | --- | --- |
| Date | Winner | Venue |
| 2020 | PBKS won by 12 runs | Dubai |
| 2020 | SRH won by 69 runs | Dubai |
| 2019 | SRH won by 45 runs | Hyderabad |
| 2019 | PBKS won by six wickets | Chandigarh |
| 2018 | SRH won by 13 runs | Hyderabad |
| 2018 | PBKS won by 15 runs | Chandigarh |
| 2017 | SRH won by 26 runs | Chandigarh |
| 2017 | SRH won by five runs in Delhi | Hyderabad |
| 2016 | SRH won by seven wickets | Chandigarh |
| 2016 | SRH won by five wickets | Hyderabad |
| 2015 | SRH won by five runs | Hyderabad |
| 2015 | SRH won by 20 runs | Chandigarh |
| 2014 | PBKS won by six wickets | Hyderabad |
| 2014 | PBKS won by 72 runs | Chandigarh |
| 2013 | SRH won by 30 runs | Chandigarh |
| 2013 | SRH won by five wickets | Hyderabad |
Warner and co can take inspiration from this record against Punjab Kings. In the 16 matches between Sunrisers Hyderabad and Punjab Kings, SRH has won 11 IPL matches against Punjab Kings, who have just five wins under their belt against the orange army.
Most Runs scored in SRH Vs PBKZS Matches –
KL Rahul – The skipper of Punjab Kings has been in good form of late. He hopes to do well in the match against SRH with a better strike rate. The captain of PBKS has scored the most runs against SRH. He has scored 238 runs against the orange army.
David Warner – The skipper of the orange army has to step up his performance with the bat in hand. Warner has scored 661 runs against Punjab Kings. This inspiration should be him to do well against PBKS today.
Most Wickets in SRH Vs PBKS Matches –
Sandeep Sharma – The pace bowler is now with the SRH team. But when he played for his old franchise Kings XI Punjab, Sandeep took the most wickets against the orange army. He had taken nine wickets to his name.
Bhuvneshwar Kumar – The premier fast bowler of SRH hasn't found his line and length in this season so far. SRH won the title in 2016 when Bhuvi was their highest wicket-taker. He needs to step up in this IPL 2021 season. Against PBKS, Bhuvi has picked up 18 wickets to his name.